Guide Cats for the Blind
Today, the RNIB announced a trial program of seeing-eye "mobility" cats, "Guide Cats for the Blind", or CatNav, for the blind, partially sighted, and visually impaired, alongside their Guide Dogs for the Blind training.
From Cat's Eyes to CatNav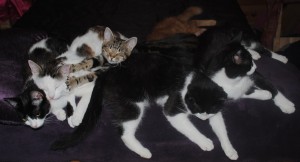 After all, we have cats' eyes in the road to guide car drivers at night, why not by day as well? Cat's eyes were introduced as far back as 1933 in Yorkshire, in the UK, and are now used the world over. Whilst the cat's eyes in our roads never sleep, any attempt at CatNav is liable to be more prone to falling asleep for 22 hours a day, CatNap! As recent TV documentaries using GPS trackers have also shown, cats tend to go round in circles hunting, retracing, guarding and marking their territory.
Cats are Easily Distracted
The cats are being rigorously disciplined to avoid distractions such as mice, birds and shiny lights, like Puss in Boots was prone to in the Shrek movies franchise.
These are not to be confused with the original poem, "Guide Cats for the Blind", by Les Barker, and the five subsequent "Guide Cats" albums of songs, poems and humour: "Guide Cats for the Blind", "Missing Persians File", "Top Cat, White Tie and Tails", "Cat Nav", and "Herding Cats". Listen to the audio reading of Les Barker's poem below:
Les Barker described any attempt to harness the intelligence of cats as Guide Cats for the Blind, as futile. "The best place for a blind man isn't half-way up a curtain" or on the roof at 4am! "Only a fool would follow … Guide cats for the blind".
The full text of Guide Cats for the Blind, by Les Barker:
The word futile springs to mind, mission impossible, yes, that's the attempt
to harness for mankind, the intelligence of cats.
You've made a basic error, now let me expound.
This master/servant thing's o.k. but not that way around
We don't do the 'faithful' subject, we don't do the daily grind
You should never have attempted this
Guide cats for the blind

Tabby Cat mesmerising humans

Give kitty so much trust, and we'll abuse the privilege
You think you're going out, you're opening the fridge
You think I'm trying to help you, I'm not serving man but mammon
You think you've gained a faithful friend, you've lost a plate of salmon
I might lead you down the high street, I'll be back when I have dined
We get very very hungry being
Guide cats for the blind

It can't be very pleasant, of this I've little doubt
With your head stuck in a cat flap, whether facing in or out
You could be here a day or two, half out in the rain
I've got to go, I've things to do, maybe I'll pass this way again
A dog would go for help, but cats are not that way inclined
Cats have better things to do than being
Guide cats for the blind

Of some matters I am ignorant, but this I know for certain
The best place for a blind man isn't half way up a curtain
Why do they have to be up on a roof at 4am
It's a perfect place for me, but what's in it for them?
It was where I had to go, and he just tagged along behind
I don't know why, only a fool would follow
Guide cats for the blind

I once met a man called Pavlov, from time to time he rang a bell
Simple things make humans happy, but I have to say that well,
I found it a disturbance and poor chap I think he knew it
And soon he only rang his bell when I wanted him to do it
Did you ask for our assistance, if you did then we declined
Here we are, an oxymoron
Guide cats for the blind