Human Rights Day – Universal Declaration of Human Rights
International Human Rights Day celebrates 67 years of the Universal Declaration of Human Rights a precursor to the European Convention on Human Rights and the UK's own, in peril, Human Rights Act. In the aftermath of the Second World War, on December 10, 1948, The United Nations General Assembly adopted the Universal Declaration of Human Rights. Universal was the hope and aspiration of the world's most translated document, into some 300 languages. The application and implementation, however, remains inconsistent. Many leading nations treat it as a pick-n-mix document, usually ignoring the principles against torture or discrimination on grounds of sex or sexuality.
Universal Declaration of Human Rights (UDHR) 1948

"Recognition of the inherent dignity and of the equal and inalienable rights of all members of the human family is the foundation of freedom, justice and peace in the world,

Disregard and contempt for human rights have resulted in barbarous acts which have outraged the conscience of mankind, and the advent of a world in which human beings shall enjoy freedom of speech and belief and freedom from fear and want has been proclaimed as the highest aspiration of the common people,…" – UDHR preamble
European Convention on Human Rights
In 1950 the Council of Europe's initial 10 members including the UK drafted the European Convention on Human Rights (ECHR) and brought it into force in 1953 for its 14 early member states, now 47 including Russia which joined in 1996. Vatican City is a notable exception to its agreement. Whilst Russia has signed it, like Azerbaijan it has not agreed to Protocol 13 – the complete abolition of the death penalty.
Article 14 is wide reaching in prohibiting and protecting against discrimination based on "sex, race, colour, language, religion, political or other opinion, national or social origin, association with a national minority, property, birth or other status" –  the latter has now been taken to include sexual orientation.
Article 12, however, provides a heterosexual right to marry and have a family, which has legal precedent for including transsexuals under their post-operative gender status, but not for same-sex couples. See Rees v United Kingdom (1985/6), Cossey v UK (1990) and Goodwin v UK (1995-97).
UK Human Rights Act
The 1998 Human Rights Act (HRA) became law in 2000 in order to integrate the ECHR into UK national law to avoid people having to go to Europe to obtain recognition of their human rights as described and protected in the convention.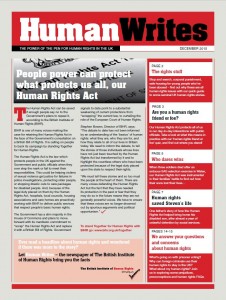 Human Rights are more extensive than the protected characteristics outlined under the 2010 Equality Act. We are all human so all protected. That is why it is essential the HRA remain enshrined in law and is not watered down into a British Bill of Rights, because it goes beyond the Equality Act.
Today the British Institute of Human Rights (BIHR) launched its Human Writes, issue 1 calling on "People Power" to "protect what protects us all, our Human Rights Act". That means writing to MPs and being vocal about human rights issues and laws both here and abroad.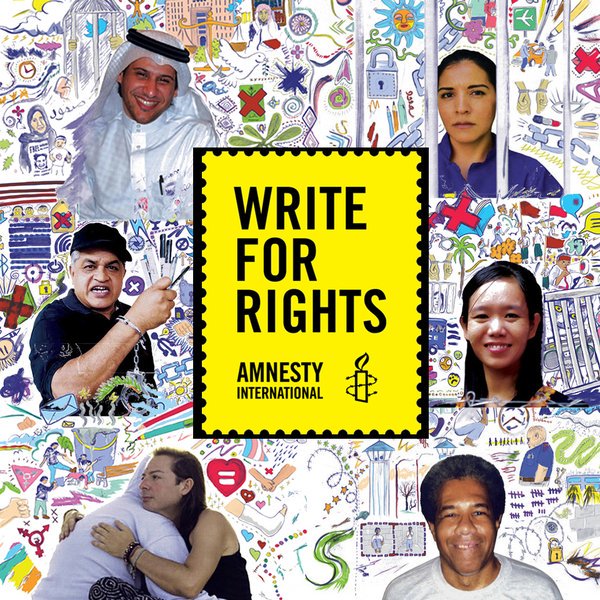 Since 2009 and indeed earlier, Amnesty International has run its Write for Rights #Write4Rights letter writing campaign. Activists in more than 200 countries and territories write millions of letters, emails, tweets and petitions to those in authority and to the human victims of human rights abuses.
"Across the world, governments are afraid of people power and are cracking down on dissent. And that's why we need to stand with people who are risking everything to speak out…Our words are powerful. We need to use that power to push for change, now." – Amnesty International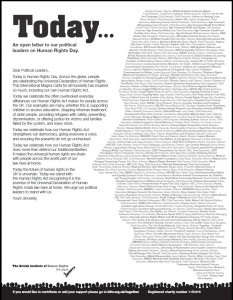 BIHR also ran a full page advert/letter in the The Times signed by 157 organisations supporting the retention of the HRA. It notes that the UDHR is an:
"international Magna Carta for all humanity [that] has inspired so much, including our own Human Rights Act."
The letter calls on Britain's political leaders to;
"stand with the Human Rights Act recognising it is the promise of the Universal Declaration of Human Rights made law here at home."
Cairo Declaration on Human Rights in Islam
Some 45 Islamic nations have signed the alternative 1990 Cairo Declaration on Human Rights in Islam (CDHRI), more in accordance with Sharia law, and notably omitting rights based upon sexuality, gender, religious conversion or protecting against FGM. The freedoms that do exist are subject to "not being contrary to the principles of the Shariah", as such there is no freedom of religion other than Islam. Article 24 states: "All the rights and freedoms stipulated in this Declaration are subject to the Islamic Sharia." Article 19 sounds like it protects against going beyond Sharia law – an already harsh system: "There shall be no crime or punishment except as provided for in the Sharia."
The Arab Charter on Human Rights (ACHR) tries to incorporate the UDHR and CDHRI. It was written in 1994 but even by 2008 only 7 states had adopted it, 13 by 2013 including Saudi Arabia.
Human Rights Violations
In a mammoth opinion piece in the Guardian Eric Posner has suggested that international Human Rights laws are failing for being too general and being ignored by several leading democracies despite their theoretical protections pan-nationally against authoritarian states.
"it seems that the human rights agenda has fallen on hard times. In much of the Islamic world, women lack equality, religious dissenters are persecuted and political freedoms are curtailed. The Chinese model of development, which combines political repression and economic liberalism, has attracted numerous admirers in the developing world. Political authoritarianism has gained ground in Russia, Turkey, Hungary and Venezuela. Backlashes against LGBT rights have taken place in countries as diverse as Russia and Nigeria. The traditional champions of human rights – Europe and the United States – have floundered."
Peace, education, sex/gender equality, LGBTI rights, slavery, no discrimination based upon race, colour, nationality, freedom of speech and the press, the right to bodily integrity for all, irrespective of gender or age, are but some of the rights that 67 years later are not yet universal despite the Universal Declaration.
As the Swedish politician Anna Lindh has remarked:
"Human rights are praised more than ever – and violated as much as ever."
Today is a day to reduce those violations, and call more people and nations to account over them, and make sure the rights that do exist are known about and extended to those that may not know their rights or have the wherewithal to claim them.