Logophilia
I am a self-confessed loquacious logophile, which is not someone who should be locked up, rather instead someone who should be let loose on the general public and small children to educate them with old, new, and interesting words. Because I *love* words – long ones, old ones, rude ones, double-meaning ones, foreign ones, floriate ones, and blunt ones – which ironically and oxymoronically can cut through the crap like a hot knife through butter.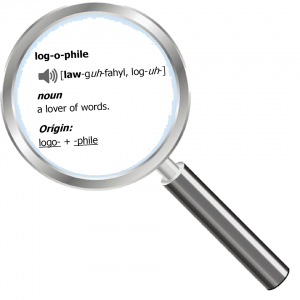 As a kid I used to read dictionaries trying to discover new words everyday, and also because I couldn't read a page in a book without looking up the definition of some grandiose term. Also being a linguaphile I love delving into other languages to discover words, all the more so if it's a Gabriel Garcia Marquez novel in which my above-average Spanish suddenly feels inadequate to read a full sentence of his prose without rushing for bilingual lexicon.
For me logophlila is the love and lust for language, a weakness for wit and words, with a peppering of passionate pedantry and extraordinary etymologies, and to the addiction of which I've created a logophiliacs facebook page.
The poet and playwright Dylan Thomas, of Under Milk Wood fame, used to urge his actors over and over:
"Love the words … love the words."
I love how beautiful words, especially when spoken with passion, intonation and expression, can resonate and detonate in your soul.
Etymology and Linguistic Evolution
Nothing to do with ants, but rather the antiquity of words and how they were created and evolved. Because of my study of numerous languages, especially ancient ones, I love discovering where words came from, how they transferred, get bastardized, conjoined, reclaimed, and change in meaning.
Stand-up Comedy & Everyday Humour
I've done and occasionally still do amateur stand-up comedy which has been described as:
"Educational filth, occasionally funny, always interesting", "Making fun of the darker moments in life, with some (really) long words and lots of lewd innuendo…"
The reality is I get bored with repetition, so cannot perfect any act and would rather come up with something original, educational and entertaining – edutainment, every time. So, my humour is better fed into everything that I do, public speaking, school's work, training, radio interviews, and writing.
Educational Filth
This could sound like I simply swear a lot, I certainly do when slightly hypomanic on a mood high, but actually I first swore when I was 12, then didn't again for probably another 20 years! I don't have an Irish accent, so saying "fuck" a lot just sounds unimaginative rather than Father Ted funny.
My version of dirty education, is more along the lines of medieval wit and discovering old ways to intelligently insult (for the sake of humour – I haven't got a deliberately offensive hateful bone in my middle-aged body).
In one of my past lives (in the career rather than reincarnational sense) I taught Hebrew and Theology, and once taught a course at a Pentecostal church on "God's humour in the Bible". Needless to say, as much as I enjoyed teaching it, many of the biblical literalists did not like my flavour of taking the Bible literally, where in the Hebrew God used sarcasm, euphemism, innuendo, irony etc to make a point. Some of the world's best humour has often been Jewish or Irish Catholic, people that know how to laugh at their faith and with their God.
For instance, when educating religious folk about the place of LGBTI people in the Bible it can be fun to point out that early Jewish and Christian commentators, as well as literal interpretations, took Adam to be an hermaphrodite being. Taking Genesis literally, therefore means that Adam was intersex, then Eve being taken out of him was his transexual clone who then had genetic twin incest sex to produce Cain, Abel and their unnamed sisters, who carried on the family tradition!