Prince and the Revolution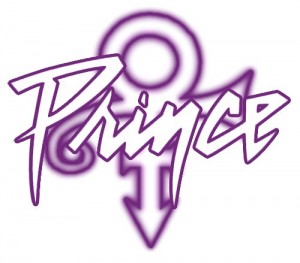 The enigma that was Prince Rogers Nelson, whose African-American family hailed from Lousiana originally burst onto the pop scene as a 17-year-old teenager, in the late 1970s. Aged just 20, in 1979, he performed his first gig with his band, who became, 'The Revolution'. His death, this week, leaves behind dozens of songs, lyrics, statements, and beliefs, that not everyone understood.
His own path navigated 3 engagements, 2 marriages and divorces, and the death of his only child. In 2001, he became a Jehovah Witness and said he was turning to monogamy after prior romantic links to Kim Basinger, Madonna, Sheila E., Carmen Electra, Anna Fantastic, Sherilyn Fenn, Susanna Hoffs of the Bangles, Susan Moonsie of Vanity 6, and Vanity, herself, another singer who underwent a Christian conversion and also died this year.
Prince, the Genderbending Rule-breaker
"A strong spirit transcends rules", Prince said in a 1999 interview.
Steven W Thrasher, writing in the Guardian, writes of Prince's genderbending and gender-busting allure:
Prince broke all the rules about what black American men should be. The musical genius captivated both men and women with his high heels, tight butt and playful sexuality – and he refused to be anyone's slave…

…letting go of all those rules he seemed to have dispensed with? That purple clothing, those high heels and ruffled shirts: was he proudly feminine, or so secure in his masculinity he didn't mind others questioning it? That small frame and that tight, small butt that seemed to leave him "shaking that ass, shaking that ass" for men and women alike?

Prince was a paradox in that he expanded the concept of what it meant to be a man while also deconstructing the entire idea of gender.

It was, in retrospect, the first time I experienced someone refusing to live under the oppressive binary regime of gender, or to submit to the dominant power's rules."
In 1982, Prince said that "What's missing from pop music is danger – there's no excitement and mystery". Well, he certainly provided that mystery, much as David Bowie did.
I wanna be your lover
Wanna be your mother and your sister too

– "I Wanna Be Your Lover" (1979)
Mick Jagger tweeted that Prince was "authentic in every way".
…but most importantly, authentic in every way. 3/4

— Mick Jagger (@MickJagger) April 21, 2016
"Prince brazenly blended rock, R&B, funk, pop and jazz like few artists before or since. He pushed the envelope on sexuality and androgyny in music, dared to take on the corporate music industry…" – Star Tribune
Freedom and Fascination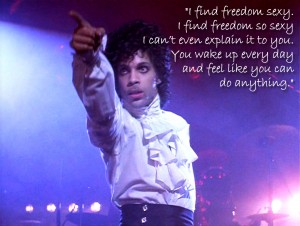 From a rare interview in 1996 with, among others, NME, on the release of his 'Emancipation' triple album comes these quotes from Prince on freedom, life, experience and people:
"I find freedom sexy. I find freedom so sexy I can't even explain it to you. You wake up every day and feel like you can do anything."

"Everyone has their own experience. That's why we are here, to go through our experience, to learn, to go down those paths and eventually you may have gone down so many paths and learned so much that you don't have to come back again."

"I'm no different to anyone. Yes, I have fame and wealth and talent, but I certainly don't consider myself any better than anyone who has no fame, wealth or talent. People fascinate me. They're amazing! Life fascinates me! And I'm no more fascinated by my own life than by anyone else's."
Prince, Mystery or Madness?
"America still believes Prince to be mildly insane…'Why does everyone think I'm mad?' he once asked his British press person. 'Because,' the PR replied, 'you do weird things and you don't explain them.' Prince does do weird things, but he also performs live with a stage presence and a charisma that's unrivalled in American entertainment." – Guardian (2006)
His refusal to bow to the corporate line of either the music industry or journalists meant that he came across as 'odd', but his response was that he didn't care:
"I don't really care so much what people say about me because it usually is a reflection of who they are."

"Despite everything, no one can dictate who you are to other people."
Being yourself and not worrying about what others thought was one of the ways he inspired others to break out.
"Cool means being able to hang with yourself. All you have to ask yourself is 'Is there anybody I'm afraid of? Is there anybody who if I walked into a room and saw, I'd get nervous?' If not, then you're cool." – Rolling Stone Magazine
Prince, Song Lyrics
Stand up everybody/This is your life
Let me take you to another world, let me take you tonight
You don't need no money, you don't need no clothes
The second coming, anything goes
Sexuality is all you'll ever need
Sexuality, let your body be free…
I'm talking about a revolution we gotta organize
We don't need no segregation, we don't need no race
New age revelation, I think we got a case…
No child is bad from the beginning, they only imitate their atmosphere…
Stand up, organize
We need a new breed, leaders, stand up, organize

– "Sexuality" (1981)

Whenever I feel like givin' up
Whenever my sunshine turns to rain
Whenever my hopes and dreams
Are aimed in the wrong direction
She's always there
Tellin' me how much she cares
She's always in my hair

– "She's Always in My Hair" (1985)