International Women's Day 2015
Since the early years of the century before last century nearly 200 years ago, in diverse ways individual countries and eventually the world, at the behest of the United Nations since 1977, have fought for various forms of women's equality and celebrated women.
Now known as International Women's Day it is a national holiday in many countries, appropriately just for women, in China. Like Mother's Day, which falls on a Sunday in the UK, it is not a day off for mothers, working or otherwise!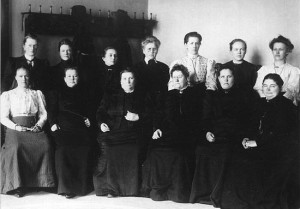 In 1910, an International Women's Conference of 100 women from 17 countries was held in Copenhagen, Denmark. At the conference, Luise Zietz, a German Socialist, suggested establishing an annual International Woman's Day. The delegates agreed and promoted it as a way to foster equal rights, including suffrage, for women. It was observed far and wide across the Austro-Hungarian empire, even in Russia in 1913. The First World War suspended much advancement but 1918 brought rights for women in England and Germany, but not until 1944 in France or Greece! French Algeria took until 1958 to grant the right to Muslim women.
2015 IWD Themes
The International Woman's Day theme for 2015 is 'Make It Happen' whilst the UN theme is "Empowering Women, Empowering Humanity: Picture it!".
Bring Back Our Girls
Whilst Boko Haram this week have seemingly sworn allegiance to IS (Islamic State, ISIS, Daesh) it seems less likely than ever that the 200+ Chibok girls kidnapped in Nigeria a year ago will be returned. Yet, the UN seems to be more worried about declaring the cultural vandalism of destroying ancient Assyrian artefacts in Nimrud and other historic cities of Iraq and Syria, a war crime, than the heinous human rights atrocities of kidnap, torture, forced marriage, stoning of women and more, as crimes against humanity, especially women.
Somali-born feminist and activist, Ayaan Hirsi Ali, fights against forced marriage, female genital mutilation (FGM) and honour violence. In a recent Wall Street Journal piece, Ali wrote that:
"The kidnapping of the schoolgirls throws into bold relief a central part of what the jihadists are about: the oppression of women. Boko Haram sincerely believes that girls are better off enslaved than educated. The terrorists' mission is no different from that of the Taliban assassin who shot and nearly killed 15-year-old Pakistani Malala Yousafzai because she advocated girls' education. As I know from experience, nothing is more anathema to the jihadists than equal and educated women."
WOW Festival
Last year I attended the awesome Women of the World Festival in London, this year I followed most of it on Twitter and Radio 4, and heard an interview that gave me pause for thought. Was it not "preaching to the converted" the interviewer asked? Perhaps, but it was also encouraging the feminist faithful. Still, more does need to be done.
Selma, Voting and Double Discrimination of Black Women
This week has also seen the 50th anniversary of the 1965 Selma to Montgomery voting rights march and demonstration which triggered US voting reform. As one young woman visiting the site this month said, "Voting was never really important to me," she said. "But I will never not vote again."
The 1965 activism on 7 March was one of several marches to pressure full enactment of the 1964 Civil Rights Act, the legalities of which were being avoided by those finding ways to inhibit black voters. At Selma, one of the leading organisers, Amelia Boynton was beaten unconscious by state troopers. Rosa Parks had been present too. Boynton survived and in 1990, she was honoured with the Martin Luther King, Jr. Freedom Medal.
Amelia was born to parents of African-American/Cherokee heritage in 1911 – the very year that International Women's Day was marked for the first time by a million people in Austria, Denmark, Germany and Switzerland. As a young girl Amelia had joined the fight for women's suffrage. As an adult she organised alongside Martin Luther King. While Selma was 50% black, only 1% of the town's African-American population were registered to vote.
In 1964 Amelia ran for the Congress from Alabama, "the first female African-American ever to do so and the first female of any race to run for the ticket of the Democratic Party in Alabama."
Triple Discrimination of Women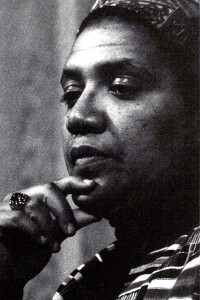 Imagine being black, female, and bisexual or a lesbian – before race equality, voting reform, gay rights, let alone sex discrimination. Furthermore, don't imagine but recognise that some of that prejudice came from other women, white heterosexual women. Audre Lorde, was one such black lesbian feminist who realised that not all women fight for "all women", in reaction she became a staunch advocate of intersectional feminism of the "continuum of women", of ANY women, of ALL women:
"I am not free while any woman is unfree even when her shackles are very different from my own" – Audre Lorde
In addition, she spoke about the oversimplification of labels and single issue politics:
"there is no such thing as a single-issue struggle. We do not live single-issue lives."
We are multifaceted human beings, complex creatures, not to be reduced to someone's label or category and in the process denied our unique identity and individuality.
Yet More Stigma
Add to all of the above prejudices and discrimination that some aspects of mental health disproportionately affect women. For instance trans women and bisexual women have the greatest mental health risks of all groups. 25% of women will suffer from depression, 15% post-natally. Women are twice as likely to experience anxiety disorders as men and ten times as likely to suffer from anorexia.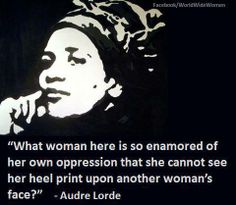 As Audre Lorde argued it is time for a coalition of the continuum of women to fight for any woman, until all women are free, from the schoolgirls of Nigeria to the sweatshops of the Far East, and the LGBTI women denied recognition and respect, whether as asylum seekers in Yarl's Wood or as trans teenagers taking their lives and being misgendered in life and death.
Whilst gender may be a construct and sex an accident of birth, how we treat each other is the one choice we have the power to make.