Blind Organic White Wine Tasting
Last night's fabulous blind wine tasting with knowledgeable Tom Loudon at the Greenhouse on Bethel Street, Norwich, led off with a stunning dry white wine – which more than half the room chose as their favourite at the end of six tasting samples. The colour was beautifully pale, looking like straw with an accompanying grassy lychee scent. It had a slight effervescent tanginess, and mild sugary aftertaste, long and rounded on the finish and sharp on the teeth like an underripe hard green apple. After some food and time in the glass, it settled, mellowed and became more akin to the Marlborough Sauvignon Blanc that followed it in the tasting.
Davenport Horsmonden Dry White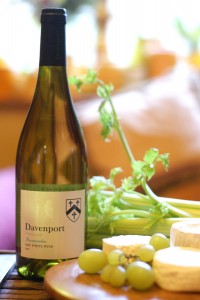 Both white wines were amazing with goat's cheese, but the first wine, won to my mind – and in the big reveal it turned out to be an unfiltered organic 2013 English wine (£14.95) from the "garden of England", Kent! It was delicious enough to think it could have come from the Garden of Eden and may have accounted for the fall of man!
Vinceremos says of it that it is "a wine which we love to present at blind tastings as it always performs so strongly and surprises so many when revealed as 'English'."
It's been described as a wine "that can compete with any dry white wine from another country". I'm normally an anglophobe when it comes to wine, but I was truly impressed.
On Vinceremos 6 out of 6 reviewers gave it the maximum 5 stars.
"It delights most with its blossomy lime aromas, zesty freshness and vivacity and great concentration of apple and yeasty flavours. A dry white best filed under 'refreshing'." – Vinceremos
On Abel & Cole's site, all but 2 people gave it 5 out of 5:
"Horsmonden Dry White wine is an utterly charming, invigorating white. It's an impressive English wine. Vibrant, super-fresh, and citrusy, it's a light to medium body."
Its long finish is best appreciated on its own before diving into any accompanying food.
Hamish Anderson, sommelier at the Tate, writing in The Daily Telegraph, described the 2013 Horsmonden as:
"a blinder – its pungent nose of lemon and nettles is not only quintessentially English, but also makes you want to dive in for a sip. A glass of glorious, spirit-lifting refreshment."
Indeed, it is listed on Tate Modern's award winning wine list.
"Will Davenport's Limney is in my view pound for pound one of the best English wines. We have worked with him for a number of vintages and its fresh, grassy style is ideally suited to the more casual dining environment of Tate Modern."
The Vineyard
Davenport Vineyards started at Horsmonden in Kent and went organic in 2000, after planting their first vine there in 1991. Some 20 acres of vines makes them one of the UK's largest organic producers creating a range of sparkling, white, and red wines.
The Grapes
Davenport's Horsmonden Dry White (£13.30 online) consists of Bacchus, Faberrebe, Ortega, Siegerrebe, Huxelrebe, from their oldest vines. A combination described as "alchemy" by one visiting commentator. Of these the 20th century varietals Bacchus and Ortega dominate.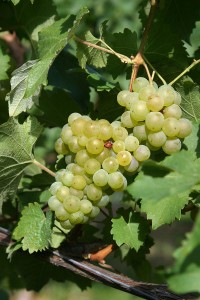 The Bacchus grape was a German cross-bred variety from a Silvaner x Riesling cross with Müller-Thurgau back in 1933 and grows in Germany and England now.
"Under British growing conditions, where the colder climate means that a higher acidity is retained and where only lower yields are possible, Bacchus can give varietal wines of reasonable quality, somewhat in a Sauvignon blanc-like style"
Wines made with Bacchus  grapes are often full of character, sometimes described as "exuberant", in line with their namesake the Graeco-Roman god of wine and festivity. Bacchus, aka Dionysus in the Greek pantheon, was himself tutored by a drunken Silenus, who was often transported on donkey-back due to his own inebriation.
The Ortega grape, also of German origin, was a cross between Müller-Thurgau and Siegerrebe in 1948 and named after the Spanish philosopher and poet José Ortega y Gasset who famously pronounced "Yo soy yo y mi circunstancia" – "I am I and my circumstance"  and "I live therefore I think" – perhaps that should be "I live therefore I drink"!
Multi-Award Winning Wine

The Horsmonden dry white has won numerous awards since its inception in 1993 including the UKVA Wine of the Year Competition Silver Medal (the 2009 and 2013 won Bronze awards), the SEVA Wine of the Year Bronze Medal, and the Decanter World Wine Awards Bronze Medal for the 2010 vintage.
In the Soil Association Organic Food Awards the 2010 was Commended and the 2011, Highly Commended, but in 2014 was awarded the Soil Association's Organic Wine Overall Winner:
"Will Davenport has made a wine bursting with freshness and style that can compete with any dry white wine from another country while also having a minimal impact on the environment."
The 2014 vintage
It's been said that "2013 was a great year and 2014 promises to be even better" well it clearly was and the future looks rosy, well white at least, for Will Davenport and English wines.
Davenport describes the 2014 as:
"…soft, aromatic and fruit driven. Perfect for a summer afternoon or for drinking with white meats, salads and even quite spicy food."
and the UKVA 2015 judges noted its:
"Fruity, peach nose, powerful tropical palate, touch of spice".
2015-16 awards are now rolling in for this wine including IWSC Silver Medal and UKVA wine of the year competition 2015 – Bronze Medal winner.
For the truly organic and local ethical wine purchaser – without compromising on quality and taste, buying this dazzling English dry white wine saves on considerable carbon miles when compared to shipping a New Zealand Marlborough Sauvignon Blanc half-way around the world.