Interviews & Comment Media Clips
Podcasts | "What Katy Did" | TEDx | Times Radio | GB News | Channel 4 | Talk Radio | Battle of Ideas | Doctor Who | Mustard TV | Red Pill Q&A | Queer Britain | BBC Online | BBC Radio 4 | ITV | Gender After Birth
I feel privileged to have been on television and radio and in print media many times – news slots, various documentary or comment offers and nearly on Come Dine With Me! I like to go outside my own echo chamber and walk a middle path, strongly believing in robust diverse media and free speech but not hate speech. Clips represent my views at the time and these may and definitely do change, so don't hold me to them and if in doubt or surprised by what I appear to say, then ask what I meant as so often time, questions, edits and context limit understanding and can lead to misunderstanding.
Channel 4
Channel 4's "Gender Wars" aired on 30 May 2023. Controversial upon announcement with tweets condemning it without watching it and playing guessing games as to who would be in it apart from Kathleen Stock, the only initially announced person featured. As more contributors were announced to the media and contributors saw previews, many on the transgender side felt no longer able to support the film now knowing Stock's level of inclusion. I remain supportive as my role in life and in this film is to carve out a space for dialogue, mutual respect, listening and learning.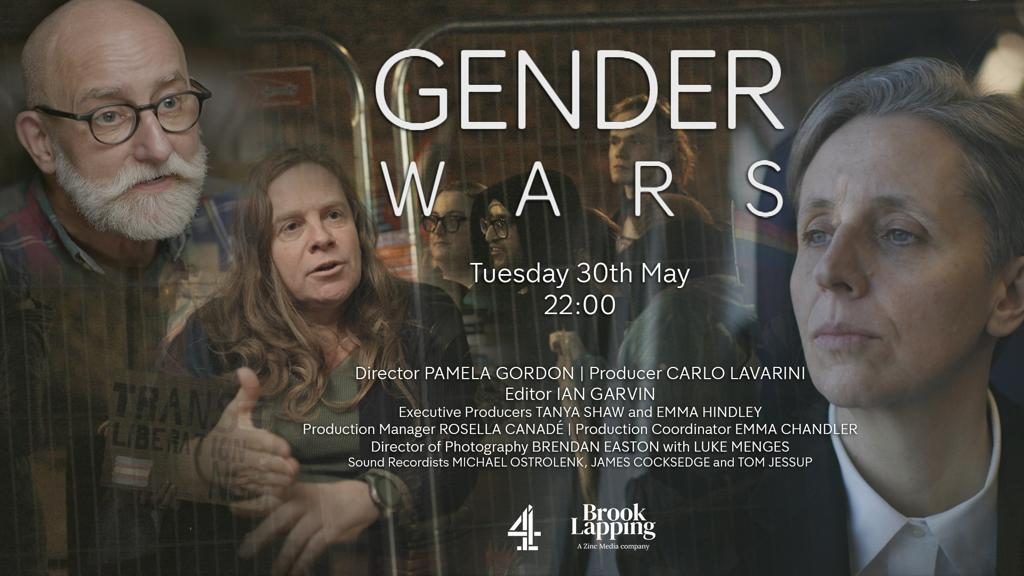 Times Radio
Debate with Lucy Marsh of the Family Education Trust on Times Radio with John Pienaar about social transition in schools and changes to government guidance (Sep 2023)
Discussion of a new Trans Gender Clinic, Tavistock GIDS, Puberty Blockers and youth mental health (June 2023)
Is there space for respectful dialogue in the trans debate? Kathleen Stock and I discuss on Times Radio ahead of Gender Wars documentary and Oxford Union debate.
"She occupies a space that's both quite strong disagreement with me, but is prepared to talk to me and defend my free speech, that's quite refreshing."

Is there space for respectful dialogue in the trans debate? | @katyjon and @Docstockk discuss the importance of communication. pic.twitter.com/z8nLSQxUpe

— Times Radio (@TimesRadio) May 30, 2023
Conversation with Ayesha Hazarika and Julie Bindel, responding to a Peter Tatchell interview (Jan 2023)
How should we talk about trans issues? Interview with Ayesha Hazarika (April 2022)
Trans rights are almost always in the news but we don't often hear from trans people. Listen to my @TimesRadio interview with the brilliant @katyjon about their life story & how we can try to have better discussions in an increasingly divisive climate https://t.co/KBLR3Db6jK

— Ayesha Hazarika (@ayeshahazarika) April 3, 2022
Talk Radio
The joys of a spicy radio debate before breakfast! I used to be called up on political issues years ago by Talk Radio as a Norwich voxpop. Now the chief political issue seems to be who can define a woman, is the law clear and how can women's spaces be policed. We should be policing behaviour not bodies. Nobody wants an abuser in their space and we don't use chromosome tests like Covid tests!
JK Rowling has criticised Keir Starmer after he said "trans women are women."

Julia: "JK Rowling is more entitled than Keir Starmer to define what woman is."

Katy Jon Went, trans woman and diversity facilitator: "JK Rowling does not represent all women."@JuliaHB1 | @katyjon pic.twitter.com/zU9L87sQZh

— talkRADIO (@talkRADIO) March 14, 2022
GB News
Since 2021 – after being spotted on BBC Radio 4 "talking sensibly", I've been on GB News some 30 times trying to provide a balanced, "reasonable, sensible" voice in the explosive polarised gender v sex-based rights debates. Here's a selection and let me be clear I support trans rights AND women's rights but these are discussions about how the two are navigated and it's not always possible to dot every 'i' and cross every 't' in a brief discussion – and my views evolve:
"A very divisive hoohaa", "How do they stand up for both women and transgender people, rather than pitch one against the other?"
JK Rowling, Lisa Nandy on Labour, women and trans
"People can step out of the battle and find the human in a conversation"
Transgender wait for mental health & NHS support
Rishi Sunak's comment on trans women
EHRC Gender Guidance in Schools, "common sense"?
Canadian Trans Cricketer
"Despicable" not accepting a Pupil identifying as a Cat!
Kathleen Stock addressed Oxford Union
British Cycling bans trans women from female category, Emily Bridges overreaction
Adidas Trans Swimming Costume debate with Oli London
Dylan Mulvaney & Nike advertising song and dance drama!
World Athletics ban on transgender athletes 'not anti-trans'?
Nicola Sturgeon's resignation a Victory for Women?
Dictionary Definition of Woman
Diversity Inclusion Practices
Trans in Sport with Sharron Davies
Do we need Self-ID laws?
The future of Diversity Managers – Scrap, Reform or Keep?
Whether trans women should be allowed in female jails
We Need To Talk About…Gender (Recognition Act)
Gender recognition 'should move closer to self-declaration'
Conversion therapy
Lisa Keogh, Abertay University "Women Have Vaginas"
Academic Freedom: The female authors accused of transphobia
Including pronouns in email signatures could be 'misguided allyship'
Trans Women on NHS Hospital Single Sex Wards
Trans women in female jails policy lawful says High Court
CBBC accused of one-sided coverage on trans issues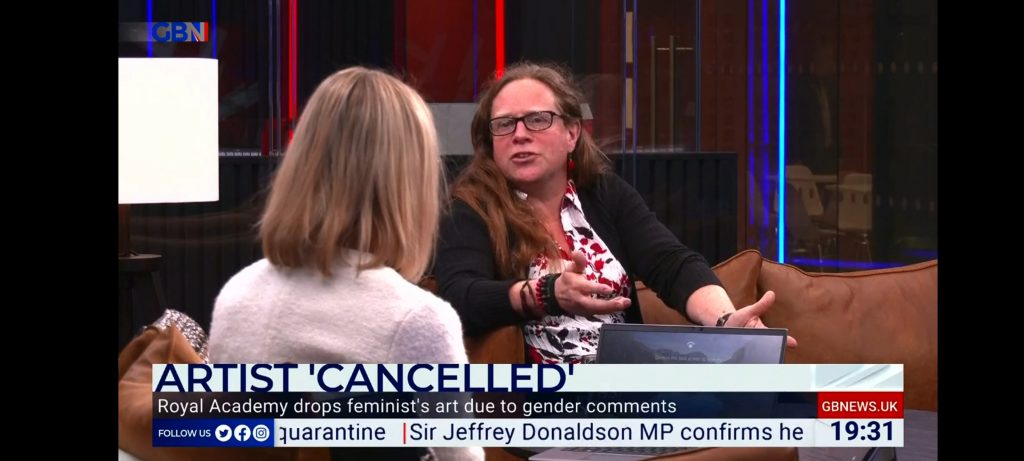 More Appearances
I was on the now extinct Norfolk's own Mustard TV, was a part of BBC3's Queer Britain series and a BBC online look at transgender and women's rights. I've also appeared on TV discussing Doctor Who, Brexit, art, gender, free speech, and been on a panel with Melvyn Bragg discussing TS Eliot's "Four Quartets". My scariest moment was finally doing my first TEDx talk on "Being Different, Being Yourself" whilst majorly rewriting my talk on the day and managing my anxiety and mood disorders.
Back in 2012, I had a very personal film "What Katy Did" made about me which seems a distant version of myself already. I had huge fun scripting and Shatner-acting in a Doctor Who themed mental health awareness video in 2015 and then interviewed in 2017 about Jodie Whittaker the new female Doctor Who on Victoria Derbyshire (BBC2) and BBC World.
Because of my political and human rights activism, I'm often on local news fighting some cause or another, even Dutch news! Usually, it's about art, Brexit, mental health, or transgender views (for and against) on ITV, BBC, and more.
I've been on BBC Radio Norfolk several times to discuss gender or mental health, and for a while almost weekly on Talk Radio usually discussing politics. I used to do several sessions on Future Radio providing the good, uplifting, 'weird', and often naughty news slot on a community feature programme, and have guested on its Pride Radio programme about all things LGBT+. I did a 35-minute interview on Bush Radio in Capetown about the plight and needs of transgender people in South Africa and elsewhere.
I've learned that 10 hours can be cut to 30mins, 2 days to 2 minutes, and an hour cut to 20 seconds – and not the 20 secs I wanted when it was taken out of context!
It's been part of my life learning to realise that I cannot control how I am seen or interpreted, as much as I'd like to. I prefer live media to recorded so that it can't be edited and we all know anything can happen live which is more exciting!
Podcast Interviews
I've been interviewed for several podcasts on questions about LGBTQIA+ sex, gender, sexuality, relationship, faith, and mental health questions, or for the British Library about being a Human Library book, but mostly about being yourself and pursuing your own journey and not trying to copy anyone else's.
Most recently in 2021, I've appeared on Jess McDonald's wonderfully energied Human to Human and Dutch podcaster Perry Knoppert's channel about how people are my medicine.
Interview for International Women's Week 2021 with Lourdes Gant
I've been on James McDermott's Mantor Masculinity podcast, and in 2020 I was on Fifty Shades of Gender's podcast. Upcoming podcasts TBC in Australia and Europe.
Previous podcast interviews include: BI Positive+ episode 42, episode 46, The Diss(ability) Track on Invisible illness & disability, Wendy Capewell's Love-Listen-Talk-Repeat episode 26 (also hear my partner on episode 21).
Battle of Ideas
The Academy of Ideas runs regular free speech engagements on culture wars topics. I've been involved in a couple.
The trans teen trend: a case of social contagion?
Also a follow up interview on Knight Tube
Girl, Boy, Other: How do we talk about Gender?
Human Library
I'm also a Book and a coordinator of the Human Library in the UK, and at a 2017 London launch event was interviewed by an inquisitive reporter for Seen In The City.
"I found myself chatting to the incredibly warm and engaging Katy Jon Went, a non-binary transgender former theologian. Needless to say, I was half an hour late to meet my friend. I'll admit: we both went full geek on the subject. It was a rare privilege to speak to someone so knowledgeable about the spectrum of belief in relation to gender identity – tough topics to tackle in a brief conversation with a perfect stranger! And yet that's the point of The Human Library: to encourage engagement with someone you might never meet or converse within your own social circle or place of work or study." – Anusha Couttigane, Seen In The City
The Evening Standard was also there and featured me, Muffe Vulnuz, and Ronni Abergel, the Human Library founder, in their video (from 2m44s).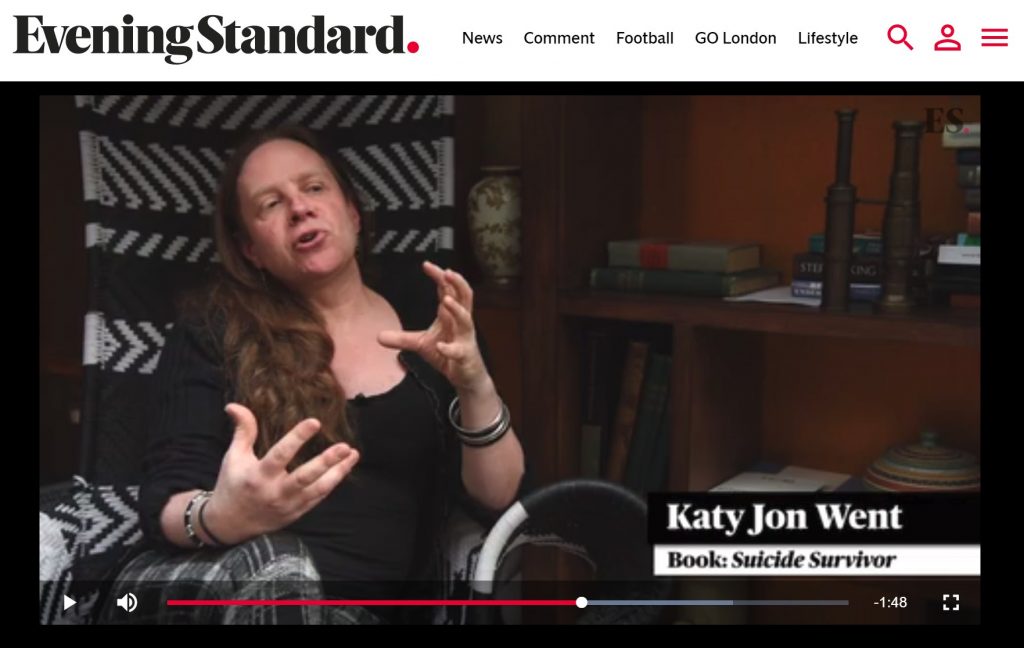 ITV and BBC have also featured the Human Library in which I appeared.
From Stage Fright to Stand-up Delight
I used to hate being in front of a live audience, a fear now overcome through public speaking and stand-up comedy and choosing to be myself not act a life role that did not fit me. I was always confident both behind and in front of a camera. Acting runs in the family, with both my parents having been keen amateur actors, and my father appeared on television in one of the last cigarette ads ever made, just after he gave up smoking! I was dragged to most Shakespeare, Tom Stoppard, Henrik Ibsen plays as a teen and 'learned' to appreciate them. I was in a mad and playful drama club at UCL nicknamed the Play Group which sounded more like a kindergarten!
What Katy Did (2012)
I was filmed for a 25-minute visual anthropology film documentary, "What Katy Did" which was shown at World Pride Film Festival, Cardiff Iris Prize Festival, Zürich Regard Bleu Festival and Norwich Cinema City.
Described as "an intimate account of the joys, sorrows, thoughts and dreams of Katy, a transgender male to female from Norwich. The film was made for the course 'Beyond Observational Cinema', as part of the Masters programme Visual Anthropology at the University of Manchester, 2012." Idea, camera, edit by Gussy Sakula-Barry and Tanja Wol Sorensen.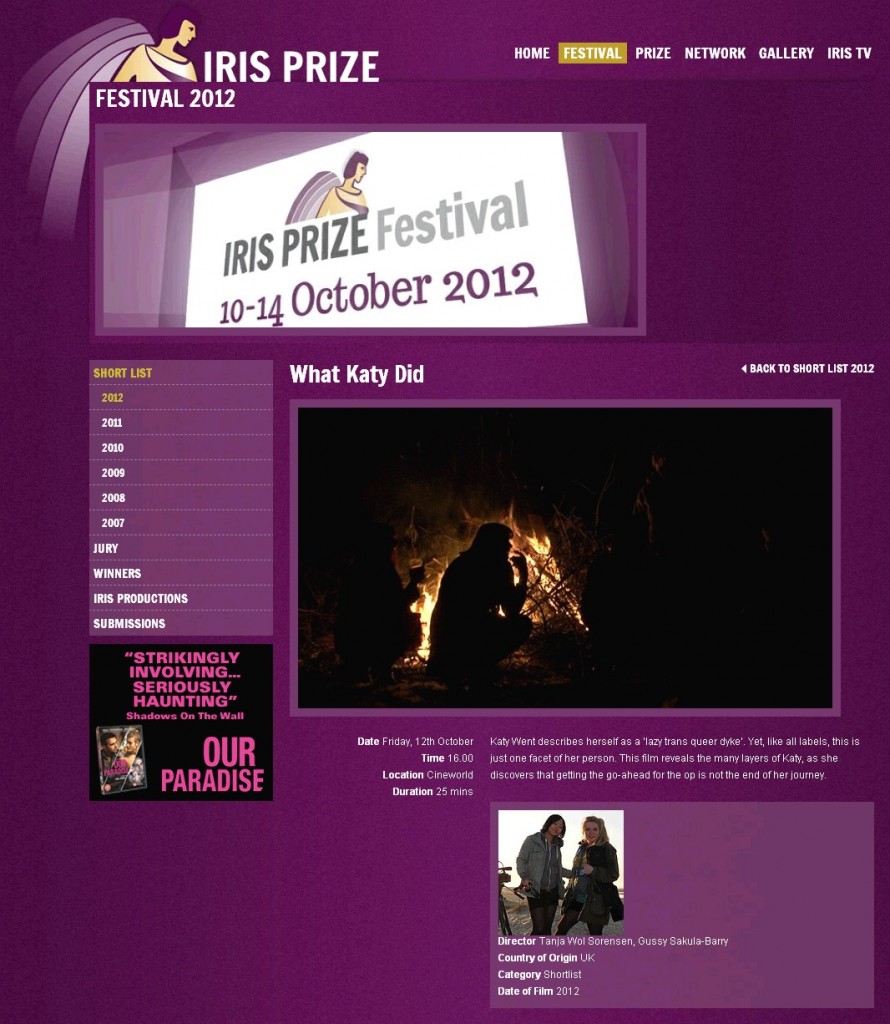 "As you will have gathered, Katy loves to talk, so the hardest thing about making this film was when it came to the editing process and we had to reduce a week spent with Katy into a half hour film. Needless to say, she didn't feel it captured her as a whole. But alas, this is the nature of the beast that is documentary filmmaking. Because Katy is such an interesting, diverse person it was difficult to express the many different facets of her personality whilst simultaneously forming a narrative structure. Finding out about her attempted suicide after we wrapped was devastating, and clearly shaped the film. It starts on a high, climaxes, and then the tempo and mood after the party slow down, as her contemplative darker side is revealed. The text at the end is, to many, shocking, but we feel this reflects our surprise at the news. Although we both had background experience of the lgbt community, through this film we learnt so much from Katy and her wonderful friends. Indeed, Katy is still a dear friend to us. We hope you enjoyed the film and are very sorry we can't be there today." – Gussy Sakula-Barry (written for the Cinema City, Norwich, screening, 18 February 2013)
What Katy Did from Tanja Wol on Vimeo.
Gussy now makes cutting-edge films for Channel 4 and Tanja's most recent film was about human rights in Colombia. I was privileged to work with these talented filmmakers at early stages in their budding careers.
Reviews and feedback of What Katy Did
"It was raw and intimate and deeply touching-just beautiful!" – Miri Wilkins, Director, Zot Films
"Gentle, honest, insightful … a normal person with an unusual story…It avoids any sensationalism and presents a 'real' picture of another human being with a story like all of us. Not the voyeuristic channel 4 stuff, which can be good, but is different. This is intimate and personal and reflective." – Rev Sarah Edmonds-Maguire
"wonderful and sincere film" – Carol Louise
"the most inspirational thing" – Iona Ratcliffe
"very intimate, and matter of fact insight into your extra-ordinary life" – Chris Holdgate
"Katy I think your film is a cracker… really good and one I would love to have seen in the shooting gallery… good, honest, not the typical cliche… down to earth, easy to relate to…" – Denise Anderson
"really good, insightful and thought provoking. Although the last few minutes brought a lump to my throat." – Emily Nichols
"Wow, what a beautifully made piece! Very touching" – Rebecca Lowrie
BBC – Who, or what, defines you as a woman? (2018)
Featuring Katy Jon Went and Linda Bellos (6m30)

How do you define a woman? It's a question that's caused a rise in tension amongst some feminist and trans activist groups, following government plans to consult on the way people legally change gender.
Two days of filming edited to just a few minutes but still worth it in order to provide balance in a hot and very personal debate about transgender and women's rights. My own views have moved on somewhat and might phrase things or identify differently now.
Doctor Who – New Doctor (2017)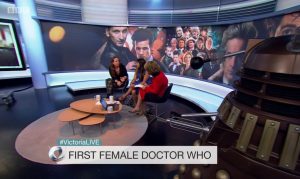 A twitterstorm and tabloid misogynoid (coined by BBC Radio 4 Dead Ringers as a new alien species) tantrum over Jodie Whittaker (ITV's Broadchurch) being appointed the new female Doctor Who led to much online discussion and an interview on Victoria Derbyshire (BBC2) and BBC World channels.
"We've already shaken up sexuality in the Doctor Who world… the Master has been Missy for 3 years, get over it"#DoctorWho #Doctor13 pic.twitter.com/6yTgQf8KnM

— Victoria Derbyshire (@VictoriaLIVE) July 17, 2017
I imagined I'd been invited on to advise Jodie on transitioning but it turns out the BBC wanted me because I was a Doctor Who fan and were blind to my own gender regeneration!
Doctor Who – Time to Change Doctor (2015)
Produced as a futuristic mental health campaigning awareness video for Time to Change, the short film portrays a freshly regenerated Doctor Who arriving on a future Earth in 2084 to witness changes to society and how mental health conditions are treated and accepted.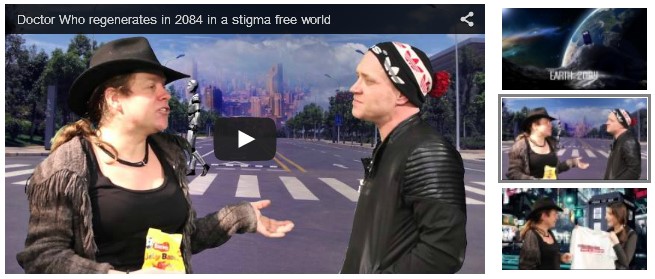 Created from start to finish in 4hrs by amateur activists rather than actors including writing the script in an hour, barely learning lines and enjoying the hospitality of BBC Voices facilities, green screen, and the use of BBC Radio Norfolk's TARDIS. The film then enjoyed nearly a week in editing, with BBC staff adding effects, before being shown at the Time to Change celebration in Birmingham, UK, in February 2015. I'm also appreciative of my co-stars Terry Haggerty and Esther Lemmens who humoured my messianic narcissistic tendencies and fondness, like Tom Baker, for jelly babies! Best out-take from Terry "You're the breast, Doctor"!
Many thanks to the BBC for the use of their facilities, effects and staff. All clips, effects used with permission. Thanks also for the permissions from the builder and owner of the TARDIS too. We are very grateful to all those involved and the time they put in to help see change in 2015, not just that imagined in 2084.
If the BBC needs a new Doctor Who at any point, and one who solves the dilemma of how the Doctor can come back as a woman, then I have and am the solution!
"More of a transformation than a regeneration!"
I promise to be diverse, flirt more than Captain Jack with people of all genders and alien species, and maintain the messianic megalomaniac profile of the Doctor!
Damn, they gave the job to Jodie (see above)!
TEDx at UEA "Do Different" (2018)
My scariest filmed moment to date was finally doing my first TEDx talk on "Being Different, Being Yourself". I actually love public or political speaking, TV and radio appearances, but for some reason sitting through 10 other TED-talkers before mine – the last of the day, was nerve-wracking. This was probably because I was rewriting mine until 20mins beforehand, which kinda features in my talk since authenticity for someone such as me means being in the moment, and for mental wellbeing reasons, taking life one day at a time. Indeed, Richard Sheridan, in 1777, was still writing the play, The School for Scandal's lines as its performance started! So prepping a talk several weeks ahead meant that by the day of it, I had already moved on in what I wanted to say. Hence, there's a mixture of prepared, read and spontaneous reflection in my "Being yourself means being naked, raw and vulnerable" talk.
My mood, that day, was mixed-state low/anxious and hypomanic and my anxiety disorder was playing havoc with my guts (physically and emotionally). I would have preferred to have done it, extempore or memorised (but that somehow felt inauthentic and non-spontaneous), I would have loved to have been thrilled to be in the moment and the spotlight, as it was I needed a number of anxiety management techniques in place just to get through it. One of these included wearing the exact colours of the TED brand and stage setting so I could blend in and not clash with my surroundings. Another was to channel my cats' calm! Even so, it came out ok and I appreciate the efforts of the TEDx at UEA team who were professional and welcoming to a fault.
Mustard TV Interview (2016)
There was entertainment and education galore on Mustard TV's The Mustard Show with Helen McDermott and Nick Conrad, and moi. We were talking about transgender kids, the CBBC programme 'Just A Girl', my own 'gender' experience, and Norfolk's transgender support options.
Fifteen minutes pre-filming was spent working out what we couldn't say on air, like penis, clitoris etc, as this was going out at 6.30pm. Then Nick and Helen launched into a wonderfully Alan Partridge-style Norfolky innuendo-ridden introduction – part of their normal banter.
Nick to Helen: "I'm sure you'll be indulging in a hot sausage and a couple of bangers this bonfire weekend", Helen "I'm always worried about my cat, and I've got to be careful how I say this…". "Treats and sparkling chat…annals – you're lucky I said annuals and not…"
The humour put me at ease, not that I really need it, but joking aside, it was great to air the discussion in an informal setting without being seen as part of weird, prurient or exploitative television.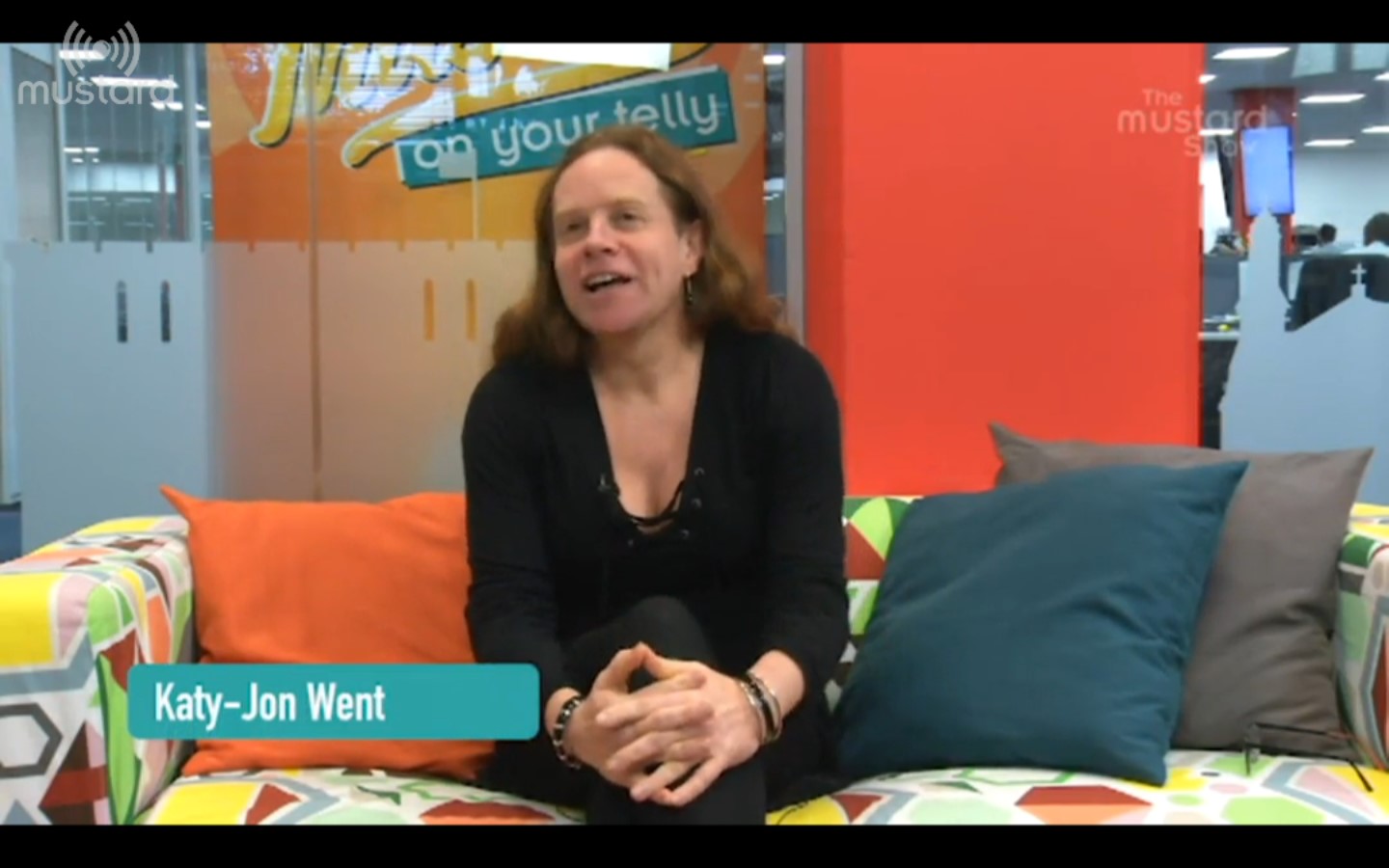 http://www.mustardtv.co.uk/episode/the-mustard-show-640/ – after this link expires, watch on Youtube.
BBC3 Queer Britain (2017)
At the tail end of 2016, I was contacted by two TV channels at the same time looking to explore young people and their nonconformist attitude to gender and the diverse spectrum of gender identity. Whilst working with young and often vulnerable teens and twenties, I considered long and hard whether to get involved. I actually receive a couple of similar emails a month like this. The difference with the BBC3 crew was that they allowed me to almost interview them by Skype so I could be sure it would be a good thing with any safeguards before exposing a nascent Non-Binary group to the glare of the camera. In the end, it was thoroughly responsible, only those who on that day were willing to be filmed, were. The result is an inquisitive, raw and yet tender look at both a Non-Binary discussion group that I started in Norwich and also an interview with a friend, Sarah, about her Intersex discovery and sexual-gender identity journey (my tabby cat makes an unscheduled appearance). The 15-minute segment in Norwich is sandwiched between the very honest revelations of trans man Nate (who has a lovely white cat in the background) and the Sink The Pink nightclub in London.
YouTube star and BBC presenter, Riyadh, ends the film and indeed the series (one hopes there'll be more) with this poignant quote:
"In the search for identity, validation, and acceptance we find ourselves surrounded by amazing people with incredible stories. As a community, we need to come together and realise that the LGB can support the T and the Q and everything else, and maybe this Q is a neat umbrella term that leaves no one out. We're all accepted." – Riyadh Khalaf, Queer Britain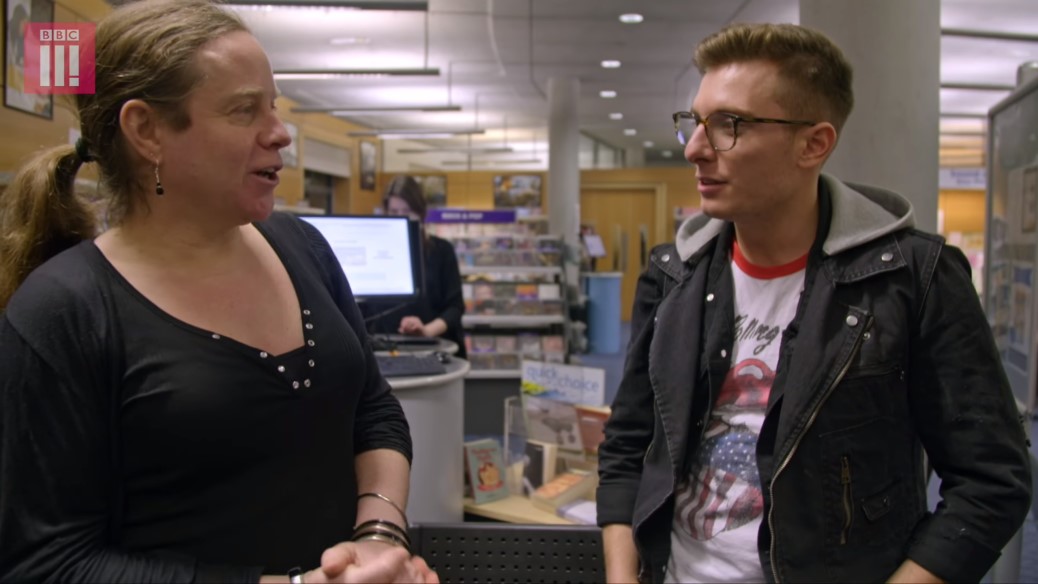 Gender After Birth, student documentary
In 2018, I was filmed along with Aviv Gee by Kirsty Hamilton for an-A-grade awarded student documentary on atypical gender. Exploring why ever-increasing numbers of people are identifying outside the gender binary.
The Red Pill Q&A
A feminist's inquiring documentary into the Men's Rights Activist movement. Cassie Jaye, a US filmmaker encountered huge opposition both making this and afterwards showing it. I was one of three feminists to debate it on a couple of post-film showing panels with Erin Pizzey, Paul Elam and others.
The Q&A ran on two nights and the second one was uploaded as two parts. Here's part one:
Part two:
Homophobic & Transphobic Hate Crime Interview
Libby Masters, a UEA Masters student worked with Hate Free Norfolk and others to produce a film about homophobic and transphobic hate crime in Norfolk (UK). The film features victims of hate crime and explains how the Police and the Crown Prosecution Service deal with hate crimes. I would certainly qualify my own comments having seen them on the film now (from 9m59s) that all hate crimes should be reported, as for example, Jack's, but as in my case, hate incidents – when I feel safe to do so, I usually engage with and educate, and I choose which battles to take further and on which matters to take offence.
Norwich is a great place to be LGBTIQ+, non-binary or visibly different. It's not perfect, but I do generally feel that the council and police have our backs in difficult circumstances, when many cases lack the CPS test of being likely to lead to a successful prosecution. I also believe in holding the police to account for the rare occasions when they get it wrong or need to expand their understanding of increasingly confident and varied youth identities. Local Norfolk LGBTI+ folk should know that there are diversity and LGBTI advisory panels that the Police consult with and I am happy to pass any issues raised to them.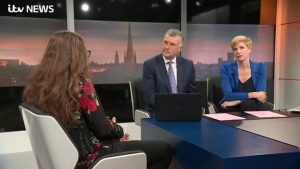 Each year, during Transgender Awareness Week and Trans Day of Remembrance, I'm regularly called upon by media to offer a reasonable and sober look at transphobia, discrimination, abuse and violence. Most recently, I was on BBC Radio Norfolk, Look East, and ITV Anglia, where I also sit on their diversity panel.
ClexaCon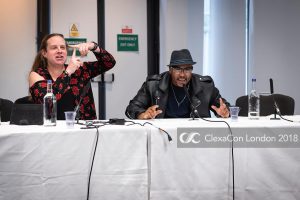 ClexaCon, the LBTQ+ women and non-binary people fan and media convention came to London in 2018. I was asked to chair a panel of trans people in TV , film and music. The star of ClexaCon London was undoubtedly the actors from Carmilla and Jamie Clayton who played Nomi on Sense8.
Not to be found on Page 3 of The Sun
I often end up in the local papers during political or activist events, but back in 2006 I ended up on the front page of The Sun, not a part of some big bad trans exposé but in my former guise as a Hebraist being quizzed on the meaning of Tom Cruise and Katie Holmes' inaccurate baby naming – "Suri"!
Among a few friends, I also competed under my old name to see who could be the first to get a letter published in The Times. I'm not competitive, ok, so I am, and I did push hard to get three dull academic letters published. OK, so I am a little bit of a media fame-monger, publicity-grabber and networking-addict, but I hope I am also down-to-earth and vulnerably honest.