LEGO – A golden investment opportunity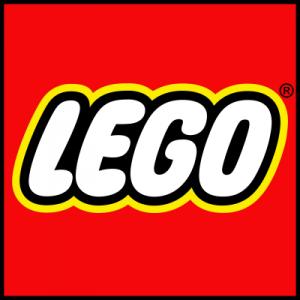 Kids (and adult-kids) don't open your Christmas presents! Pristine LEGO sets have risen by 12% p.a. since 2000, unlike the FTSE100, Gold, Oil or Savings accounts. Buy, buy, buy LEGO! That's my excuse, anyway! I do have a secondary loft devoted to the stuff, but mine is for building inspiration not buying as an investment. It is of course an investment in play, imagination, even a career choice at LEGO or as an independent builder-designer-artist. The UK even has a dedicated Adult Fan of LEGO (AFOL) Convention-Conference and Brickipedians have their own Wiki with nearly 30,000 pages.
Meanwhile, LEGO has funded a £1.5m professorship "of play in education, development and learning" at the Cambridge University, and is currently advertising for a new professional LEGO builder with:
"…Lego building experience and be able to design and build sturdy, accurate, complicated, safe and installable Lego models for a wide variety of Legoland attractions including miniature scale models and/or life sized organic models from prototypes, diagrams or computer generated instructions."
So whilst most of the western world has seen economic austerity since 2007/8 and many nations have exercised restraint on housebuilding amidst increasing population demand, LEGO builders have bucked the trend. The 'toy' remains a firm favourite across the generations whether as conventional bricks, computer game play, or film.
'Cafe Corner' (2007, set 10182) is the most lucrative accumulation at an original retail price of £89 and which is now worth £2,096 at a 2,230% return on investment and just over a £1 a piece.
The Ultimate Collector's 'Millennium Falcon' (2007, set 10179 ) is the most expensive and largest Star Wars Lego set ever made with 5195 pieces weighing over 10kg – around £230k if it was made of gold. It has shot up in value from an original RRP of $499 in 2007 to over $4,300 today (peaking at $5.2k in July 2015), indeed they range in price on Amazon from £4,495 to £5,950 new or £3,250-£3,950 secondhand. There is even a brick-box tracking index at brickpicker.com.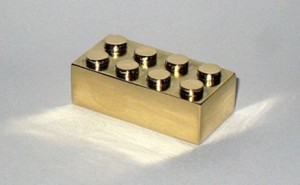 In reality, Gold at £23/g is worth more than an equivalent LEGO brick in weight. An actual 2×4 LEGO brick made of 14 karat gold was made and allegedly given to some long service employees – it's now worth $14,445 for a 25g brick, which would only be $999 for its gold value alone.
LEGO Star Wars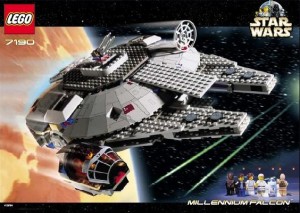 LEGO launched their first full commercial tie-in and intellectual property protected range in 1999, Star Wars – not the Millennium Falcon (2000, set 7190) but a lightsaber duel between Darth Maul and Qui-Gon Jinn (set 7101). During the current England-South Africa cricket match, Test Match Special commentators discussed their regrets at handing over a Millennium Falcon set to the school fete.
Whilst the Millennium Falcon may be the biggest Star Wars set it's not the biggest Star Wars model – that goes to an X-Wing fighter made up of over 5 million LEGO bricks, measuring 42x44ft.
LEGO Doctor Who
The LEGO product range continues to reinvent itself embracing the early town/city building ranges through knights, castles and pirates, to modern Harry Potter, Marvel and DC Comics Super Heroes, the Lord Of The Rings and Hobbit-verse, Indiana Jones and Jurassic World.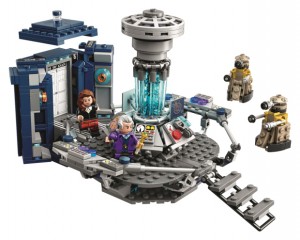 Whovians, aka Doctor Who fans, can now also get there hands on two Doctors, a pair of daleks, and one Jenna Coleman, as this month saw the launch of the first official LEGO sett for the BBC show. LEGO Dimensions also offers Doctor Who multiverse video gaming options. This will no doubt grow and grow alongside Star Wars LEGO merchandise
LEGO Quantity Purchase Restrictions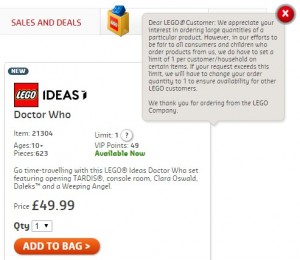 Demand for the Doctor Who range, among collectors, is expected to be so high that LEGO have limited purchases to one per household. Even trying to buy the similarly priced Big Bang Theory "Leonard and Sheldon's Living Room" set (21302) one is limited to a maximum of two sets.
"Dear LEGO® Customer: We appreciate your interest in ordering large quantities of a particular product. However, in our efforts to be fair to all consumers and children who order products from us, we do have to set a limit of 1 per customer/household on certain items. If your request exceeds this limit, we will have to change your order quantity to 1 to ensure availability for other LEGO customers. We thank you for ordering from the LEGO Company."
There's fairness, and then there's preventing stockpiling as an investment, creating a secondary market due to scarcity. LEGO have also admitted to supply problems keeping up with demand. They also have a policy of not supplying LEGO to depict scenes of violence or politics. This resulted in the million bricks used in Belgium's memorial of Napoleon and the Battle of Waterloo in 2015 being restricted to monuments, art and a portrayal of his funeral, none of the battle scenes, despite ranges of LEGO knights, soldiers, and pirates – not known for their pacifism. They've probably not seen this then:
LEGO Political Censorship of Artist Ai Weiwei
Artist Ai Weiwei also had a request for large volumes of LEGO for an art project refused due to its political purpose. After protests members of the public campaigned to supply Weiwei with bricks. Ironically, he wants to use them in an 'Andy Warhol / Ai Weiwei' exhibition exploring the concept of freedom of speech.
LEGO Company History
According to the Wiki Brickipedia among the several origins stories for LEGO. Nearly a century ago in 1916 a Danish carpenter, Ole Kirk Christiansen, bought a woodworking business but which due to an accident caused by his young sons set fire and burned down in 1924. After rebuilding Christiansen used to make model furniture as design and display aids. Struggling with 1930's economic conditions he diversified into wooden toy production alongside furniture. In 1934 LEGO as a brand was coined, by an employee who was rewarded with a bottle of homemade wine. 'Lego' came from a contraction of the Danish phrase leg godt, meaning "play well" but which was later discovered to be akin to "I assemble" in Latin.
It was not until the late 1940s that production shifted to plastic and interlocking bricks – inspired in no small measure by a British inventor's Kiddicraft 'Self-Locking Building Bricks'. Indeed, three decades later LEGO bought Kiddicraft. Ten years after their introduction with numerous teething problems now mostly solved the modern LEGO brick was born around 1958. Another fire in 1960 destroyed the last of LEGO's wooden business and LEGO bricks took over completely.
LEGO looks set to reinvent itself, grow and grow, as an investment and as an inventive and interactive 'toy' – if it can be called that at all now, for adults are just as keen to collect and to 'play' with it. It may even prove a career choice for some and/or a profitable trading commodity for others.