Three elections in four years have made a mockery of the Fixed-term Parliaments Act (2011) and seen a Brexit Referendum (2016) be all but forgotten this general election campaign despite it being the reason for its being called. Tired of Brexit people have focused on the NHS, the Police, anti-Semitism and Islamophobia, the trustworthiness of the leaders and other politicians who more often than not are no shows, empty-chaired, or downright refuse to engage with the electorate or debates. Trust and truth are the two casualties of this election and we may never get them back.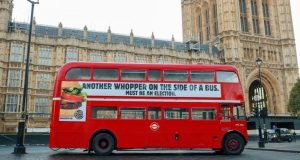 Brexit began this all with big lies on the side of a bus, Whoppers even! Now the lies are everywhere and nobody knows what to believe.
Lies, Damned Lies and Statistics
Policing numbers, nurses, the NHS, new hospitals, fast or free nationalised broadband, 2 billion trees, Brexit will be brilliant or Brexit will be a disaster, crime will go up or down – which numbers can be trusted? An unprecedented number of candidates have had to drop out for things they are saying or said in the past about women, Jews, Muslims, their own colleagues and parties – indeed it is unheard of for so many MPs to be switching allegiances, standing as independents or saying to vote against their own leaders or party positions.
I trained in Economics and Statistics at UCL but it may as well have been Politics, Philosophy and Economics for the misuse of statistics has become a political art. Another reason I chose a BSc over a BA was thinking that one was a science and the other a dark art. These days it is pure artifice with Dominic Cummings dropping dead cats to the gullible or worse still, complicit media.
As fast as a politician is caught in the act of lying or showing no care the spin machine drops a distraction – or dead cat news story. Deadcatting aims to divert discussion away from a more politically damaging topic and has been happening almost daily this campaign.
"A lie gets halfway around the world before the truth has a chance to get its pants on." – Winston Churchill
Prepared lies spread like wildfires and are hard to put out. The truth takes time to dig out, substantiate, authenticate. Just take the Yorkshire Post Leeds General Infirmary sick child on a hospital floor story – that was true. But a fake assault #punchgate and the casting of doubt on the original story went viral as quick. Fewer people circulated the Post's response and confirmation of their journalistic factchecking.
Big Lies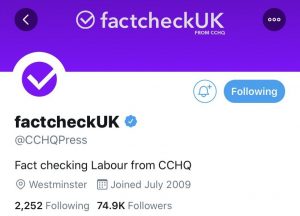 Speaking of fact checking – remember the fake factcheckUK service that the Tories turned their Conservative Party HQ Press Offce twitter page into?
No segue intended here but Adolf Hitler, in Mein Kampf, wrote that:
"in the big lie there is always a certain force of credibility; because the broad masses of a nation are always more easily corrupted in the deeper strata of their emotional nature than consciously or voluntarily; and thus in the primitive simplicity of their minds they more readily fall victims to the big lie than the small lie…" – Mein Kampf, vol. I, ch. X (1925)
It is said that Joseph Goebbels was the proponent of telling a lie so big enough and repeating it that people would eventually and inevitably come to believe in it – so long as the State can shield the people from the political and economic consequences of the lie. (Brexit anyone?) Truth, therefore, becomes the greatest enemy of the State and a Ministry of Truth is required to perpetuate the lie and counter the truth.
In fact, Goebbels proposed that Churchill was the big liar and had a Lügenfabrik or "lie factory".
"The essential English leadership secret does not depend on particular intelligence. Rather, it depends on a remarkably stupid thick-headedness. The English follow the principle that when one lies, one should lie big, and stick to it. They keep up their lies, even at the risk of looking ridiculous." – Joseph Goebbels (1941)
In the USA, JFK also pointed out the potency of repeating lies till they become ingrained as myth masquerading as truth.
"No matter how big the lie; repeat it often enough and the masses will regard it as the truth." – John F. Kennedy
The slow news outlet Tortoise has called them "big little lies" this General Election 2019 campaign.
"of 95 claims that were fact-checked during the election campaign, 77 turned out to be untrue." – Tortoise
Tell the Truth
"In a time of universal deceit – telling the truth is a revolutionary act." – George Orwell
This would be a great quote, if Orwell ever said it. The ironic fact is that it's a false quotation. What he did say about the truth was that:
"Political language – and with variations this is true of all political parties, from Conservatives to Anarchists – is designed to make lies sound truthful and murder respectable, and to give an appearance of solidity to pure wind." – George Orwell
Recent analysis has found that 88% of online ads posted recently by the Conservatives contained content that had already been deemed misleading or false by a third party factchecker, Full Fact. That number for the opposition? 0%.
Truth Actually
"And at Christmas you tell the truth" was the Love Actually prompt card that Dominic Cummings and Boris Johnson couldn't in any sincerity include in their spin on the Richard Curtis film Love Actually (2003), because, you know, lies…not only that but this dead cat is a copy cat of Labour MP Dr Rosena Allin-Khan's parody video from 3 weeks ago.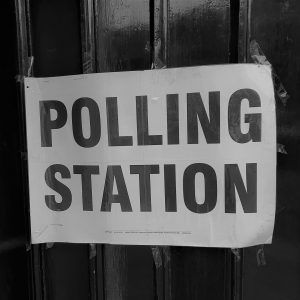 If Boris Johnson wins the #GE2019 it will be on an unprecedented foundation of lies and "truth avoidance". The Brexit Referendum was founded on untruths and whoppers on the side of a bus. So too this election. Speak truth to power and take a stand #NotMyGovernment!