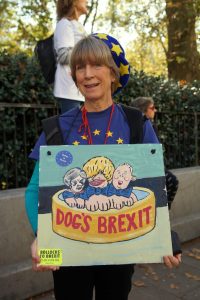 When the DUP and Labour combine forces to elicit the full text of the Government's legal advice surrounding the Brexit deal you know the traditional Left and Right sides of politics or Parliament's chamber have been traversed. When UKIP and Tommy Robinson plan to march against Brexit – at least in its current form, you know that those that pushed for it don't want what is on offer. When Leavers and Remainers are both calling the deal illegal you know the whole omnishambles is unravelling.
Then we have the Brexit TV debate on BBC or is it ITV, with Leaver Corbyn having to speak against Brexit and Remainer May, for it. They are not the only two voices we should be hearing from, and they are far from the best. Where are NI or Scottish voices, LibDem or Plaid Cymru?
Theresa May is adamant that it is her deal or no deal. Occasionally, she suggests the possibility of a third option and then retracts it. Liam Fox, meanwhile, openly voices it:
"As leave supporters, the choice we face isn't between the deal the Prime Minister has reached or a deal we might like to reach. The choice is between this deal and the very real risk of no Brexit." – Liam Fox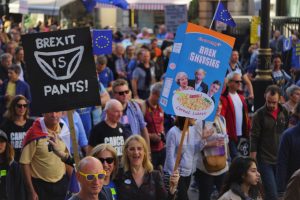 This is such a poor deal of limited EU withdrawal and complete loss of influence in the name of a pseudo-Brexit that for arch-Leavers to even consider voting for it must be an indication that both this Government and Brexit itself are in dire danger of collapsing.
Whilst the ERG's Rees-Mogg and pals can't add up to 48 and wrote their letters of 'No Confidence' prematurely, Parliament itself can call a No Confidence motion under the Fixed Terms Parliament Act:
"If a motion of no confidence is passed or there is a failed vote of confidence, there is a 14-day period in which to pass an act of confidence in a new government. If no such vote is passed, a new election must be held, probably a mere 17 working days later." – Institute for Government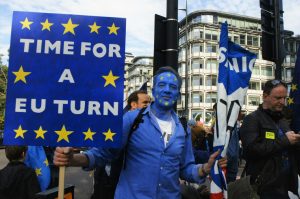 Wahay! I say, as a biased-against-Brexit Remainer and non-Tory but who, nonetheless, is keen to heal the divide and find a way to work out why our differences of opinion have become so polarised. Surely the far right is not that prevalent in British politics, and for Lexit socialists to ally with them against the EU proves that new alliances have been formed but which sacrifice so much more in the name of new forms of seemingly 'acceptable' nationalism.
National socialism has twice before become fascist extremism, I can't see that happening here in the land of moderation, I mean we are not rioting on the streets against petrol duty like the French. Labour may be a mess of confusion on Brexit but their moral ambiguity is not as bad as the Tory willingness to ally with the DUP to keep themselves in power or create hostile environments around immigration, welfare, or mental health. A majority of Labour voters supported Remain but its leaders can't bring themselves to come all out to stop Brexit. The Tories are overtly right-wing but actually called the EU Referendum to stem the tide of voter defections to UKIP and the far right and also can't bring themselves to descend into further right extremism. Many find 'no deal' unpalatable.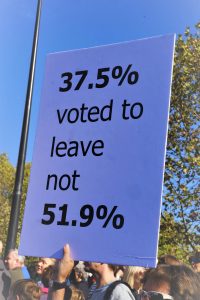 These are all minority views, however loud and briefly magnified into an ill-considered 52-48% yes/no vote that actually doesn't reflect the true views of the majority who were content with the status quo and might have answered differently to a more nuanced question.
If Brexit happens, Remainers won't riot, and if Brexit doesn't happen most Leavers won't. That a minority of Leavers might riot and have promised to bring revolution to our streets, and worse, is either braggadocio or blackmail. To remain a liberal moderate nation we must not capitulate to the threats of the far right.
The United Kingdom, whatever happens next, will forever now be the Disunited Kingdom. It's as if we have entered a new age of Civil War or Wars of the Roses that will haunt our history for some time to come. Ironically, the EU came about as a means to bring about peace and ensure an end to warring nation states.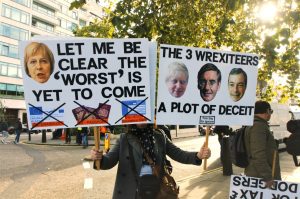 Instead, the state of the nation is of one at war with itself, ad infinitum, ad nauseum, to the point of decapitating all other political, social and economic needs. Housing, health, homelessness, have all gone by the wayside as we apoplectically remain beside ourselves, obsessed with Brexit.
There is no salve, no solution, that will satisfy both sides, especially, when the sides are now three and not two. We have Hard Brexit, Bad Brexit, and No Brexit – all as available choices, and none of which will satisfy half the country.
"One cabinet minister is privately predicting that we are heading for the 'gravest constitutional crisis' in our history. This is hyperbole; the 17th century had several that were far worse." – The Spectator
Brexit was all along a politically motivated idea that nobody really wanted in sufficient numbers. Instead, Cameron's cowardice and short-term opportunism have aggravated what was a political sore into an open wound that will remain infected for some time to come. The only option is surgery but whether that is to cut ourselves off from Europe completely or to remove the option of Brexit entirely, the healing to democracy and nation may be unrecoverable.