I'm glad Boris Johnson is healthy again so I feel no remorse in criticising him and past Tory governments' health policies. The NHS would not have needed a "human shield" or been "overwhelmed" (as per Pope Bojo's Easter address) had it not been underfunded for a decade or been a political football kicked about during Brexit and elections. Our "greatest national asset" deserved treasuring and resourcing in the good times so that during the bad, the human shield could use it rather than be used by it!
We have 5x fewer hospital beds per capita than Japan and South Korea – some of the countries best handling Coronavirus, 3x fewer than Russia or Germany, 6x fewer ICU beds than Germany, 3x fewer ventilators than Russia.
We have the 4th highest bed occupancy rate of 41 nations, with typically less than 5-15% capacity left for crises. The NHS is overwhelmed.
"The number of hospital beds for general and acute care has fallen by 34 per cent since 1987/88, the bulk of this fall due to closures of beds for the long-term care of older people." – King's Fund Data
That's the very group Covid-19 is affecting the most.
"In 2018/19, overnight general and acute bed occupancy averaged 90.2 per cent, and regularly exceeded 95 per cent in winter, well above the level many consider safe." – King's Fund Data
Out of 53 nations in the WHO greater European area, only Georgia and Andorra had fewer acute hospital beds per capita than the UK!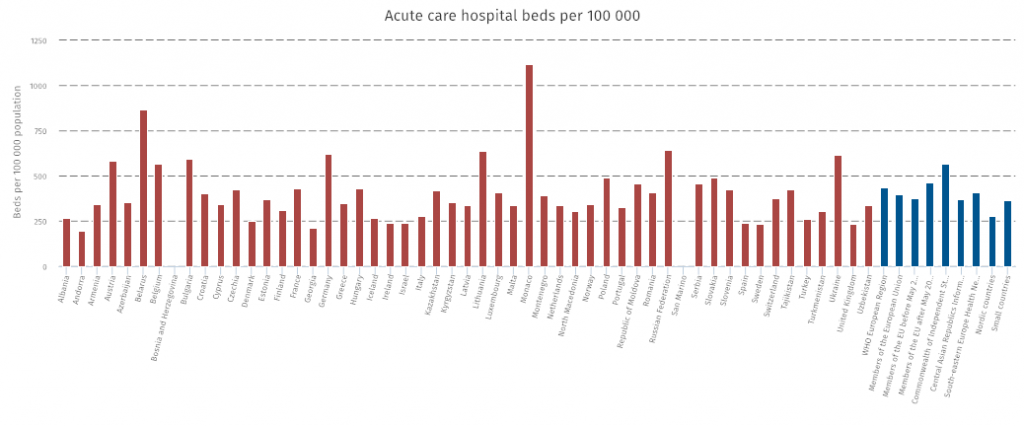 People shouldn't be a human shield – and NHS staff should be properly shielded with decent PPE. A Human Shield is the language of terrorism. Underfunding the NHS is economic and political policy domestic terrorism! It's an act of national vandalism and misguided austerity ideology. It's not just hindsight saying this, doctors and nurses bodies, non-right wing parties, patient user groups, have been saying this for years. It's too late to listen now.
Boris Johnson has used the rhetoric of Churchill and termed Covid a "national battle". The language of warfare is about right, only the war is on our NHS. Stay Home, yes. Protect Our NHS, Save Lives, YES. But the latter should have been being done through Government policy the last decade. Invest in healthcare and its professionals, pay nurses, recruit doctors, appreciate foreign staff, build new hospitals, support mental health – that will Protect Our NHS and Save Lives, pandemic or not!