World Day Against Cyber Censorship
12 March is World Day Against Cyber Censorship, first designated in 2008 at the request of Reporters Without Borders (Reporters sans frontières/RSF) and Amnesty International. Like World Press Freedom Day (3 May) it concentrates on restriction of Internet access issues and online freedom of expression. It's purpose is to: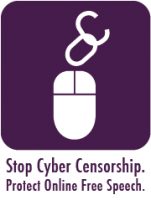 "rally everyone in support of a single Internet that is unrestricted and accessible to all. It is also meant to draw attention to the fact that, by creating new spaces for exchanging ideas and information, the Internet is a force for freedom. However, more and more governments have realised this and are reacting by trying to control the Internet." – Reporters Without Borders
The event logo, designed by Reporters Without Borders is a computer mouse freeing itself from its chains, symbolising the defence of free expression online.
Freedom of Expression Index 2015-2016
Last year say saw 64 journalists killed carrying out their jobs, along with 6 media assistants. A further 19 netizens and citizen journalists were killed.  In the first 10 weeks of 2016 another 11 journalists have been killed and over 300 journalists and citizen campaigners have been imprisoned for defending freedom of speech.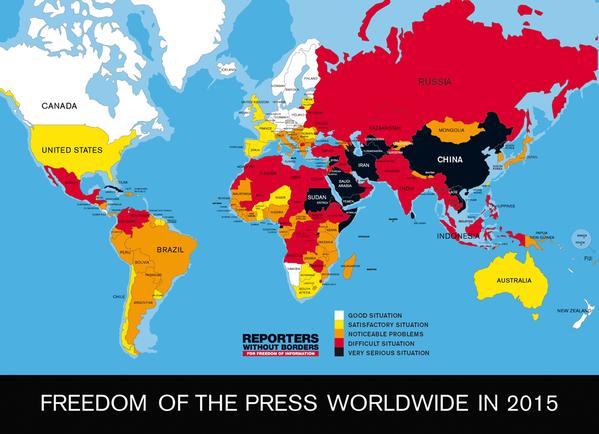 The United Kingdom has fallen from 19th to 34th on the RSF press freedom index since 2010.
Turkey's censorship & state media interference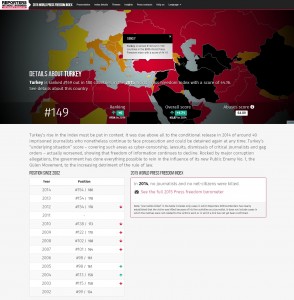 EU member hopeful, Turkey, ranks in the 150s out of 180 nations, and on 4 March the state forcibly took over the critical newspaper, Zaman. A decade ago it ranked at #98. "Turkey's "underlying situation" score – covering such areas as cyber-censorship, lawsuits, dismissals of critical journalists and gag orders – actually worsened, showing that freedom of information continues to decline."[UPDATE – the day after
"Turkey's "underlying situation" score – covering such areas as cyber-censorship, lawsuits, dismissals of critical journalists and gag orders – actually worsened, showing that freedom of information continues to decline." – RSF World Press Freedom Index
[UPDATE – the day after World Day Against Cyber Censorship a bomb exploded in the capital city Ankara killing at least 37 and injuring over a 100. Turkey's state response included a broadcast ban by its broadcasting agency, RTÜK and then a court banned Twitter and Facebook after blast scene images were shared online. This despite Facebook instituting its "marked safe" check-in procedure for its users there.]
AdBlock call for the Internet to be Unblocked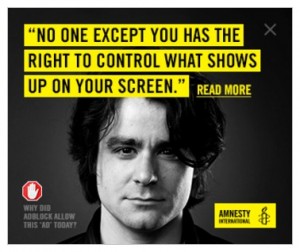 Only for today, AdBlock is "un-blocking" some ad banners – just those from Amnesty about online censorship and freedom of speech. AdBlock's CEO points to RSF's "Enemies of the Internet" list as justification for this wake-up call:
"On their current list of 'Enemies of the Internet', Reporters Without Borders include China, the United States, North Korea, the United Kingdom, and many others." – Gabriel Cubbage, AdBlock CEO
"Blocking ads is both easy and ethical", says Gubbage, but blocking the Internet is not.
Saudi Arabia Internet Content Blocking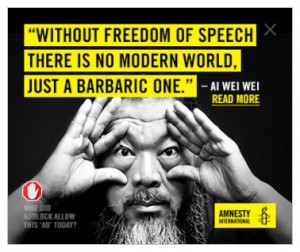 Raif Badawi is one of many in Saudi Arabia, e.g., Waleed Abu Al-Khair and Tariq al-Mubarak, to have fallen foul of one of the world's leaders in Internet content blocking. Strict web filtering is in place to block content deemed pornographic, or "morally reprehensible" – the latter has come to include religious apostasy, state criticism, or discussion of human rights issues and abuses.
United Kingdom Surveillance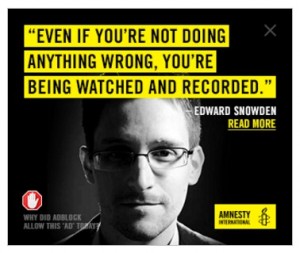 Even the United Kingdom is a current "enemy of the Internet". Why the UK? For our unprecedented CCTV, cyber and telecommunications surveillance, in some areas second only to China and in others worse than the US, according to Edward Snowden. This stems from a confusion that journalism equates with terrorism, or its risk, as the Guardian knows only too well.
"GCHQ thus gathers an unprecedented quantity of information". – RSF
Meantime, in the USA, the FBI have ordered Apple to create unblocking software to release the contents of a killer's iPhone to them, a move resisted by Apple with the backing of Facebook, Google, Microsoft and the United Nations!
RSF Cyber-Freedom/Netizen Prize
Since 1992, Reporters Without Borders, along with more recently TV5 Monde have offered a journalistic freedom Prize to reporters and online activists around the world. 2003 saw RSF give a first cyber freedom award to imprisoned Tunisian cyber-dissident Zouhair Yahyaoui. Since 2010, RSF has been awarding a Netizen Prize to the cybercitizen online activist, blogger, or journalist, who has most fought for freedom of expression and reporing on the Internet.
2010 – Awarded to the Iranian women's rights activists, including co-founder Parvin Ardalan, of the Change for Equality website, www.we-change.org
2011 -Awarded to the founders of a Tunisian blogging group named Nawaat.org.
2012 -Awarded to Syrian citizen journalists and activists of the Media center of the Local Coordination Committees.
2013 – Awarded to Vietnamese blogger Huynh Ngoc Chenh.
2014 – Awarded to Saudi Arabian blogger Raif Badawi.
Countless other thousands of journalists and activists, and millions of netizens, deserve a free and unfettered Internet. We must learn to police ourselves, rather than be censored by others. For who decides when a state is right or wrong if the freedom to even discuss or criticise that state is removed from us?