Africa Day – 25 May 2015
On Africa Day it is worth reflecting on diversity as much as the so-called unity of the African Union. Africa may be a continent but it is far from united or content. Nor need it be. Diversity and difference, religious, economic and national identity struggle, are features of growth as much as peace and unity are. For now, discontent still rules whether in North Africa's culturally Islamic Arab Spring countries or in Zimbabwe and South Africa's continued issues. In between, Nigeria, Sudan and Kenya struggle with North-South divides, extremist groups and campaigns of terror. There are many Africas, not just one.
Africa's History
Whilst shaking off the shackles of historical European colonialism, no one African identity has emerged but dozens. Self-determination, battles for independence, and religious and tribal/civil wars have ensured that national identities and stable futures are still fighting for supremacy. Africa is still making and creating its modern history.
War and Conflict
Africa leads the world on at least one thing, its 161 conflicts in 26 African countries, half of the continent.  Peace One Day? and prosperity are yet distant horizons. The poor, dispossessed, women and children are so often the innocent victims in conflict. Africa needs peace, but that is not the same as unity.
Africa Day
Africa Day, itself, celebrates the May 25 founding in Ethiopia, by 30 African leaders, of the Organisation of African Unity (OAU) in 1963, which in 2002 became the African Union whose motto is "united and strong". Its current chairperson is Zimbabwe's Robert Mugabe and his statement today is AU president Robert Mugabe's Africa Day statement 2015.
Geography and the Clash of Civilisations
When was the last time anyone thought of Egypt, ancient or modern, as part of Africa rather than part of the Middle East? Geographical unity is a false guide to religious, cultural and national identity unity. Again, when we talk of the ancient world Africa is usually forgotten, yet Egypt is African, Nubia too, and what about historical Mali and the medieval literary and learning centre of Timbuktu.
African Languages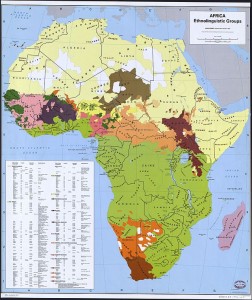 Arabic, English, French, and Swahili, may be the most well known African languages but many forget the 500 languages of Nigeria, or indeed the 2-3,000 across the whole of Africa making it the most diverse location on Earth, linguistically. South Africa has 11 official languages, more than anywhere else, only Somalia has just one. Most countries will speak ex-colonial languages alongside indigenous ones. 75% of Africa speaks over a dozen different languages but 25% speak hundreds more.
African Economics & Absolute Poverty
Many in African still survive – and that is a dubious description, on less than $1-$2 a day.
"Over the last 30 years, worldwide absolute poverty has fallen sharply (from about 40% to under 20%). But in African countries the percentage has barely fallen. Still today, over 40% of people living in sub-Saharan Africa live in absolute poverty." Our Africa – Poverty
Nigeria, riven by conflict, violence, corruption, is nonetheless on target to continue to grow as Africa's strongest economic nation, in the main due to oil.
African Women and Gender Equality
The theme of Africa Day, this year, is the "Year of Women Empowerment and Development towards Africa's Agenda 2063". Gender equality is far off with Boko Haram continuing to kidnap young girls and make sex slaves or forced marriages of teenage women. Education is still not an equal right in many states and countries, Female Genital Mutilation (FGM) remains a health and human rights issue barely being tackled at all.
Dr Zuma, the Chair of the African Union Commission, said today that the 2015 theme represents:
"a recognition of centuries of African women and women from the Diaspora to the struggles against slavery, racial and gender discrimination, and for the emancipation of our continent and African men and women everywhere.

Women and girls continue to play critical roles – paid and unpaid – in their families, communities, countries and regions, that directly impact on economies and societies.

Despite the constraints that they continue to face, we have made strides, as a result of different waves of struggles by the women's movements. Since the historic Beijing Conference twenty years ago, and the recognition of women's rights as human rights, we have seen progress on women's representation, in the advancement of reproductive rights, on equal pay for equal work, on access to education and basic services.

At the same time, it is estimated that if real change happens at the same [pace], it will take us 80 years before reaching full gender parity."
Unity and equality in Africa are a long way off, slow progress is being made and conflict in various forms continues to destabilise economic and cultural development. Individual hopes, educational and economic opportunity, health and women's rights, are bigger issues than a surface unity this Africa Day. African rights are human rights and abuses remain ignored by pan-African and international communities. News stories, unless they be of thousands of migrants or hundreds of schoolgirls, go ignored or buried by the international news services. Africa needs greater news coverage and the spotlight of global media, as well as economic aid, in order to progress both human rights and economic development.