Norfolk EDP People's Choice Awards
Today, Tuesday 23 August, is the last day to "nominate your stars of Norfolk's arts scene" for a special EDP People's Choice Arts Award. The deadline for submission is midnight to put forward your favourite community or corporate arts organisation, artist, or event.
Nominate EDP People's Choice Norfolk Arts Awards NOW
2015's Norfolk Arts Awards saw 6,000 votes and winners included artist Matt Reeve, Norwich Arts Centre and GoGoDragons!
Over the last year have you loved an art exhibition at St Margaret's Church of Art – e.g., Pride Without Prejudice, or Asylum at the Undercroft Gallery, or the Sainsbury's Centre? Did you enjoy Paint Out's artists roaming the streets of Norwich and Wells-next-the-Sea? What about the 2015/16 programme of plays at the Maddermarket Theatre? Nominate your favourite Norfolk arts event.
Hostry Festival Innovation
The Norfolk Arts Awards is the Hostry Festival's red carpet gala event celebrating the arts. It's really an opportunity to celebrate people who make a difference. The EDP People's Choice Awards is a chance for people to have their say and nominate their own stars for the award. The top 10 in each category will be revealed and then there will be an online vote to find three winners. Winners will be announced at the Norfolk Arts Awards ceremony at Norwich Cathedral's Hostry on Friday 21st October.
Norfolk Arts Awards 2016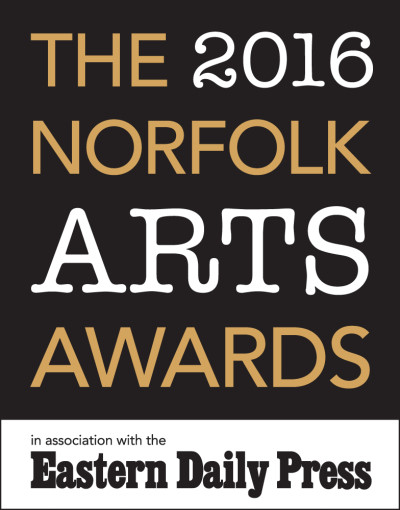 The Arts Awards consist of 15 awards, with 30 nominations and celebrate the rich and diverse world of arts and culture in Norfolk. The EDP People's Choice Award features 3 categories and nominating arts groups or individuals for the public vote closes Tuesday 23rd August – it is your chance to have your say by recommending an arts project, organiser or artist for their creative work in Norfolk.
Check out the interview with the event's co-founder, Stash Kirkbride, on BBC Radio Norfolk (from 3h34m).
"Nominations have already been flooding in for this year's awards, and people have until Tuesday, August 23 to send in their entries. Once again there are three EDP People's Choice Awards categories – individual, small organisation and large organisation." – Emma Knights, EDP
This year the awards are returning to the Hostry building at Norwich Cathedral, held on Friday October 21st 2016, 7-9.30pm with after show canapes and champagne reception.
Nominate EDP People's Choice Norfolk Arts Awards NOW
Full List of 2015 Arts Awards Nominees
Individual Artists who went through to the public vote:
Small Venue, Organisation, Festival who made the public vote:
Large Venue, Organisation, Festival reaching a large number of people who went to the public vote: