Stand-up Comedy & Lie-down Laughter
Doing stand-up comedy began in 2011 as another fear to conquer, I ended up loving it! Along with deep sea diving is was another case of "feel the fear and do it anyway", to quote Susan Jeffers.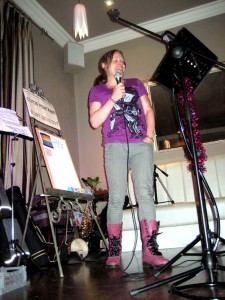 One gig blurb ran "Mental madness and lexical lewdness from Katy Went who clutters her way through life with a mind like a cross between the multi-laned M25 and a broken sieve that lacks the ability to distinguish between the good, bad and downright inappropriate."
Feedback seems to have drawn attention to two features of my material – that it is intelligent and that it is often naughty – sapiosexual filth! It is actually not that dirty I just have no limits to self-deprecation, transparent tales of trans embarrassment, and finding a triple-meaning in every word, not being satisfied with mere double-entendres.
More on why I do comedy.
Reviews
"Educational filth, occasionally funny, always interesting"
"Katy Went with the filthy mouth"
"Sharp and intelligent"
"Exceptionally engaging and fascinating"
"Making fun of the darker moments in life, with some (really) long words and lots of lewd innuendo…"
Gagography
A lot of my comedy is self-deprecating and downright naughty making it unprintable online.
"What do Jehovah Witnesses, Bailiffs & Vampires have in common? Bloodsuckers the lot of them, ok the JWs won't touch blood, but don't ever invite any of them over your doorstep"
"Gays tend to come out of the closet whereas Trans prefer to go in them, only in Narnia do you go through them. C.S.Lewis' unpublished 8th volume A Transvestite in Narnia never got beyond the first page as she refused to leave the Wardrobe!"
"Did you know that, on average, women use 15,000 words a day while men use just 7,000? That makes me Superwoman. I've been trying to talk my way into passing as a woman!"
"When I was on sleeping pills the pill advice said 'To avoid side affects try getting up slowly.' – Is mid afternoon slow enough?"
"Stand up comedy is an oxymoron as I do my best work lying down"

"Thesbianism – that's an acting lesbian till I get my membership card"

"I waited 8 years for the NHS to change my gender. My bank did it in 20 minutes, although HSBC had to kill my wife first."

"Friends misheard me once saying 'I was visited by two police sergeants' as 'I was fisted by two…', actually I have a mild version of cluttering, conflating sentences and words into unintelligible jibberish and neologisms, and verbal paraphasia where I regularly mistake a word or name for another, like washing machine or hoover for lawnmower. My favourite was a misread of jellyfish sting as 'jelly fisting'."

"Suicide is painless – well it is with an overdose of painkillers. Actually, I like to succeed in life, the one thing I've failed at is suicide, several times. But it's a good way to get girls' phone numbers – the number of people who say, "Next time, just call me, here's my number…"

My last comedy outing got 3-4 comments on my body "nice tits, nice arse, nice legs" & only a couple on my humour! Now I feel like a real woman! Objectified!

I've learned to laugh at death in the face, & I nearly saw him, those deep socketless eyes – oh no that's just me in the mirror in the morning due to my insomnia!
Gigography
Colchester Pride, Firstsite, Colchester, 19 Aug 2017
Dysfunction Room: LGBT History Month, Norwich, 22 Feb 2013
Gypsy in the Field, Aylsham, 22 Sep 2012
Clyde Fontaine must come out, Farmer Browns, Norwich, 27 Jul 2012
Bethany Black, Kafe Karma, Norwich, 17 Feb 2012
Zut Radical Cabaret – Hell Bent, Kafe Karma, Norwich, 30 Jul 2011