I loved doing True Stories Live – "Miles to go" on Sunday night at Norwich Arts Centre. What a range of stories from humour to danger, movie, song and dance, pain and health, through nearly punching a Buddhist and being either miles high or grounded.
TSL describes itself as "a lively, moving and unpredictable event where people tell true stories about their lives in front of a warm, supportive audience."
It's definitely unpredictable and the audience seems handpicked for its compassion and sense of humour, supporting nervous or vulnerable storytellers as well as rolling in the aisles at the funnier tales. My partner described it as "inspiring, uplifting, and entertaining."
This was my second time doing it after telling a tale at "Blood is Thicker than Water" in May but at which I cluelessly didn't follow my own time cues being given me by Lucy Farrant and I proceeded to throw myself off stage after only half my allotted time! On this occasion, I cheekily claimed I had extra time as credit from the previous fail!
I was penultimate of eight on the running order which meant I'd had a double whisky by then for Dutch courage and Scotch calm.
Molly Naylor MC'd wonderfully with the favourite word of the night clearly being "weird" which featured regularly.
The running order consisted of:
Nicky Turner's Salzburg movie road trip
Rich Woodall's I nearly punched a Buddhist monk
Ruth Katra's hair-raising mountain drive
Quentin Mair's 1980s Greek Odyssey at Athens airport
Kelly Page's pilgrimage pain in Spain
Vidura SG's dancing to mental wellbeing
Katy Jon Went's Mile High encounters
Angus Dunican's substitute son shaggy dog story
Molly always wraps up with random assorted snippets from each story and from mine she drew out "I identify as a dragon", "I lied to get into America", and "Always share your tacos". For these to make sense you'd best have some idea of what I actually said. This to the best of my memory and prior preparation is roughly the tale I told:
Miles To Go
"Miles to go" could have been the title of my gender journey, after all "are we nearly there yet?" had been my psychological and gender travel for many years. I think, however, I've finally arrived on that particular course, although the destination is not on any map! "Here be boy" and "Here be girl", I'm more with "Here be dragons!" I identify as a dragon, unicorns were so last year!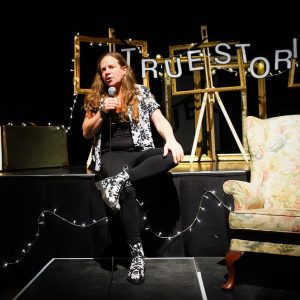 I spent my thirties travelling the Middle East and Africa, got interrogated in Israel, bust through a border with a Bedouin in the Sinai, stroked a supposedly sleeping crocodile in Kenya, played pool and drank Guinness with Maasai warriors, flown on a small airline called Orca with bucket seats and without significant seatbelts across the desert (who names an airline after a killer whale?), and had to pay to get off a camel in Cairo (there was no "with" in that last statement). I foolishly hadn't asked the price before getting on!
My longest journey for nearly ten years though has been getting back on a plane to cross the Atlantic just last month after a decade or so of non-travel exploring my inner map instead.
Two weeks in the US was full of adventures and encounters, often triggered by my Rorschach psychopath ink blot test Dr Martens. Wow look at your boots, people kept saying, with one guy it sounded like "look at your boobs", I had to check which he meant.
I'll focus on just one of the journeys of thousands of miles that I traversed to and within America in August.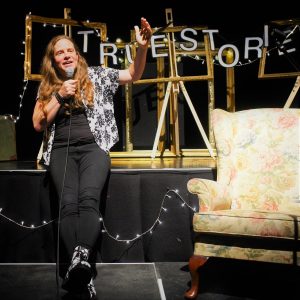 The last time I was in the US, 9 years ago, I was flying under a male passport and my on-record fingerprints would now link to a female identity, even then I got questioned for visiting too often in a year spent dating a woman in California. So filling out a US visa was a problematic first step. The IQ-challenging questions "are you a terrorist, Nazi or paedophile" are easy enough to avoid but now ask for your mental health status and social media handles – neither of which I revealed since I have half a dozen mental health conditions which also make getting travel insurance nigh on impossible. Being a bipolar bonkers Brit whose last blog entry was about speaking at a Donald Trump protest was not going to go down well either! So basically, I lied to get into America.
I was in the US delivering training for the Human Library in Chicago and had been staying with a Turkish Muslim architect in her 12th-floor condo. Whilst there, I also went up to the 103rd floor Sears Tower, once the tallest building in the world and stood on its glass balcony overlooking the smaller skyscrapers and streets below. If that doesn't make you feel either like a speck in the universe or on top of the world, I don't know what would.
The next day I had a 2000 mile flight to San Francisco and a long car journey to Sacramento, California's capital. First, it was delayed for several hours due to lightning at O'Hare then fog and wildfire smoke at San Fran. So, it was you can't take off and you can't land by turns stranding me for 3 hours at check-in on a tank of Starbucks coffee and worried about going to the toilet and missing the much-delayed actual boarding call. I was now going to be very late to deliver a training talk, my anxiety was rising, so I needed a stress free flight. I resolved that I could do nothing about the weather but I could discuss B-plans and C-plans with the Human Library head, also visiting California, and still hold out hope that the A-plan for arriving might still go vaguely according to plan.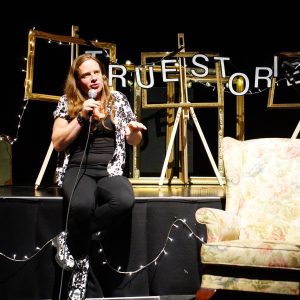 Finally, we checked in and with my arthritic leg and dodgy back, I thought I'd change my seat to an aisle where I could get up and wander around more easily – plus empty my coffee-filled bladder. There were 4 vacant seats and with nothing to choose between them I randomly selected the one that matched my bra size, 37D – yes I know that isn't a real strap size, but bodies don't always come in even numbers! For some reason this decision-making process made me chuckle internally but it was to prove to be fortuitous!
I ended up with an empty seat next to me, perfect to stretch out on, and in the window seat sat a beautiful young woman in a spaghetti strap vest top and ripped jeans.
When American Airlines came around with food options to buy, as this was super economy, I chose the pair of breakfast tacos. The stewardess asked my seat row companion what she wanted and she answered "the same please". "Sorry madam, but this lady just ordered the last one". She looked disappointed, so I said, "Do you want to share?" "Ooh, are you sure, can we? I should get something else between us, how do cheese and crackers sound?" "Perfect, I said, I'm Katy by the way". "I'm Selda", she replied.
With the extra seat between us, Selda turned towards me and we began our onboard picnic of strangers, sharing other food, coffee and my water too.
She asked what I was doing in the US, so I described the Human Library and its mission to dismantle prejudice and overcome stigma through dialogue with living books, particularly those that don't conform to a stereotype or label and make you think outside the narrow boxes of gross categorisation. I said I was here as a trainer and a human book.
She said, "Can we do it now?"
I said, "What, a Human Library reading?"
"Yes. Can I go first?"
"Perhaps I should go first so you can see how it's done then you can have a mid-flight training, and I can read you after…"
"Cool, so what's your title?"
"Well I've gone by several: ex-missionary, transgender, suicide survivor, anxiety, bipolar, asexual or non-binary."
"Can you do transgender, please"
"Sure, you'll get some of the others thrown in for free too, as bipolar always makes an appearance and my transgender journey is none too typical".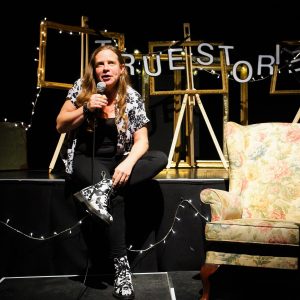 The conversation was a true dialogue as I discovered she was a hospital nurse in Chicago and so understood much of the medical and paediatric side to my story. The passengers a row in front and behind must have been glad they had headphones on listening to the in-flight movies.
We also navigated Donald Trump, and not in the same breath – love, relationships, trust and jealousy, as I shared I'd just visited my ex-fiancé of 9 years ago in Madison, with my current partner's knowledge and blessing. But that's a whole other story (and my partner is in the front row tonight)!
When we switched the roles of book and reader, after explaining more about how and why the Human Library works, I found out she was of Turkish Muslim heritage but more spiritual than religiously observant. She was also on her way to Nevada's Burning Man. Not a typical Muslim destination, perhaps. It's a dusty temporary utopian, artistic and sometimes hedonistic festival commune in the desert.
I remarked that the person I stayed with in Chicago was also coincidentally a Turkish Muslim on her way to Burning Man. I explained I'd been staying in a condo plaza on N Sheridan Road, She said "No way, which one?", I gave the number and she said she lived in the next door sister building. I described my Chicago host and she said, "Yes I know of her and have seen her around". What's the chance of that I said, about one-in-three-million, the population of Chicago?
And so we flew across America together by more than a lucky roll of the divine dice but a bra cup seat change and shared breakfast offer and broke down stereotypes of each other, of transgender and Muslim, British and Turkish, and more, in our amazing conversation. We ended up navigating the airport egress together, hugging, and staying in contact since. We've become new friends now and offered each other to stay in our respective cities and homes.
The moral – talk to strangers, always share your tacos, and seize the day, because there's no such thing as a coincidence even thousands of miles away, we are all connected.
Footnote
When sharing this story at the True Stories Live event in Norwich, the first speaker of the night came up to me afterwards and said one of her best friends lived on the same street in Chicago as the two in my story! It really is a small connected world.