The third Norwich Reclaim the Night took place on International Women's Day 2018, spearheaded by UEA students and young intersectional and international feminists. It was inclusive of trans and non-binary people, as well as men, focusing on safety for all not gender. Sex worker freedom from violence, intimidation and harassment was also signposted. This was feminism for all without any infighting or exclusion.
Rallying talks and emotive poetry (all with content warnings) raised the issues of violence against women, of "Yellow Peril" racism on the streets, of domestic and sexual abuse, of hate crimes, and of the need to take back and create safe streets for all. The evening began with a talk about Leeway domestic violence and abuse services and also fundraised for them.
"Many marches are women-only and sadly some groups have discriminated against trans participants… We came out to show that Norwich is no longer a place where you can be harmed or discriminated against for the colour of your skin, your faith, gender, sex, nationality or sexual orientation." – UEA event organising group
March chants – and Poppy Rose was in good voice, included:
"Love, not hate
Makes Norwich great!"
and
"Claim our bodies
Claim our right
Make a stand
Take back the night!"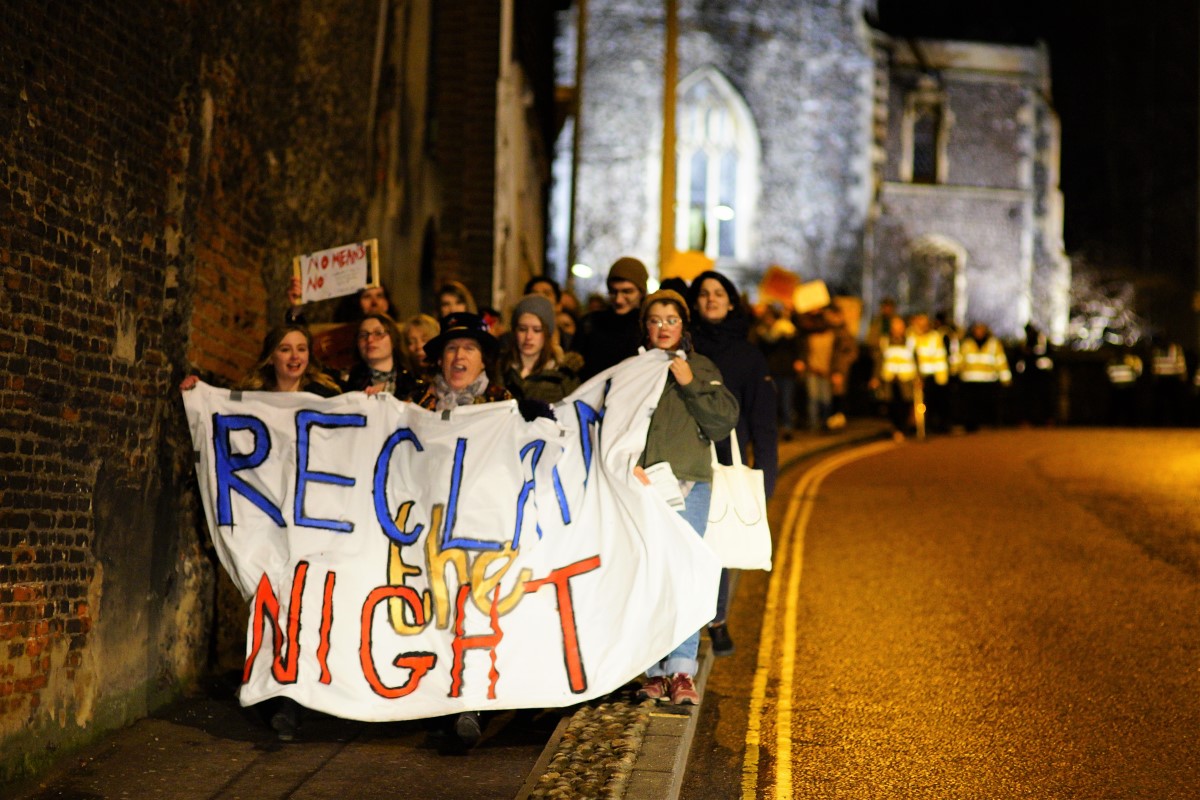 The march of some 50-plus people was one of solidarity, safety, and sensitivity, looking after the welfare of everyone involved, several of whom spoke of surviving sexual abuse or other forms of harassment.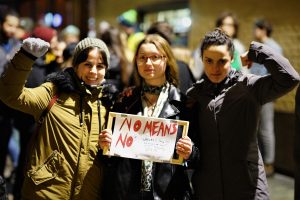 A number of young Spanish feminists found the event on Facebook, and were surprised more wasn't happening on International Women's Day whilst reflecting with sadness that they weren't home in Spain during its first nationwide feminist strike of some 5 million women.
During the march, some dozen men on the streets asked me what it was about – there was no mockery but positive approval. Women standing in the queue for nightclubs gave us whoop-whoops as we passed, a couple of times cars honked their horns in solidarity.
This is indicative of how positive Norwich can be.
Unlike other Reclaim the Night events across the country, such as in London, which is considered a 'women-only' march, Norwich's variation promotes an all-inclusive attitude towards supporting all individuals who may be affected by sexual harassment. Second year student, Ryan Jordan, who also delivered a speech and performed several poems, said,
"When I performed, my heart was pounding at first. But in the second half, I thought, 'I'm with people who are amazing, and in Norwich you feel that you can do anything, unlike London…You've got a beautifully different array of people. It feels so safe. And UEA has always been very accepting. I feel okay being myself, and I feel that's what Reclaim the Night is about." – Ryan Jordan, as reported by Chloe Howcroft
As an invited speaker, for the second year running, I was loathed to draw attention to the issues of trans people, particularly trans women, and especially on #IWD, but current media headlines necessitated it and it was a safe place to do so given how inclusive an event the organising team had made it.
Here's what I had to say:
Norwich Reclaim the Night 2018 speech
"Reclaim the night is an annual march … intended to reclaim bodily autonomy and space that is often stolen from us by gendered and sexual violence"
Student-organised Reclaim the Nights tend to be women and non-binary, and male allies and victims inclusive – many don't even mention trans inclusivity as it's taken for granted that trans women would be included in women.
"All genders welcome. This is a sex-worker inclusive event, and we actively advocate for the decriminalisation of sex work. This is also an explicitly trans inclusive march. Given the chequered history of Reclaim the Night elsewhere in the country, we consider this vital to state clearly, and to do all we can to challenge the worrying rise of so-called radical feminism" –

Brighton
Trans people are no safer on the streets than cis gender women, creating safe spaces on our streets, at our workplaces, in our homes (where 90% of DASV occurs among people we know, ie not stranger violence) is about protecting the vulnerable and policing the aggressors, not stereotyping and dividing down overly-simplistic/reductionist gendered lines.
Solidarity, inclusivity, and intersectionality should be with all victims of violence and gender-based oppression.
We should be fighting oppression, arm-in-arm, not fighting each other.
Artist and friend, Katherine Gilmartin, says:
"Boss babes see one another fighting for not with other women and systems."
One Billion Rising, International Women's Day and Reclaim the Night are all occasions when I prefer to emphasise women and girls and not draw attention to trans specific issues, but the current heat on trans women makes it unavoidable.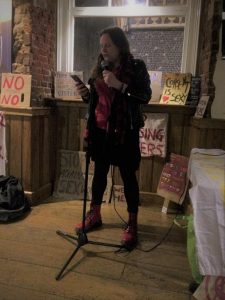 It is claimed that trans women mark the same level of risk to cisgender women as cisgender men do when in fact they are themselves at a higher risk of some types of abuse and attack (and ironically trans women as perpetrators of extreme violence pose a greater risk to men rather than women!)
This debate has not moved on in a year and trans women remain under fire for "Not being real women". It's time for all women, all minorities and/or oppressed to stand together for equality, human rights and mutual respect. It's
#PressforProgress
not regress.
Reclaim the Night and
Take Back the Night
began in the late 1970s, a time when women and LGBT people had been standing side by side to advance gay rights and women's rights. 1970s American lesbian radical feminists embraced their trans sisters until the 1979 publication of
Janice Raymond's
Transexual Empire
and
attacks on Sandy Stone
. Now it appears some women and media muck-rakers are trying to take us back to the 70s!
It's an age-old war fast becoming an old age war. It is dividing feminists of one generation from feminists of the next. It is defeating our common aims of reducing violence and oppression because we are divided against ourselves.
Today has been used by a number of feminists as an opportunity to leave the Labour Party en masse for its defence and inclusion of trans women (in accordance with equality laws).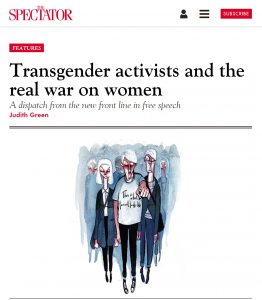 The first attack, I mean "free speech debate", that I saw in the media was timed to coincide with International Women's Day and was by Judith Green of A Women's Place UK calling it "transgender activists and the real war on women".
I would have thought that the real war on women was from Boko Haram, Saudi Arabia, FGM, everyday sexism and stereotyping, Harvey Weinstein,
#MeToo
and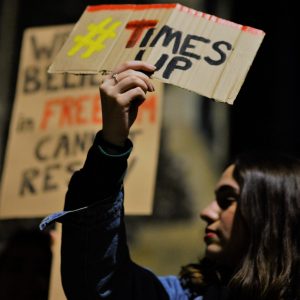 Not from a handful of trans people who in almost equal numbers now are traversing the gender divide and leaving biological birth essentialist determinism behind thus showing that neither the gender construct nor birth lottery need define you. Surely, that IS feminism?
We are stronger together than tearing each other apart. I am proud and pleased that the April
WOW festival in Norwich
, like Reclaim the Night, is trans and non-binary inclusive, male allies and victims of abuse and gender role oppression also.
It is time we stood together,
it is time we rise up together, and
it is time we marched together,
to reclaim the media high ground,
to reclaim our study and workplaces, and
to reclaim the day and the night as sisters diverse but not divided!
For united we stand, divided we fall.
Safe streets for women, trans and all!
Wonderful night! Thank you so much to everyone who showed up for #NorwichReclaimTheNight2018 and dug into their pockets to donate to @LeewayDV and to all the readers and speakers! A great inclusive way to mark #IWD

— Eli Lambe (@elisheepe93) March 9, 2018