Norwich Reclaim the Night 2017
The night began with poetry and speeches from a dozen poets, the NUS Women's officer – Hareem Ghani, Helen Burrows of Leeway Domestic Violence and Abuse Services, the Lord Mayor of Norwich – Marion Maxwell, and Blur's drummer, Dave Rowntree. Organised by UEA student union officers Jo Swo and Abbie Mulcairn, and compered by Maëlle Kaboré the event was attended by around a 100 people. UEA Union has established its own anti-sexual harassment campaign,
Never OK.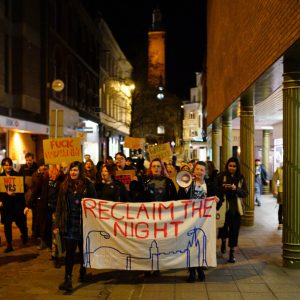 The march to make the streets of Norwich safe for all sought to raise funds for Leeway, end harassment, slut-shaming and victim-blaming in sexual assault. In addition, it was campaigning to Light Up Norwich – a petition to end the austerity cuts to public lighting and thereby public safety.
Prince of Wales Road, Norfolk's most dangerous street
Norfolk is one of the safest counties in England, yet also contains one of its most dangerous streets, sometimes ranked as high as 23rd worst (2010) with over 50 violent or anti-social behaviour crimes in a single month (Dec, 2010). On a Friday night, thousands pour into its nightclub district around Riverside and Prince of Wales Road, requiring dozens if not on occasion, hundreds of police officers to be on duty, along with the SOS bus. It also ranked 4th out of 50 cities for harm to self and other after excessive alcohol-related drinking injuries resulting in hospital admissions.
"statistics show that since 2005, when pubs and clubs were allowed to open longer, there has been a 210pc increase in violent crime in Norwich between 3am and 6am and an increase in police hours of 12,000 per year." – EDP, 2013
It's a street that has been highlighted and visited by TV's Jeremy Kyle and then, too, by Police and Crime Commissioner, Lorne Green. Two nights after the march and Police around Prince of Wales Road had a busy night with 21 detentions and arrests.
CK from Norfolk, writing in Vagenda magazine, 2013, described the differences between sexual harassment in Norwich and London, thus:
Prince of Wales Road, Norwich, Reclaim the Night 2017

"…lascivious comments are infrequent, especially if you avoid the many delightful establishments on Norwich's Prince of Wales Road, known as one of the country's 'most dangerous streets'. What I was not prepared for was the sheer volume of street harassment that has become a near daily feature of my glamourous London life…

The tone here is different too. Men call out at all times of the day, not just when they're drunk on a Friday evening and don't realise that their 'inside voice' has become their 'outside voice'. And for better or for worse in Norwich, you would often have the opportunity to interact with the gentleman clucking at you…

In Norwich's Mischief pub, I once hit someone with my handbag after they decided that my arse was the ideal hand-rest, their wrist presumably tired from a strenuous day of wanking. I don't condone violence, but I was tired and wanted a gin and for fuck's sake, touching is verboten unless I specifically say otherwise."
"Fuck Harassment" Public Order Offence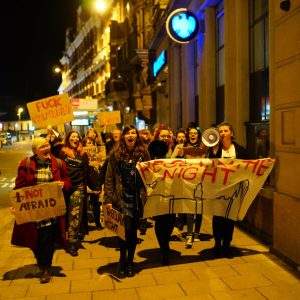 Apparently, "Fuck Harassment" on a handmade sign is a public order offence but "Fuck the Patriarchy" wasn't. One female student was told by a police officer monitoring the march to put her sigh away or her details would be taken and a possible offence logged. As the sign was anti-harassment, I fail to see how it could be harassing!
Section 5 of the Public Order Act 1986 says than an offence comprises two elements:
A person must (a) use threatening, abusive or insulting words or behaviour, or disorderly behaviour, or (b) display any writing, sign or other visible representation which is threatening, abusive or insulting; and
The words or behaviour, or writing, sign of other visible representation must be within the hearing or sight of a person likely to be caused harassment, alarm or distress thereby.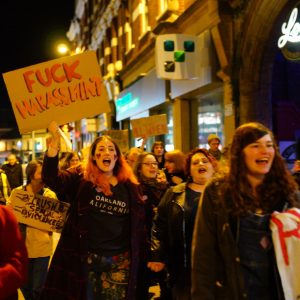 Yet, no evidence of distress or intention to cause alarm is required to merit an offence.
The irony – that saying "FUCK harassment", is anti-harassment by street harassers seems to have been lost on the police who made sexual assault victims into aggressors by their PC actions.
Poetry on the night
The poems, some old, some new, some about dangerous grannies with Uzis, contained raw, personal and often political (isn't the personal, political?) stories of assault, violence, homelessness, gender dysphoria, rape and suicide, and not a few mentions of Donald Trump.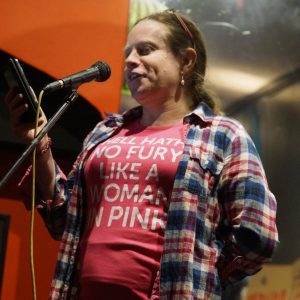 I hadn't written a poem, successfully at least, since I was 15, when I think I got a 'C'. I'm happier with political speeches, social commentary, or stand-up comedy, so when asked to write a poem, it was quite a challenge. The text of my poem can be read here.
Among the many great performances, perhaps standout were Ella Dorman-Gajic and Elley Tourtoulon, as well as punk poet & activist, Josh Chapman. Other poets and speakers included Charlotte Earney, Sophie Robinson, Jan McLachlan, Eli Lambe, Joe Collier, Nicholl Hardwick, Alison Graham, Alicia Rodriguez.
Although, to be honest, the diversity and equality of quality of the poetry, speaks to the inclusivity of the event, particularly with two trans poets, and considering other Reclaim the Nights have witnessed trans-exclusive behaviours from some radical feminists.
The Reclaim the Night evening in Norwich, like the city itself, was inclusive and friendly, but that doesn't mean it can't be made safer and more welcoming to all people, irrespective of gender, sexuality, faith, or attire, whether by day and/or especially at night.