Love Your Local Market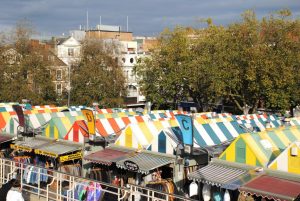 LYLM is a campaign to celebrate and make relevant our markets. The oldest form of commercial trade, many have suffered from superstores, out of town shopping parks, and the online revolution. Keeping them fresh and vibrant remains a challenge. That said, many entrepreneurial migrant people have established stalls and brought international flavours and variety to traditional trades and ownership.
Norwich Market
Today is #LYLM2017 day at Norwich Market from 10-4pm. Historic Norwich Market is especially loveable! It's mentioned in the Domesday Book, and one of the oldest and largest in the country. It's been in its present location for 900 years pre-dating the surrounding buildings.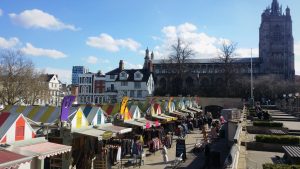 St Peter Mancroft was financed by the market's merchants and its graveyard expanded taking in a row of the market because of 14th-century bubonic plague and famine deaths. All stallholders retain the right to hold their weddings in the church and to be buried there.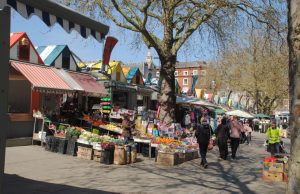 St Peter's Street used to be called Over Row and Gentleman's Walk, Nether Row. Haymarket, Maddermarket, Timber Hill and elsewhere held additional city markets.
In the 16th-Century there were 37 butchers alongside the oranges and lemons, sugar, figs and prunes – then considered exotic international imports. Also, somewhat exotic, the 17th-Century saw lions, tigers, camels and jackals, displayed at the market, alongside "unusual people".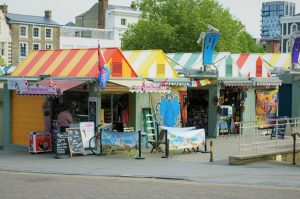 Public punishments were also carried out at the market at its Guildhall end where the stocks and pillory were located.
Norwich Union (Aviva) was founded, over 200 years ago, to provide fire insurance to stalls and shops around the market.
The market now, once again, celebrates an international city with food and provisions from many countries as well as organic, vegan, and community-social enterprises. You can also buy hoover parts, DMs, flowers, clothes and more… Support and love your local market today.