Katy Jon Went – Photographer
I've worked as a photographer across multiple photographic fields from demos to fashion, nature to travel, art to macro. I own over 100 cameras and lenses and have over 34 years of experience. I currently shoot with a Sony α Alpha 99 ii SLT full-frame camera and a mirrorless Sony α Alpha 7s ii with a range of wide-aperture f1.4 & f1.8 and f2.8 Sony G-Master or Sigma Art primes or zooms. I love low light and hate flash, so these cameras' ISO range and wide aperture lenses combine to make night photography an atmospheric possibility and joy.
Background | Film | Equipment | Subjects | Photojournalism | Hire
Recent Projects/News/Assignments
AVIVA LGBT History Month Poetry 2020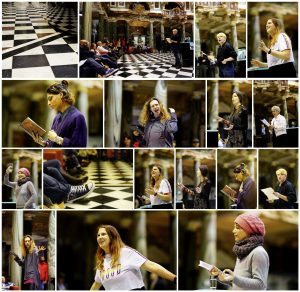 See more photos from this event…
Amsterdam at Night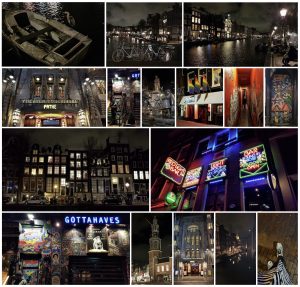 See more photos from this event…
Grand Norwich Duck Race 2017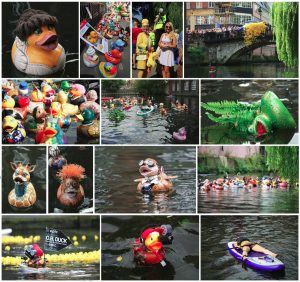 See more photos from this event…
Colchester Pride 2017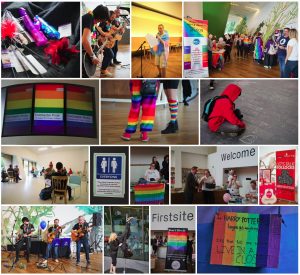 See more photos from this event…
Wilderness Festival 2017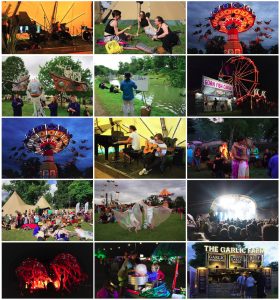 See more photos from this event…
Norwich Pride 2017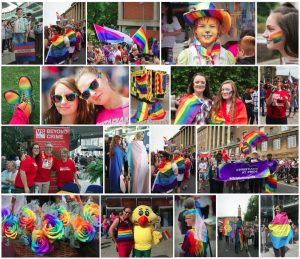 See more photos from this event…

Photographic background
During my late teens and early 20s I was addicted to photography, especially of nature, gardens, macro-photography. Whilst at school we visited Bergen-Belsen and Berlin, pre-fall of the Wall, East and West. I got in trouble photographing East German and Russian security just weeks after someone was shot dead doing exactly the same thing. The army and my school told me off and then mounted an exhibition of my photos.
At University, using their darkrooms, I enjoyed sneaking a low light lens into music gigs and pushing Ilford HP5 to 1600 ASA for grainy front of stage shots.
After Uni, living alongside the Thames, I did an impression of Spiderman, crawling up the outside of the 8th floor of a building to gain access to the roof for a 24mm wide-angle shot of the River Thames at sunset.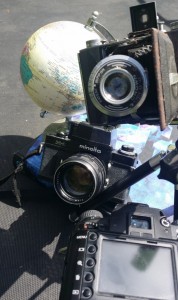 Later, when living in Spain, I was drawn to photograph the colour and the faces of the wonderful country. In my 30s I travelled frequently to the Middle East – Israel, Jordan, Egypt, Sinai, and also Kenya. Deserts, carpets, safari, sunsets and thousands of archaeological tomb painting photos from the Valley of the Kings and other ancient monuments in Luxor and elsewhere.
I also worked as a wedding photographer for a while, covering about 30 weddings, often not in summer and maintained a 100% track record of guaranteeing the sunshine. For these I always took two shots of every portrait and group on two camera bodies, just in case, only once did a film get lost or damaged in processing. Lugging around 4 Metz CT1-CT4 flashguns and battery backs were heavy work.
I had occasional opportunity to explore modelling and fashion shoots – even had one exhibited. I was much happier with outdoor natural light work than sterile studio flash environments, heavy on lighting, makeup and Photoshop retouching. I preferred windswept, au naturel, in woods, or old buildings.
Film and Slide Photography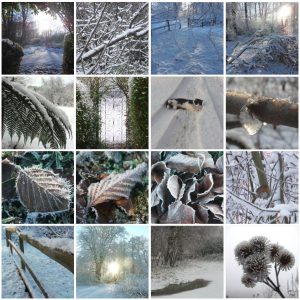 In the early days I used Kodak colour film 100 ASA and Ilford FP4 and HP5 black and white film, the latter often pushed to 800 or 1600 ASA for low light rock concert photography producing wonderfully grainy and atmospheric images on a fast wide-aperture 50mm F1.2 lens and a 45mm f2 pancake lens. All my black and whites were self-developed in darkrooms.
When travelling abroad I used Kodachrome 25 and 64 in hot bright countries, Kodachrome 200 and Ektachrome 200-400 in cooler darker climes. Ektachrome was only finally discontinued 2011-2013.
Kodachrome was made and processed for 75 years. One of National Geographic's best and most famous cover photos from 1985, that of Steve McCurry's portrait of "Afghan Girl" Sharbat Gula, was taken on Kodachrome, as most of their photos were.
I have tens of thousands of print, negative, and especially, positive slide images to scan to digital, and two film and slide scanners that are still in their boxes with which to do it. A project for old age or a college photography intern at the moment.
Photography Equipment – Minolta, Leica, Nikon, Sony
My equipment, since my first X-300, 30+ years ago, has always been Minolta, until now that is. I've used Bronica medium format and old Nikkormats but since 2012 used Nikon digital and latterly Sony. For the bulk of my pre-digital era photography, I worked my way forward through the Minolta X-700s, autofocus Maxxum 7000 and the professional 9000. The early autofocus models had several failings, they were noisy, hunted, and could not focus on strong contrast objects – like a zebra in Africa, nor fully keep up with movement, and were power-hungry battery-draining beasts.
With all my desert travels – and concomitant sand and battery power issues, I returned to fully manual SLRs going backwards via the XD-7, XD-5 and to the classic XE-1. I also obtained an SRT-101 and SR-2 (which oddly preceded the SR-1 by 4 years) to plug gaps in my collection, as well as some 1950s rangefinders.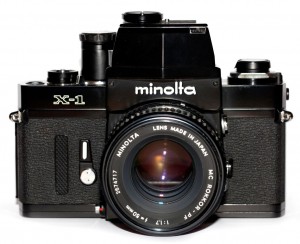 I even collected but never used an original Japanese X-1 from 1973 (XM & XK in Europe and the USA), similar in functions to the Canon F1 and Nikon F2 professional cameras. The X1 retailed at $800, approx $4000 at today's rates, and still worth £300-£400 secondhand now. The X-1 or XK Motor has been described as the most beautiful camera ever made by one camera fan.
I've also owned and used Leica, especially the Minolta-Leica collaborations of which there were many. For example the Leica CL, Minolta CL, Leitz-Minolta CL, Minolta CLE which took Leica M-series lenses, and more especially the Leica R3 (Minolta XE-7), R4 (Minolta XD-7/11), which was also the Leica R5/R6/R7 chassis.
In 2002 they even collaborated on a Hasselblad, the autofocus H1 645 format.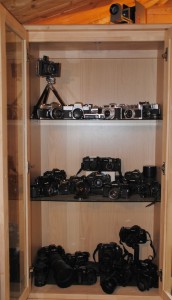 I managed to amass dozens of the 50+ available Minolta lenses from 21mm to 800mm, especially seeking out those fast aperture f1.2, f1.4, f2.0, f2.8 lenses for low light or fast shutter speed photography. Happily, I've discovered many can be converted to work on my Nikon and Sonys and which using the Focal Length Multiplier (FLM) come in at an effective crop/magnification of 30mm-1200mm on digital. I now own 50+ Sony-Minolta lenses, apart from a handful of Nikon ones, the majority of the old Minolta lenses still work on my 2004/5 Konica Minolta Maxxum 5D and 7D 6.1MP digital cameras and newer Sony 10-24MP bodies.
The Shift to Sony Alpha Camera Bodies
Having purchased many of the range of Sony α Alpha DSLRs it is encouraging to note that I can still use all my Minolta lenses, newer Sony ones and a few good independent high-end Tamron and Sigma Art lenses. I took the plunge (summer 2015) and tried out my first Sony α Alpha 350k with my old Minolta lenses and a new 10-20mm delightfully-wide Tamron lens that is ideal for capturing Norfolk's immense skies.
The plan was to obtain a super high ISO Alpha α7sII or SONY ILCE-7SM2 at over £2k for a body shooting at up to half-million ISO-ASA and being full-frame would have given even more life to my older lenses. Having tried it out in store I found it too small and too prohibitive towards older lenses without ugly and expensive adapters.
Instead, I've amassed Sony α Alpha 100, 200, 300, 2×350, 2×700 and now the glorious Sony α Alpha 99 SLT full frame with decent ISO to match the α7s but with better backward compatibility albeit with twice the weight.
Gaps in my Camera Collection
As DSLR and high-end compact cameras became the vogue (2003-4) I tried the Dimage range including the Dimage A1 and A2 digital cameras – the first to offer a real 28 mm wide-angle lens.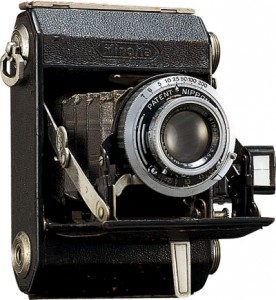 Since 2013, I've settled into Nikon and Sony digital, and Minolta vintage. I've begun retrospectively filling gaps in my camera collection and now have 40+ Minolta camera bodies from 1932 (a semi-folding model, one of their first) to 2005 (their last).
In fact, Kazuo Tashima, aged 28, launched The Minolta Co. Ltd in 1928 under the name 'Nichi-Doku Shashinki Shoten'. Its first camera bearing the brand Minolta was the 1932 Semi 120mm diecast folding camera. He'd got the idea whilst touring Europe on a Japanese silk trade mission for his father's company. He returned to Japan and used German technology to roll-out just one camera a day in 1928.
Current photographic subjects
Art | Bicycles | Cats | Colour | Doors | Food | Graffiti | LGBTQ | Modelling (alt+authentic) | Nightlife | People | Politics & Demos | Streetlife | Trees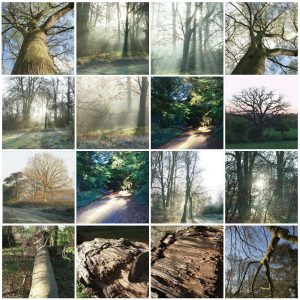 These days, my photography consists of endless cat and kitten photos or stepping out my back door and exploring, almost daily, acres of garden and woodland, teeming with natural life.
Within Norwich and other towns and cities, I seek out graffiti and old doors as subjects of special interest, or anywhere that has rust! I also love urban nocturnal shots, illuminated shop windows and restaurants at night buzzing with life. Also running a food and wine blog I carry my not-so-subtle camera on most dinners out using a 35mm f1.4 to capture plates of food.
Since 2014, I've been the lead photographer at Paint Out Norwich & Wells – an arts competition that sees dozens of artists creating plein air art out on the urban streets. I get to photograph them 'in scene' painting a scene. That has led on to even more photography at and for various artists and their gallery exhibition shows. See Art Fair East, for example. I'm available to shoot private views and art exhibition hanging days to aid gallery exhibition promotion.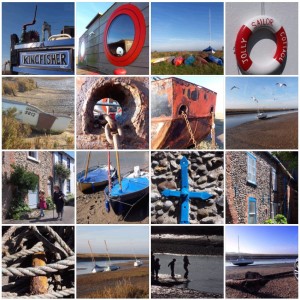 I adore Wells-next-the-Sea, Blakeney and parts of the North Norfolk coast and plan with another photographer to offer guided photography walks there.
I love focusing on detail, contrast, texture, colour, light, composition – i.e., all the elements of traditional photography.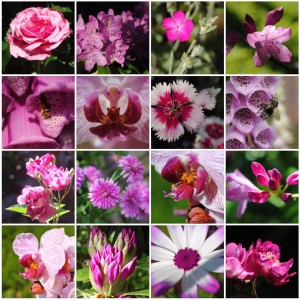 These days with a lot of images I will take 2-3 versions of the same shot, of say some flowers in a field, to incorporate varying amounts of faded out background or sky for use as text quotation backdrops. Considering I spend most of my days writing now, I try to illustrate as many articles as possible with my own photos.
Political Photojournalism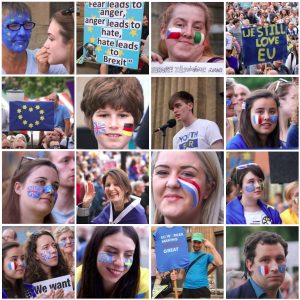 I also love photojournalism, again combining words with images, and am often at colourful events and political demonstrations such as Pride, human rights, or pro-asylum, immigration, and diversity rallies and protests.
Recent events include images of the Theresa May anti-Brexit satirical float tour (an image of which hangs in the People's History Museum, Manchester, 'Savage Ink' exhibition), a Donald Trump protest, solidarity with migrants lovebomb and rally, pro-EU Remain rally, the Orlando Pulse massacre vigil, an anti-austerity rally a Je Suis Charlie Hebdo rally, and an anti-EDL counter-protest. Many of these were published on Demotix until they were bought out and taken down as competitive to Getty Images, whose monopoly tactics I'm not a fan of.
Fashion and Modelling
I've shot black and white nude and semi-nude glamour to fully clothed knitwear collections, but now prefer to shoot confidence building, alternative amateur fashion models and people who want some modelling fun, learning what it is like to be both in front of and behind the camera, what flatters, what is real versus what is photoshopped, aiming for a happy authenticity over an impossible digital mashup.
Available for Hire
I'm available for photo shoots where you want someone friendly who will put you at ease and not judge your body or style, who prefers available natural light to flash, non-intrusive event photography, political reportage, art recording – process and finished article, or for a tutored photography walk around Norwich or Norfolk, including the loan of extensive (and expensive!) equipment and specialist lenses, to learn digital photography, understand your own camera's abilities and start to see the world through a lens at different f stops and shutter speeds. (Call/text me on 07808 970429)