Why is
Holocaust Memorial Day
even necessary still? Because
1-in-20 people think the Holocaust never happened
. Because 1-in-12 think it is exaggerated. Because genocides of people by ethnicity, faith, or sexuality, still happen. Because anti-Semitism,
anti-Romani
, anti-disabled, homophobic and transphobic feelings still exist. Running the
Human Library
in
the UK
, I see people's incredulity at the persecution and prejudice still experienced by some minority groups. Jewish, Romani, Gay, Disabled, Transgender were all human books this last week. They were all persecuted by the Nazis too. Prejudice that is so often based upon stereotyping and scapegoating. Beliefs based on racial or heterosexual purity or supremacy. Eugenics and abhorrent forms of evolutionary biology.
What's in a word?
"Sticks and stones…" Shoah, Holocaust, Jew, Sodomite, Gay, Queer, Persecuted, Interned, Tortured, Killed… Jews and Gays shared a common status as victims of Nazi hate. Some people were Jewish and gay, wearing a pink triangle over their yellow star for double humiliation and awaited horrors including torture, rape, and death.
70 years before the Holocaust, in 1868, the term
homosexual
was first used
in private correspondence
and the next year in print, trying to repeal the Prussian penal code on same-sex relations, a code that inspired the 1871
Paragraph 175
's criminalising of homosexuality that continued through the Nazi-era despite a 1929 attempt to end it. A law not lifted till 1969!
There was no 1945 full and true liberation for gay people in concentration camps, Jewish or otherwise. They were still seen as criminals. It is estimated that 50,000 were imprisoned and 20% of them interned in concentration camps with fewer than half surviving. Both gay men and transvestites were targeted. In 1938, the Institute of Forensic Medicine recommended that the "phenomena of transvestism" be "exterminated from public life." LGBT was pathologised by the Nazis, by the church, and by medicine.
Magnus Hirschfeld
Also, in 1868 a Jewish boy was born. He was to become an eminent social philosopher, doctor and sexologist. He would also grow up to be gay. His name was
Magnus Hirschfeld
.
Towards the end of the nineteenth century, he travelled widely, lectured and wrote. He also experienced the gay sub-cultures of Chicago and elsewhere, exploring the phenomena in Tangier and Tokyo as well as Rio de Janeiro.
Hirschfeld became interested in gay rights when he noticed that many of his patients being treated for depression were actually gay and committing suicide because of it. In 1896, one such patient, an army officer, did just that and wrote about the reason in his Selbstmord ("self-murder"/suicide) note.
In 1897, aged just 29, the Prussian (now in Poland) physician was living in Berlin and angered at the Oscar Wilde trial he founded the Wissenschaftlich-humanitäres Komitee or "Scientific Humanitarian Committee" – the world's earliest gay rights movement. He wanted to advocate justice through science to counter both homophobia and indeed racism (which he also wrote about and saw anti-Semitism a part of) by countering prejudice based pseudo-science with true science.
Whilst in France, Hirschfeld finished a book he had been writing during the 1930s, Rassismus ("Racism"). It was published posthumously in English in 1938. He wrote that the purpose of the book was to explore "the racial theory which underlines the doctrine of racial war," saying that he himself "numbered among the many thousands who have fallen victim to the practical realisation of this theory."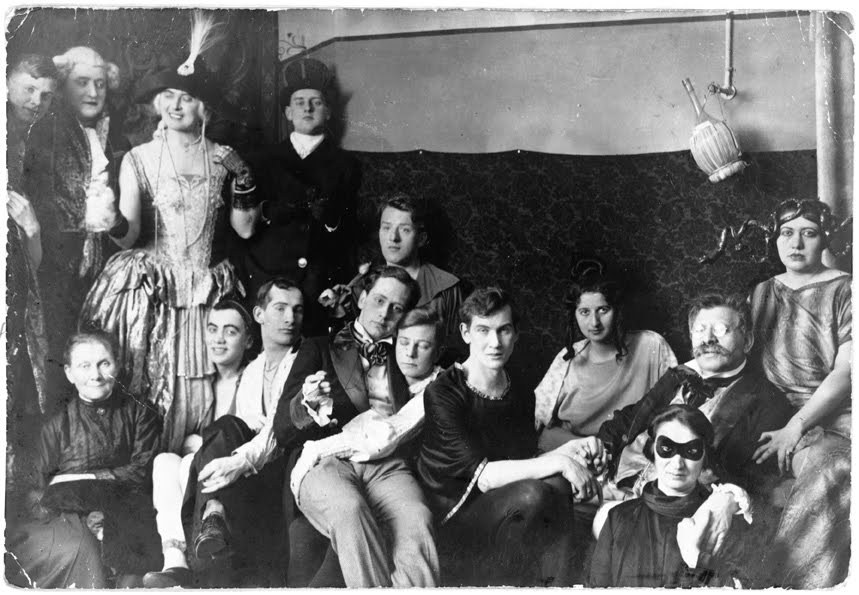 The Institute for Sexual Knowledge
In 1919, Hirschfeld founded the Institut für Sexualwissenschaft ("Institute for Sexual Knowledge/Science") including the Museum of Sex. Over 14 years it gathered huge research on tens of thousands of cases and LGBTIQ diversity.
In May 1933, just months after the Nazis took power, Hirschfeld's Institute was sacked by a group of university students belonging to the from the National Socialist Student League. They stormed into the building (above which he lived with his lover Giese but was away) shouting "Brenne Hirschfeld!" ("Burn Hirschfeld!"), beat up the staff and smashed up the premises before later in the day the Nazi paramilitary Brownshirts showed up to burn thousands of books and files. The institute was then closed permanently by the Police.
Hirschfeld was away on a speaking tour during the crackdown and never returned to Germany, dying of a heart attack in 1935 instead. His lover Karl Giese killed himself in 1938 and his own relatives like Hirschfeld's sister were gassed in a concentration camp in 1942. Both Hirschfeld and his lover were known to crossdress and were often referred to using feminine pronouns.
In 1933 we lost 50 years of LGBTIQ study and 20s era queer culture and openminded society. In 1935 and 1938 with the deaths of Hirschfeld and Giese we lost two queer heroes who lost family to the Holocaust and were triply persecuted for their faith, ethnicity and sexuality.
We don't live single issue lives as Audre Lorde said, we need to stand up for others, whether their persecution intersects with our own or not. We all know Niemoller's poem – "First they came for…" Or do we, when a third of people now know little about the Holocaust and 20% of 18-34s in France have not heard of it! Remember – Lest we forget!