Getting Britain back to work? It's not working!
The language of austerity and recovery (the Tory version or Labour's "austerity-light") has all been about working to pay off the deficit, whereas the reality of much of it was about cutting public sector jobs and the benefits of those out of work. The language of Ukip has been about preventing others coming here to work, or labelling migrants as "benefit/health tourists". According to many international bodies the UK has done well – economically, but socially we are falling apart. Socially and in microeconomics terms, rather than the surface macroeconomic recovery, the Coalition isn't working, also "Labour Isn't Working", the political opposition has been ineffectual.
Measuring the Health of a Nation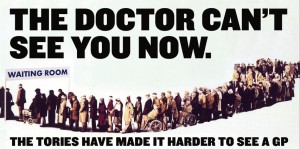 In health service resources terms we are 28th out of 30 OECD nations, 19th in terms of our actual health. The health of society should not be measured in mere economic terms. Education, welfare, mental health, attitudes to those that are different, migrants, or asylum seekers, are often a better guide to how we are really doing as a society. When a million people are using foodbanks, something is clearly wrong.
Working Families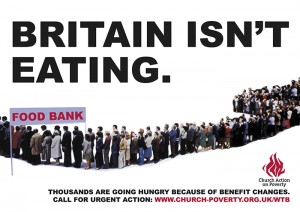 The language of Labour and Conservatives this election has all been about "hard working families", with Ukip adding British-only workers to that, but then even Labour wanted to push for British jobs first. On paper, the unemployment rate is almost back to its 5.3% pre-crisis figure along with a massive shift away from public sector towards the private sector. After 5 years of austerity certain types of jobs are growing (self-employment, small business, zero hours contracts – 700k/2.3% of workers), but those without are being left behind – something Cameron promised not to do.
"I want to, if I'm elected, take the whole country with me. I don't want to leave anyone behind. The test of a good society is you look after the elderly, the frail, the vulnerable, the poorest in our society. And that test is even more important in difficult times, when difficult decisions have to be taken, than it is in better times." – David Cameron on the Andrew Marr Show, just before the 2010 General Election
Whether disabled, unskilled, mentally ill, being a carer, or struggling with some other difficulty that makes the 9-5 "Arbeit macht frei" ethic not appropriate or possible for all, many are being abandoned, and forgotten. The very purpose of the modern state, the welfare state, even something once quoted but not fulfilled by David Cameron, is to care for the weakest and neediest in society – without scapegoating them as sick scroungers.
Ed Miliband and the #EdStone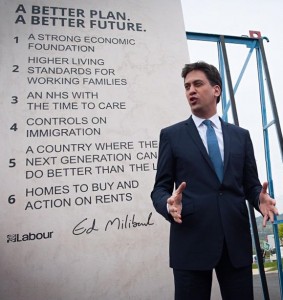 Even Ed Miliband in his Cecil B. DeMille Mosaic stone Tablets announcement this weekend put the economy as the number #1 priority and "higher living standards for working families" as number #2, apeing UKIP and the Tories at number #4 is "Controls on Immigration".
What no welfare?
Nowhere among Labour's 6 priorities were people in need, on welfare, even mentioned. For welfare to remain a "dirty" word even with a so-called socialist party shows how times have swung and the extent to which a party will spin and abandon its principles in order to regain power.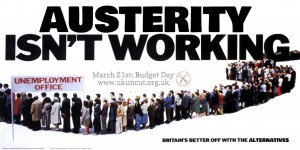 "Cuts" has been the message of austerity and debt reduction. But those cuts have fallen on the neediest in society, those on disability or welfare, not those most able to pay, or indeed – such as the banks, most responsible for the economic collapse in the first place. In 2012 UK Uncut protested the March budget with a "queue" outside Downing Street and an "Austerity Isn't Working" poster campaign mimicing the 1978/9 Saatchi poster done for Margaret Thatcher and the Tories.
The verdict of a successful government is not just something measured in economic terms but also in moral and social ones.
Is the economy the only measure of a successful country? If I starve my kids to pay off my overdraft am I a great parent? #BBCDebate

— Vanessa Edwards (@_vanessaedwards) April 17, 2015
Arbeit macht frei
Diefenbach's 1873 novel "Arbeit macht frei" about a man who "is a gambler and fraudster who, through regular employment, succeeds in regaining the path of virtue" or as another commentator put it "a way for sinful people to be absolved of their transgressions through labor" is the origin of the cruel phrase that was taken on by Nazis and put over the gates of the concentration camps. Diefenbach was a Christian pastor and nationalist and echoed the Victorian work ethic that many so-called reformers in Britain held to in the 19th century.
David Cameron's Easter message interview with a Christian magazine summed up Christianity as about "hard work and responsibility", not Christ's work on the Cross, meaning that, soteriologically, everything was actually already done for mankind.
Jesus said that the "truth would set you free", the truth seems to be the thing furthest from modern politicians, with all their spin and question-dodging. No wonder 35% of the electorate don't vote.
Less about Economic Wealth what about Mental Health?
The real hard truth is that "Britain isn't working". Inequality is increasing. Our communities are fractured and our countryside fracked. Those not in work are being punitively capped and cut until they can take it no more.
The irony of a government forcing state-funded CBT onto the unemployed yet unable to deliver self-requested CBT via mental health services for those that want to work is clearly lost on the Big Brother worker state. Hundreds of therapists, counsellors, and mental health experts, have written to outline their fears about the emotional and psychological toxicity of austerity and how it is being carried out. Suicides have increased over the last 5 years, especially amongst men.
Big Society or Broken Society?
Is the Big Society broken? Does society even exist or matter? Thatcher's "there's no such thing as society" is falsely interpreted though under a Tory-LibDem watch has been almost a self-fulfilling prophecy.
"There is no such thing as society. There is living tapestry of men and women and people and the beauty of that tapestry and the quality of our lives will depend upon how much each of us is prepared to take responsibility for ourselves and each of us prepared to turn round and help by our own efforts those who are unfortunate." – Margaret Thatcher, 1987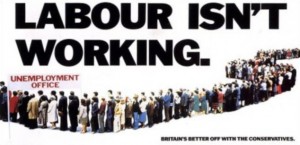 Saatchi and Saatchi designed the 1978 poster that helped Thatcher win the 1979 election with the tagline "Labour [Still] Isn't Working". The Labour Party has spoofed the self same poster nearly 4 decades later. It is time to think outside the box not just rattle and rebrand it.
The truth is society is more broken than 5 years ago even if the economy may be on the mend. Austerity has been toxic. Our health, transport, housing, and education sectors have declined after being starved of resources or sold off to the private sector. Now it is society that needs rebuilding, not the economy. That is the true measure of recovery.
Post-Election Update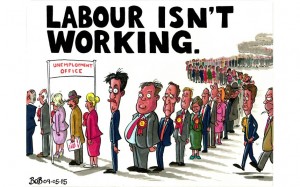 With the Conservatives returned to power, not just coalition but a slim but workable majority, and achieving a rare (once in a century) feat of increasing their vote share, how much did their victory owe to spin and emphasis on the economy not those in need? Are the democratic majority simply selfish? The majority view does not mean it is the right view – ethically, morally, socially. In the meantime the 37 year-old poster image is still doing the rounds with Daily Telegraph cartoonist BOB re-posting "Labour isn't working" with a queue of unemployed Labour MPs snaking back from the dole office.