Geoffrey Boycott Bingo
Geoffrey Boycott is still struggling with the modern age it seems as heard on Test Match Special this morning during the England-South Africa cricket game:
"Pitches are like wives, you never know how they're going to turn out…Best not say that to 'our Rachel'"
Presumably, the Rachael mentioned is his wife Rachael Swinglehurst, but another Rachael might have something to say about attitudes to women as cricketers, or in sport generally. Rachael Heyhoe-Flint is England women's team former captain and premier cricketer who did so much to promote women in the sport, including being the first full female member of the MCC, not to mention also playing hockey for England.
Cricket commentator Mark Nicholas, who worked with Boycott, told his biographer that "sometimes Geoff can be so rude you just want to punch his lights out". Something which Geoff would call "being forthright" or "blinkers on", and for which he has apologised.
Some more non-pc quotes from Geoffrey, having become part of the lingo of Boycott Bingo, which some argue should be boycotted:
"Me mum could have caught that in her pinny"
"My gran could have hit that with her broom handle"
Equally, one could argue that we take sexist humour too seriously – but humour often sits in reality, and it's not men we should be asking if they find it funny, but women and wives. Theresa May, is apparently a big fan of Boycott.
There is indeed a "corridor of uncertainty" with Boycott as to how likely it is a case of 'tongue in cheek' or a 'foot in mouth' expression, when he said the following, of his wife, it was meant to be endearingly funny:
"She's lucky to have me. I keep telling her. I could have got fulltime help in and less lip."
Beefy was not immune to not getting to grips with evolved equality:
"I don't ask my wife to face Michael Holding, so there's no reason why I should be changing nappies" – Ian Botham
Chris Gayle's Alleged Sexism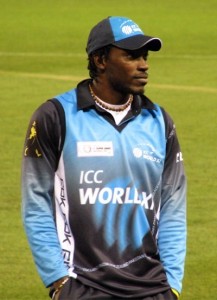 With Chris Gayle (mis)taking the opportunity of an interview with an Australian female sports interviewer, Mel McLaughlin, to flirt, patronisingly rather than in any sense endearingly, some sportsmen are still struggling to shed the image that it is a heterosexist no-go area for women and gay men. Gayle called McLaughlin "baby" on live camera, he argued cultural differences later, as faux-apology. An interview with Boycott in 2011 described Geoffrey as liking "to call a spade a shovel and a woman 'love'", another cultural difference, are West Indies and West Yorkshire closer that previously thought?
Gayle's behaviour was described as "sexist, not sexy" and contributing to why, despite:
"almost everything about sport [having] improved in the past few decades, yet still women are unable to simply turn up to work and do their job properly without being slobbered over by lecherous simpletons like Gayle."
The same writer, male in fact, reported with disbelief on how women in motorsports were essentially meant to be "good sports" which he summarised as "silently accept[ing] being sexually harassed" and turning a blind eye. I would add that women are expected to be good sports in the sense of laughing off inappropriate testosterone-fueled banter rather than be "good at sports".
Coming Out as Gay in Sport
FIFA, has this week fined five South American football bodies for homophobic chants at their games. Meanwhile, Qatar – awarded the 2022 World Cup, has just banned the film The Danish Girl for its trans depiction as "moral depravity".
Coming out as a gay sportsman, in football, rugby and cricket, especially, is rarer and harder than coming out as a gay Tory cabinet minister. As Ruth Davidson, the Scottish Conservatives leader quipped, "it was easier coming out as a lesbian than coming out as a Tory". A gay male footballer still remains a taboo beyond even that. Part of the issue for people is that the atmosphere of sport can still so often seem like some men behave down the pub, "Blokesworld mindset", after a few drinks too many, and the overly "laddish" environment can discourage the full participation or spectation of all members of society.