USA Gun Violence contrasted with UK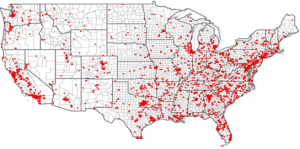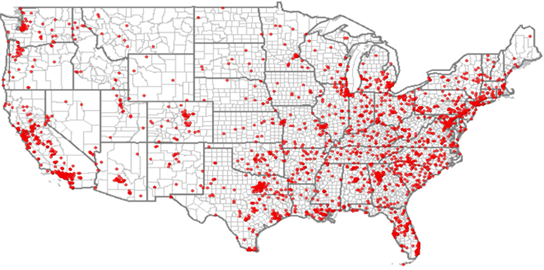 Whilst the British police managed to arrest a machete wielding youth in a shopping centre, in the US a domestic disturbance armed only with a bat saw the offender shot dead along with an innocent bystander. Gun violence in America has seen over 13,290 gun-related deaths recorded so far in 2015: 331 in mass shootings, 980 by police (91 unarmed of whom 37 were black), 25% showed signs of mental illness, over 46% were non-white, and 3,371 were teens or children, injured or killed. America has way more to worry about from its own gun culture than international terrorism or ISIL/Islamic State.
The figures for 2015 are up on nearly all counts from 2014 – Police Officer-involved incidents constituted 4,344 of the 52,324 total shootings up 35% from 3,213.
Chicago Police Department Officer Incidents
On the day after Christmas, Chicago Police were called to a domestic incident by the father of a 19 year-old black youth armed with a bat and on medication for known mental health issues. Somehow, 7 bullets later, Universtity student home for Christmas, Quintonio LeGrier, and 55 year-old, mother of 5, Bettie Jones were both dead. Such a contrast to British police gun violence where most years see zero fatalities and any unjustifiable exception to this results in public outcry.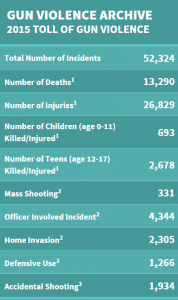 Chicago suffers the worst figures of any US city (New York is now 6th), some 240 police shootings between 2010 and 2014, 70 deaths, mostly black men. This is despite new training and measures that have resulted in "Police-involved shootings [being] down by double digit percentages". New York is surprisingly safe these days and police self-control such that just 41 were shot dead by police in a population 3 times that of Chicago. Still too many though. Phoenix and Philadelphia are proportionately worse with 57 and 54 fatal shootings from populations half the size of Chicago.
Chicago PD alleges nearly all are justified. Despite 410 investigations since 2006, only one was found to be unjustified, though some are still pending. Most reports ends with the trite phrase:
"This investigation found that Officer A's use of deadly force was in compliance with Chicago Police Department policy."
A far larger number must surely be seen as disproportionate? Gun versus bat? Armed adult vs teen? White v black? For example, over 90% of those investigated in 2014 were Black and/or Hispanic.
Laquan McDonald Investigation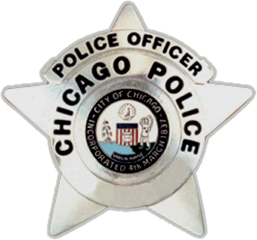 Chicago's Mayor Rahm Emanuel recently removed the city's police superintendent and head of the Independent Police Review Authority and the CPD remains under review following the year-long belated charge of first-degree murder against Officer Jason Van Dyke for the 16-shot fatal police shooting last October of Laquan McDonald and attempts to prevent the public release of officer-incriminating vehicle dashcam footage.
In a recent series of studies, adults who were shown pictures of children of different races labeled black children as several years older then they actually were. They were considered "less innocent than their white same-age peers" – Education Week
Mass Shootings and Domestic Terrorism
With 2015 nearly over America has seen 329 people killed and four times as many injured – 17% up on 2014's 281. That's considerably more than acts of terrorism. Chicago with 1% of the US population also has 3-5% of its mass shooting victims.
Wider Issues of US Gun Violence Prevalence
The bigger issue is how endemic gun ownership and gun crime are to America, that recourse to a weapon for self-defence, arrest, or to settle scores, is the first resort not the last, and that those most affected by disproportionality and/or unreasonable use of force are people of colour. Whilst America claims or has been called upon to "police the world" it should sort out its own back yard first before any attempt to be the "world's policeman".