Orlando Shooting, LGBT Vigil in Norwich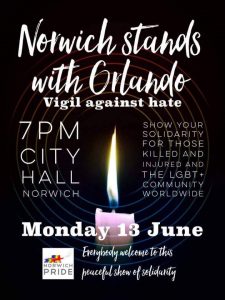 Monday evening, just as the heavy rains stopped, 200 people – LGBT and allies, gathered on the steps of Norwich City Hall, to stand with the 100 fallen, killed or maimed in a hail of hate and bullets at Pulse, Orlando. The Vigil against hate was organised by Norwich Pride and featured speakers: Katy Jon Went, Julie Inns for Norfolk Police and the Chair of Norwich Pride, Andy Futter.
Norwich again shows its support for diversity and freedom of expression, as it did with its Charlie Hebdo vigil, demonstrations against the EDL and many more political but peaceful assemblies.  The Norwich vigil was marked by a minute's silence and the lighting of candles on the steps of City Hall. [See below for the texts of the speeches or photos of the event]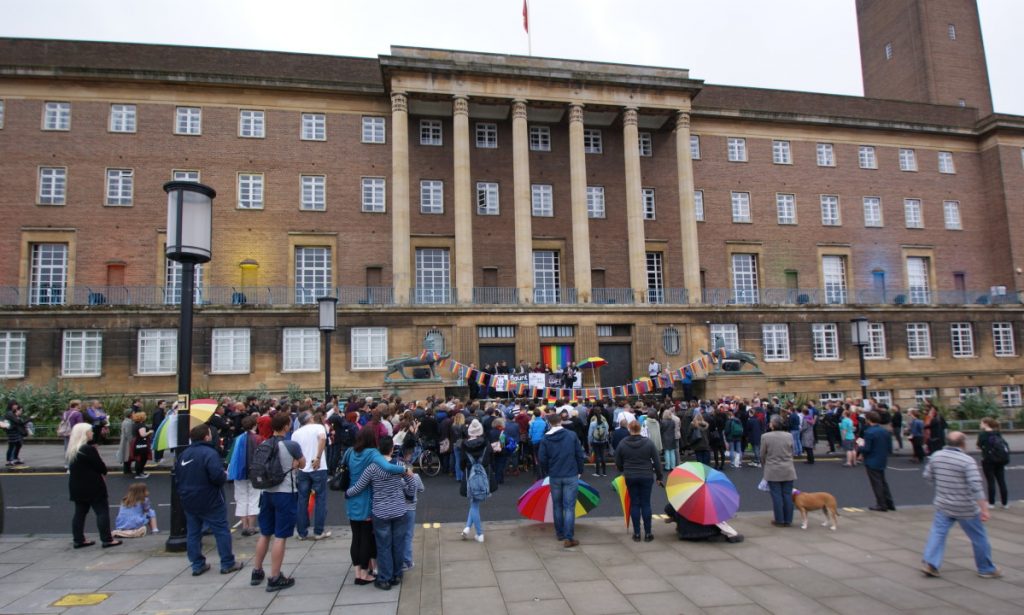 LGBT Communities unite against Hate
Vigils were also held in Brighton, Cambridge, Glasgow, Leicester, London, Manchester, Newcastle, Nottingham, and around the world. Cities turned their landmarks rainbow in the same way that after the Bataclan massacre many lit their monuments and city halls in the colours of the French tricolour flag.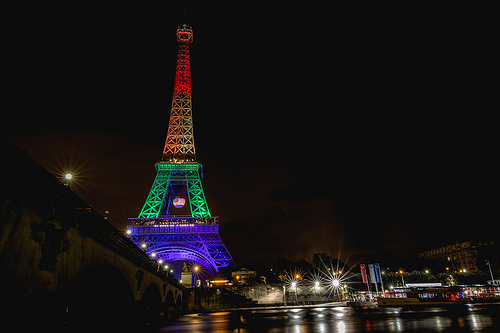 Norfolk local and LGBT poet laureate, Trudy Howson, at the Soho event, told Sky News:
"It is very important to show solidarity … we're all part of the same community and it's very important that we show love and solidarity. We've all been victims at some point of homophobia – we need to stand up to hate and evil and fight for respect."
Laurie Penny wrote about the Soho gathering and the condemnation of queer Muslims, by some, that they shouldn't exist, and of those who refused to kneejerk blame radical Islam as apologists with blood on their hands:
One woman held up a sign that said Every Life Matters: "Queer, Black, Muslim, Latino." Next to me in the crowd a white man in his forties held a sign that said "I'm Gay And Religious – Get Over It." Squeezed in beside him was a young man in a taqiyah, standing with a girl. "My friend is Muslim," said the girl.
The London event took place outside the Admiral Duncan pub on Old Compton Street, Soho, where three people were killed and many injured in a nail bomb attack in 1999, just showing that homophobic terrorism need not be of religious origin. The perpetrator, David Copeland, was a far right BNP neo-Nazi extremist who targeted diverse communities in Black, Bangladeshi and gay areas of London in three bomb attacks. He was known to have mental health conditions including paranoid schizophrenia but insufficient, perhaps due to the public outcry, to warrant diminished responsibility as a defence plea.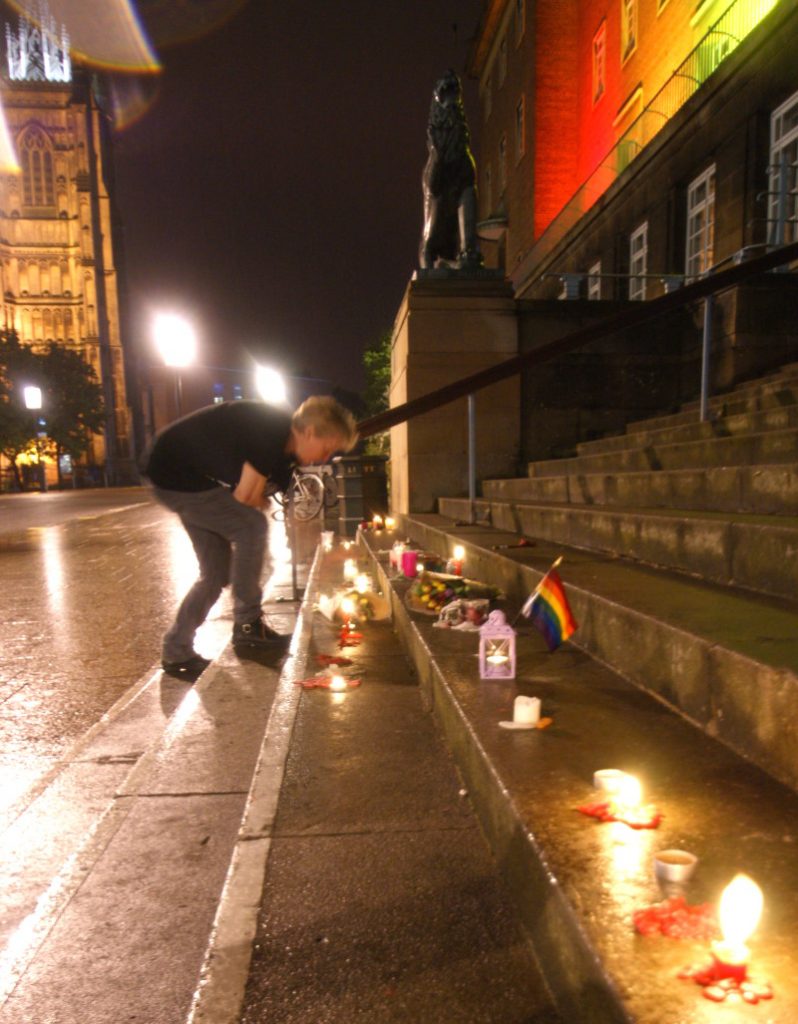 Orlando Massacre explanations aplenty
As family, media, and commentators explore the reasons for Omar Mateen's mass killing spree, families and lovers mourn their dead, who no amount of analysis can bring back. It has been said that Mateen was bipolar, was a wife-beater, had joined several Islamist extremist groups including ISIS (at the last minute). His father says that Omar had recently witnessed two men kissing and had been disgusted by it.
The most recent reports suggest that he's actually patronised the club and been drinking there – hardly very devout Muslim behaviour, indeed many said he was barely religious at all. Apparently, he'd also been seen on gay dating sites, so the possibility of internalised homophobia, self-hate, and sexuality identity repression seem very strong motives, with the tacking on of Islamic State, more of an afterthought seeking some kind of redemption and forgiveness in the afterlife for his, considered sinful by his faith background, sexuality.
Muslims, Gun Control and the Blame Game
Scapegoating and stereotyping have hit the headlines, making it all about IS or immigrants, religion or lack of gun laws. Some on social media have perpetuated the hate and homophobia by rejoicing in the slaying of sinners – sick! Yes, the US right to bear arms and easy access to not just a pistol or shooting rifle but an automatic weapon are accountable – but not solely responsible, for the extent of the massacre. Getting off 24 shots in 9 seconds was facilitated by the type of gun that was readily available. It was not purchased for self-defence, unless one was expecting a war. The AR-15 style assault rifle – the Sig Sauer MCX, is described by its maker as a "battle-proven weapon system".
US Presidential candidate Donald Trump has adopted an "I told you so" type of approach, taking credit for seeing this coming and calling for an immediate suspension of Muslim immigration. Some are happy to label it terrorism, others a hate crime, yet more that it is a gun control or immigration issue. Not so many, focus on the fact that this was a very real attack on an LGBT safe space, a gay bar, some have even gone to great lengths to condemn Muslims and avoid reference to LGBT, how else can right wing nationalists stir up Islamophobia whilst avoiding any reference to their own homophobia? The crime does not fall into a neat explanatory box. Journalist, Owen Jones, walked out of a Murdoch-owned Sky News discussion because it failed to acknowledge it as a specific attack on the LGBT community.
FBI Report in US Mass Shooting Incidents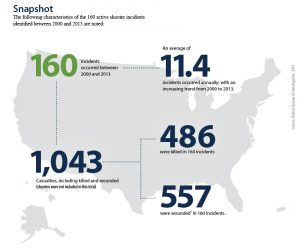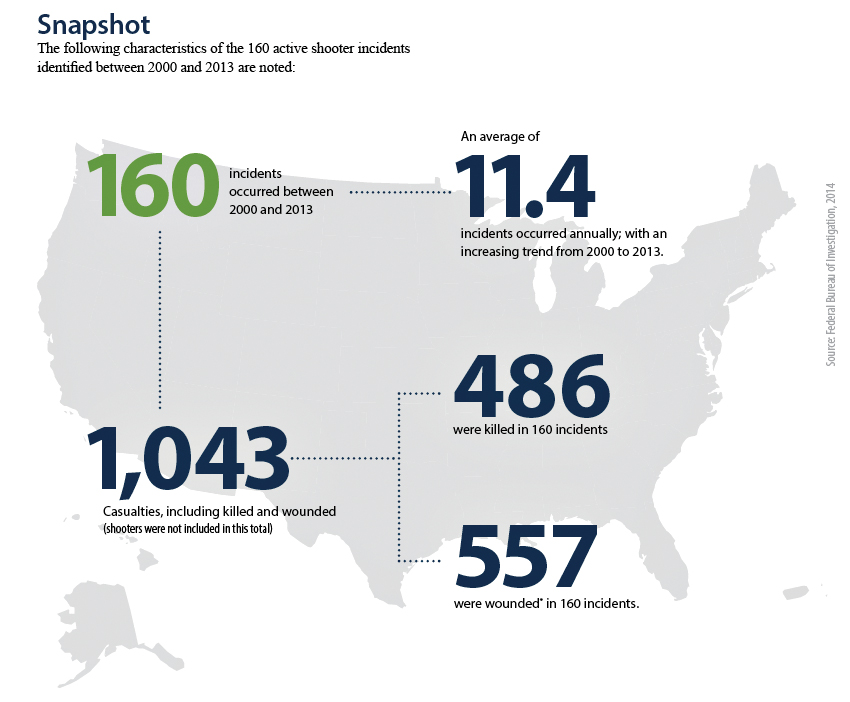 Between 2000 and 2013, 486 people were shot dead, and even more wounded in mass shooting attacks in America. The frequency of incidents has only got worse, more than doubling in the last 7 years of the analysed period, to more than 16 incidents a year. The Orlando attack was the worst mass shooting in peacetime American history.
A Mother Jones investigation going back 33 years shows 670 killed and 650 injured in 80 incidents, with mental health a factor in between 60% and 80% of cases.
The vast majority took place at commercial workplaces or schools, by disgruntled employees or students, or over things as irrationally minor as arguments over a CD player or driving ability. By far the majority were carried out by white males, not foreign immigrants or Muslim extremists. Out of 160 incidents, barely 2% could be described as Muslim perpetrators, a couple were clearly anti-semitic.
"You are no more likely to be shot by a Muslim than by a Christian or an atheist in America."
LGBT Muslims are also in mourning.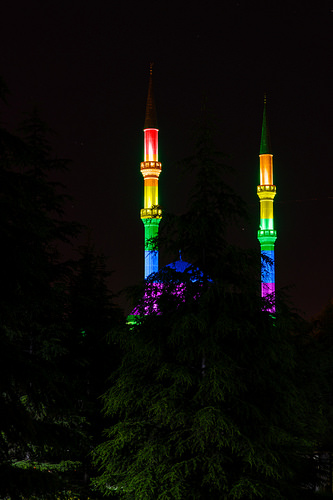 Text of Speeches at Norwich LGBT Vigil
Katy Jon Went | Julie Inns | Andy Futter
Katy Went
If killing 50 LGBT people, and maiming as many, is your response to witnessing a kiss, an expression of love, between two people of the same sex, then you need help not hate, to get open minded not offended, and a change of religious interpretation. I can't help but think there might have been some internalised homophobia going on besides mental health, anger and other issues already raked up by media, before this individual jumped on the ISIS bandwagon to tag his heinous act.
We forget that London, Brighton and elsewhere have had their own homophobic atrocities, that were not done in the name of ISIS, that Los Angeles Pride just had another violent attack on it averted, nothing to do with alleged Islamic extremism, that Prides in Israel have seen LGBT people attacked and killed by Jewish Orthodox extremism. There is no place for ill-informed Islamophobia now – people of all faiths and none, Communists and Fascists in recent history, have all targeted LGBT people.
Anger is no less a legitimate response than many others at this time. Forgiveness, albeit a healing one, can never be asked or expected of anyone unless freely given and only by the victims and their loved ones. Understanding, love, mercy, and worldwide calls for an end to homophobic judgement and violence are needed, people to challenge bad religious interpretation and attitudes, and show better alternatives. I'm pleased that many faith groups march with Pride, and historically just one small one, against it, here in Norwich.
Religious groups are all over themselves with prayers at the moment but no recognition of the hypocrisy that their slowness to accept LGBT people counts towards the fear and hate that drives confused and conflicted people to carry out these acts. The victims don't need prayer they need acceptance, the only justice would be churches, mosques and temples overturning their hitherto homophobic attitudes, policies and doctrines. This may sound offensive but so was Jesus. Prayer without doctrinal change and better practice right now is like blessing the homeless with words but not with a blanket and some food. People of faith need to offer more than prayers right now.
I'll put my hand up in the air, 30 years ago I was a fundamentalist Christian, opposed gay rights etc, years later several members of my University Christian Union, that I'd helped found, came out as gay or lesbian. My views changed, when I had my own coming out and Damascene conversion to LGBT acceptance. Others can too.
Will we see the same international condemnation and responses as in Paris? I doubt it, as the victims were LGBT.
Amidst the EU referendum debate, US presidential campaign and escalating immigration and Islamophobia issues, we don't need blanket condemnations but change. People in the US and UK have hijacked Orlando as an excuse to condemn migrants, religion etc, but not to call it homophobia.
Hate and fear need naming but the responses need to be love and, 'out and proud' confidence.
As Martin Luther King said:
"Returning hate for hate multiplies hate, adding deeper darkness to a night already devoid of stars. Darkness cannot drive out darkness; only light can do that. Hate cannot drive out hate, only love can do that."
Julie Inns, Norfolk Police
Good evening everyone it's so wonderful to see so many people supporting this event tonight. I'm immensely proud to be standing here tonight; I stand here on behalf of Simon Bailey, Chief Constable of Norfolk Constabulary and Lorne Green our new Police and Crime Commissioner who unfortunately at short notice were not able to be here tonight, although they send their best wishes for a successful event.
I am very privileged to be standing in front of you tonight with so many familiar faces some of who I know quite well and some who will be new to me, supporting this Norwich Stands with Orlando Vigil to support our LGBT brothers and sisters across the pond who have suffered this weekend and for which there are no words to describe what went on in Orlando this weekend. I just can't think of the words to describe it. But from the Constabulary and Police and Crime Commissioners Office our thoughts do go out to the family and friends of those effected but this atrocity.
Now we all know that Norwich is statistically a safe place to live, it's a safe county and we encourage people to come here to live, to work or come on holiday and visit and we say to you, you can come and you can bring your religion, your sexuality, you can eat your food and wear your traditional clothes and come one come all and we are really accepting of that. However we must be mindful that unfortunately in this day and age that terror can strike anywhere.
But for this to happen to them during their PRIDE celebrations in a club where they should have felt free, welcomed and happy to be who they wanted to be, I don't know about you guys but I find that even more heart-breaking and gut-wrenchingly awful that I have no words to explain it.
So I'd like to think that we would be lucky enough in Norfolk never to have to experience anything like what happened in Orlando over the weekend and our county will never see such an atrocity. But we have to remember that it does go on and we all have a part to play in keeping all our citizen's safe. So with that in mind let's not blame the actions of a small minority of the people who commit these acts on the majority. And when we talk about what happened in Orlando and bandy the word hate crime around it doesn't quiet cut it for me, it just seems to be a bit beyond that. But I want to be really really clear on this and this is important for me. Norfolk Constabulary is absolutely committed to the LGBT community in Norfolk that we will keep you safe and we will shield you from harm wherever possible. But in order for us to do this, people have to come and talk to us and sometimes that can be difficult. But we want you to be who you are, to be authentic at work and out in the community and to be safe while you are doing that, but for us to do that if there is a problem you need to come and tell us about it and I know for some of you that is going to be difficult so I'll be here afterwards if you would like to come and talk to me or take my contact details so we can talk in private, that would be really great.
The one thing I would like to reassure you on is that when anyone reports incidents of hate to us whether it be about your sexuality, your race, which religion you follow or if you live with a disability, whatever the issue is I can assure you now, we will believe you, we do take it seriously and with your help do whatever is possible to pursue the perpetrators through the criminal justice system until we get a conviction and that is my personal promise to you on behalf of Simon Bailey and Lorne Green.
So I'd like to say that Norfolk Constabulary and the Police and Crime Commissioner wholeheartedly support this vigil tonight and say no to hate. But not just no to hate, No to hate in our county, No to hate in our fine city, No to hate across the world and finally we believe in hashtag #loveislove.
Andy Futter, Chair of Norwich Pride
In the early hours of yesterday morning, at the Pulse Nightclub in Orlando, Florida, a 29-year-old man carrying an assault rifle and a handgun and began shooting and murdering individuals before taking hostages.
Once the horrific event had played out, fifty people lay dead and a further fifty-three were hospitalised.
These people were a part of the lesbian, gay, bisexual and transgender community. They were enjoying a weekend night out with their friends at a venue in which they should have been safe.
I ask those of you who do not have to experience this particular brand of hate to understand that – despite it being 2016 – the LGBT+ community – my community – still needs these spaces.
They are our sanctuary.
And if you can't understand the concept of a bar or nightclub being a sanctuary, then be grateful. It means you've probably never been afraid to hold someone's hand in public. It means you've probably never been afraid to tell people that you met someone new – simply because of the gender of that new partner. It means you've probably never been afraid to leave your house for fear of being mistaken for another gender and the violence that so often goes hand in hand with that ignorance.
I mean that utterly sincerely. Be grateful if you have experienced none of those things. But try to reflect on the experiences of those who have and understand that we need those safe spaces – just like the Pulse nightclub.
That should have been a safe space. But yesterday, that peace; that sanctuary, was shattered in the most brutal way.
Those individuals were no longer safe. They were targeted for being lesbian, gay, bisexual or transgendered; or for being a friend of the LGBT+ community.
Being gay or lesbian or bisexual or transgendered is not a choice. Getting out of bed and deciding to walk into a bar to target those of us who are lesbian, gay, bisexual or transgendered is most definitely a choice. But so is being an ally.
So for those of you here tonight who are not L,G,B or T, I thank you for your support.
Our community is strong and across the world right now and the coming days, you will see how just strong this worldwide family is; but we are all the stronger for having you on our side.
We are all the stronger for you understanding that despite huge legal steps forward – lesbian, gay, bisexual and trans people still face hate on a daily basis, for simply loving the people we love and expressing our true selves.
We are all the stronger for you understanding that, so I would ask you to understand something further. Yes – every life matters; every act of terror and murder should be condemned; but make no mistake: this was an attack directed squarely at the LGBT+ community.
Right now we are scared.
But we are also empowered by our love and solidarity.
Right now we are vulnerable.
But we are also strong in ways which may surprise many – including ourselves – and we will not be beaten.
Right now we are upset.
Right now we are angry.
So when you reach out to your LGBT friends, loved ones, brothers, sisters, colleagues: hold us closer and hug us tighter than before.
Right now, we need it.
Every one of us here tonight owes it to every one of those who died at the Pulse Nightclub in Orlando to stand taller. Be prouder.
We will not hide in the shadows.
We will not quietly clamber back into the closet. We will not stop living our lives.
So for all of those who died on Sunday in Orlando; to those who still lie bleeding in hospital; to those who have had loved ones ripped mercilessly from their lives, I say this: the people of this fine city stand with you.
Tonight we are united in grief.
Tomorrow and always – let us be united in love.