Jean Cocteau's, The Eagle Has Two Heads, Review
Peter Barrow (actor & backer) and Stash Kirkbride (artistic director) together make up the PBSK partnership that puts on the annual Hostry Festival in Norwich. This year their main play is the L'Aigle à deux têtes by Jean Cocteau, written in 1943 and first performed in Brussels, Lyon and Paris in 1946. The French play both became a film and was 'adapted' by Ronald Duncan for English productions as "The Eagle Has Two Heads". Whilst Cocteau once unfairly derided his translation as "preposterous", the performance, staging and script, on the opening night (continues till 29/10), were superb.
Melodrama Revival or Tragicomedy?
"It's a revival of a long lost French melodrama, a romantic play not seen in Norfolk since 1947 when it was performed at the Maddermarket Theatre." – Stash Kirkbride
Although, Cocteau himself, would rather see it as comic tragedy uniting a "human play" and "great rôles" in "intellectual theatre" with "violent action". Take the sarcastic bite of these lines, for example:
The Queen: "I have not shown my face to a living soul, except to my reader, Edith. It is questionable whether she has a soul. It is still more questionable whether she is alive."
Cocteau has sections of Hamlet read during the seemingly multiple plays within a play and references a resurgent theatre in suggesting that the King was killed for building theatres and the Queen criticised for her love of the arts and actors in the family.
The Queen: "…they all wanted to become actors. that was impossible, so what could they do but turn their lives into a play, each living his own comedy. But I dreamed of making mine into a tragedy."
There were times when I wasn't sure whether laughter was appropriate in this tragedy, for there were great comic moments and fantastic verbal put-downs by the two leading female roles, and to a lesser extent by the resurgent Stanislas when not in cowardly assassin or fawning lover mode, as for example when he calls the Queen on her conceited notion that suicide was insufficiently dramatic a death.
"All love is a little death, and great love is suicide."
For those with a knowledge of French, back-translating the dialogue led to some great double entendres, including le petit mort above, perhaps unintentional, but it added to the depth of the typically French philosophical and somewhat sexy melodrama – or tragic farce, at times.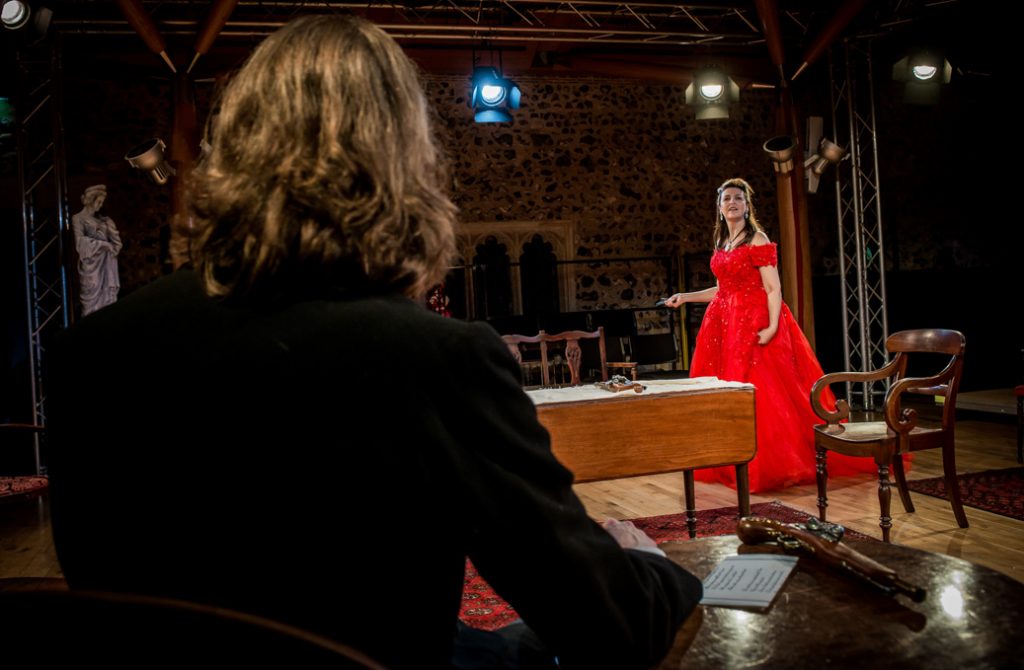 Historic Setting & Political Commentary
"On a wild Autumn night circa 1910, a reclusive Queen dines alone in one of her many castles mourning the loss of her late husband. An assassin appears – he has come to kill the Queen but instead he falls hopelessly in love with her. For a brief moment in time their love blossoms, but it is not long before the corridors of power begin to echo with disapproval. And so, it must all end even before it has begun… but how?…" – Synopsis, Hostry Festival
Indeed, the play has echoes of Romeo and Juliet's tragic romance. This 20th-century play, set in the late 19th – loosely based on the "strange death of Louis II of Bavaria" – is, in addition, interlaced with questions of anarchy, the poetic temperament, philosophy of ideas, court intrigues, and even class commentary.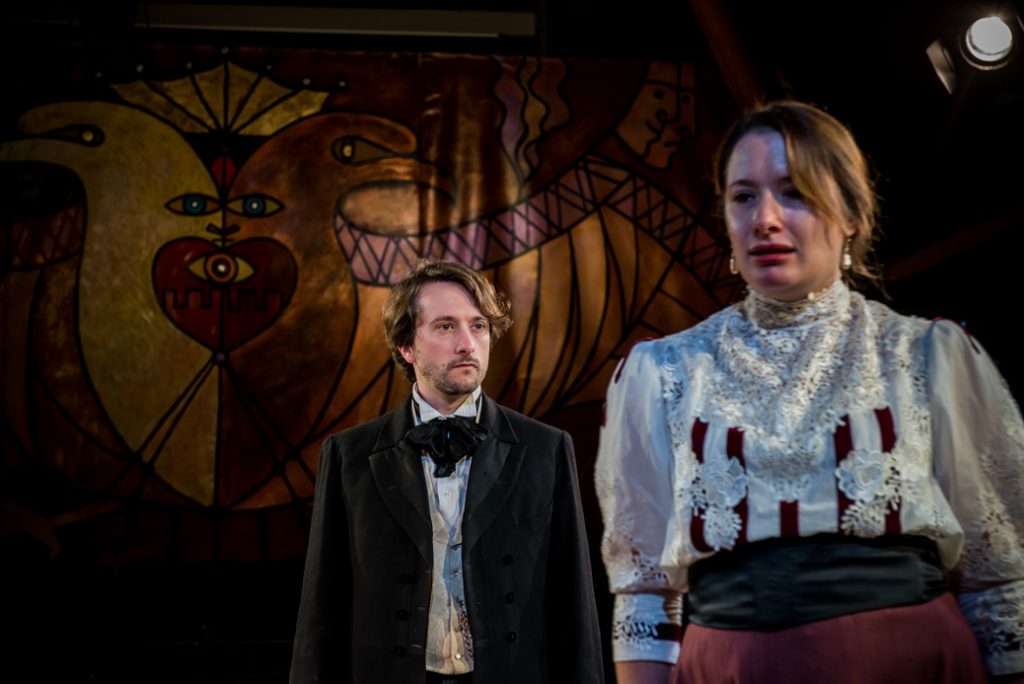 The latter almost creates a play within a play as the supporting actors Lucy Monaghan (Edith de Berg) and Christopher Neal (Duke of Willenstein) carry on their own drama of love, jealousy, position and power among lower order nobility.
The Queen: "Those who are born slaves are free. Compared to us who are imprisoned in this tyranny [love, or indeed royalty]."
Meanwhile, enter the anarchic poet peasant with royalist leanings, with his uncanny resemblance to the dead king, on the anniversary of his death. The hermit Queen, not seen in public for years, has her own anarchic and heroic leanings, owning a copy of the poet's seemingly anti-monarchy poem. She both dispenses with and asserts class and court etiquette in dialogue with Stanislas – a fact which he gains courage to take advantage of, to both the Queen's dismay and pleasure for she hates cowardice. He, nonetheless, recognises that it is all within the Queen's gift and that she is "the axis around which all men must move".
"You are in the presence of your Queen. Don't forget it."
But then comes the distinction, is he, or indeed she, against the office of the Queen, rather than the person? For it is the crown that wields the power, not the wearer alone. Who is to be assassinated, the idea or the individual? Typically French revolutionary political ideas mixed with high philosophy.
Stanislas: "I am not hating my Queen. I fell in love with a cause and let a cold idea ravish me. So that when I broke into your room I was nothing but a mad idea."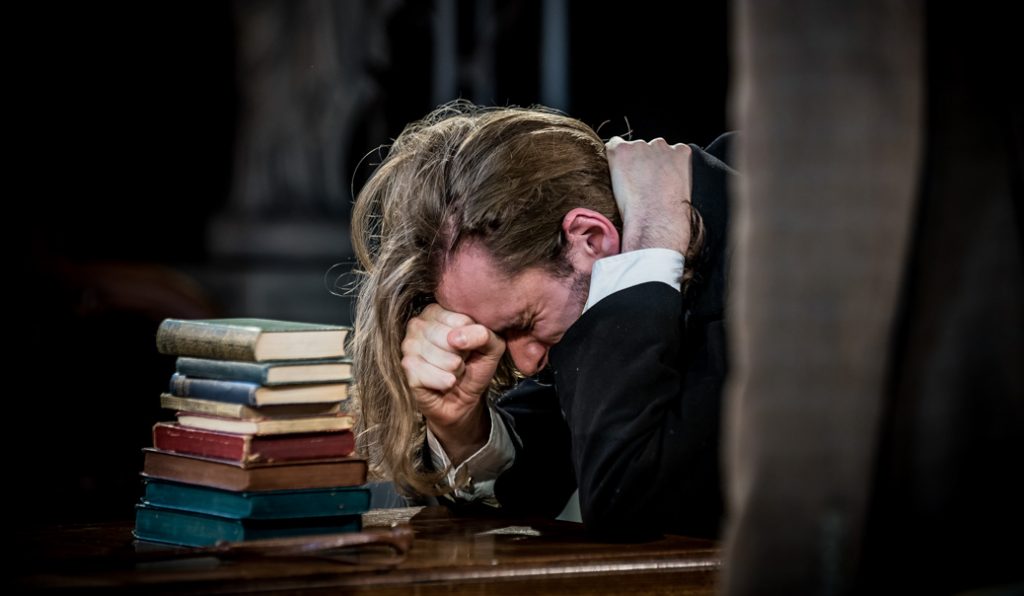 As with the incognito Empress Elisabeth of Austria's assassination in 1898, the assassin was attacking the system:
"I am an anarchist by conviction…I came to Geneva to kill a sovereign, with object of giving an example to those who suffer and those who do nothing to improve their social position; it did not matter to me who the sovereign was whom I should kill…It was not a woman I struck, but an Empress; it was a crown that I had in view." – De Burgh (1899). Elizabeth, empress of Austria: a memoir, pp326–327
Staging & Acting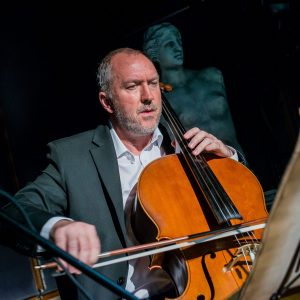 The fast-paced three-act play opens with an opulent open stage, set in the round – well a square (squircle?), with raised seating on all four sides. The backdrop is a large piece of double-headed eagle art by local Russian artist Gennadiy Ivanov.
A live cellist, the excellent Ivan McCready, sits at one corner of the stage adding real musical backing overlays and that resonant wooden tone that only a cello provides.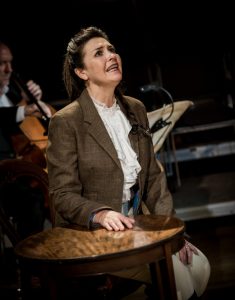 I was sat on one of the four front rows, next to the cellist and to a card table that the Queen and leading actress sat at during the play, giving the audience a rare intimacy and experience of the action. And, action it was at times, with erotic embraces, intense thumping dialogue, and not a few near and acted deaths taking place at the audience's feet.
The actors threw everything into their craft, faces were stretched, contorted, angry, impassioned, spitting, "acting without restraint" like a Jean Marais (Cocteau's lover) in Les Parents Terribles. This was something Cocteau wanted to restore to modern theatre, including a reading of Hamlet within the play, "with as much violence as [Stanislas] put into [his] last insult."
"The appearance of a comedian-tragedian is the great novelty of the theatre today. By exaggerating the comic lines he manages, without seeming ridiculous, to put on the sublime grimaces of which the screen deprives us." – Jean Cocteau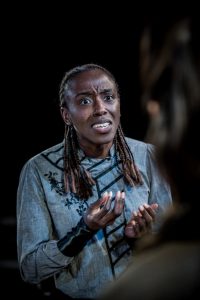 Even the deaf and mute role of Queen's servant was acted with strength, poise and dignity by Tawa Groombridge, despite the scripted abuse by another role.
The calmer role of courtly Baron, yet no less conniving, Chief of Police, was played by actor and executive producer, Peter Barrow, presenting a foil to the rollercoaster love and hate, life and death, of the other interplaying roles.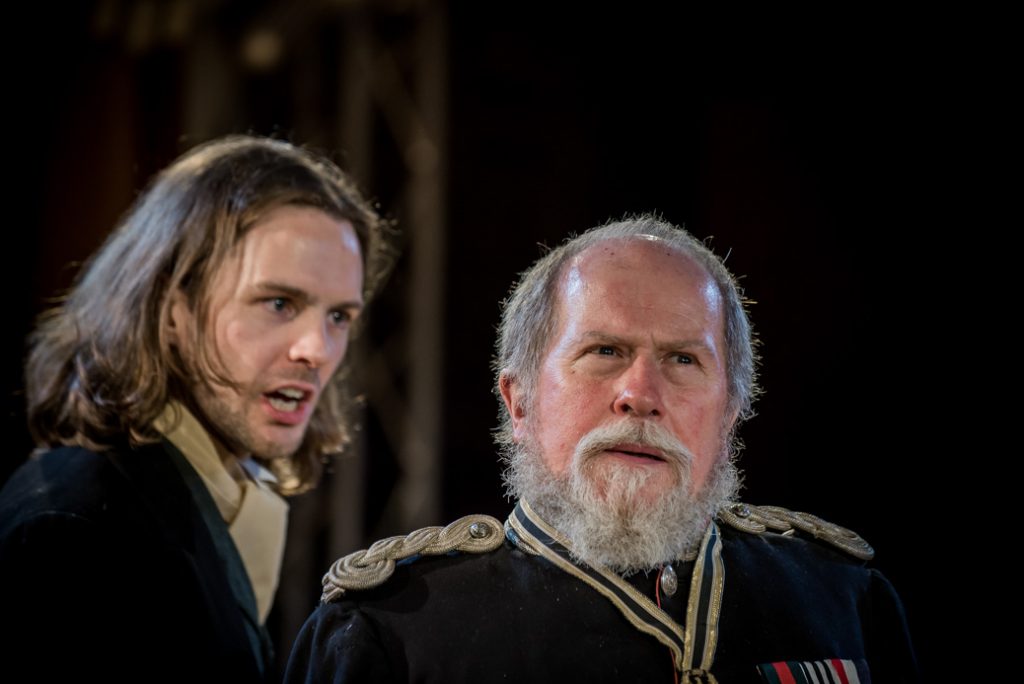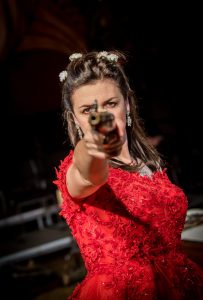 To be honest, the Queen (Tracey Catchpole) rightly steals the show as both actor and author of some of the best lines, including lengthy monologues, that are far from monotonous because of her range of presentation, and constant movement to ensure that all four sides of the audience can be played to. Tracey describes the role as a "gift of a part".
In fact, the gifted part was meant to be that of Stanislas, since:
"The Eagle Has Two Heads was written…in part as a favor for Cocteau's lover and favorite leading man, Jean Marais. Marais asked for a part in which he did not speak in Act One, shed tears of joy in Act Two and fell backwards down stairs in Act Three." – The Harvard Crimson
The Harvard article goes on to compare Cocteau to David Lynch and The Eagle Has Two Heads, to Wild at Heart and Twin Peaks. Elsewhere, it has been compared to an inverted Beauty and the Beast!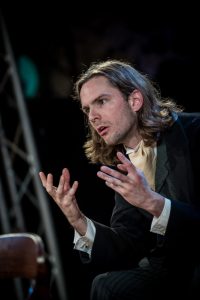 Adam Edwards, does play Marais' part well, but the stage presence and gravity of role mostly lie with the Queen's lines. The to and fro of their interaction, the ebbing strength and weakness, love and morbidity, truly make the play stand up.
The Hostry play runs from the 23rd – 29th October – tickets here or via 01603 598676 (Theatre Royal box office).