Saudi Arabia State Executions Escalate
2015 saw a rise in Saudi Arabia's public executions, some 157 people according to Amnesty International – there were 90 in 2014, 192 in 1995, the previous peak. Even more shocking was that 2016 began with 47 in a single day, on New Year's Day, allegedly all 'terrorists' including prominent Shia cleric Sheikh Nimr al-Nimr. Iran has threatened reprisals with molotov cocktails already thrown at the Saudi embassy in Tehran. Meanwhile even mainstream media commentary is now comparing the House of Saud to ISIS whilst Bahrain and United Arab Emirates (UAE) praised the message it sent to terrorists. Saudia Arabia has now ordered Iranian diplomats out and Bahrain followed suit, severing diplomatic ties, a day later, along with UAE and Sudan creating a new Middle East crisis.
My cartoon Saturday @TheTimes. Isis is a barbaric death cult…what about some of our allies? #syriaairstrikes pic.twitter.com/QkA4QLp9kq

— Peter Brookes (@BrookesTimes) November 28, 2015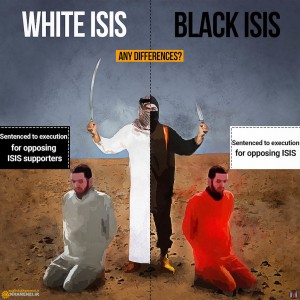 Perhaps, unsurprisingly, Iran too, despite its own record executions, has compared Saudi Arabia to ISIS. Ayatollah Khamenei the self-titled "Leader of the Islamic Revolution" calling it a "White ISIS" and asking whether there are "any differences" between them.
Other atrocities apart, and excepting the variant methods of execution (Saudi still has stoning and flogging punishments, though often commuted to jail time, not to mention posthumous crucifixion), what is the difference between the continued practice of state executions by America, China, Iran, Iraq, Pakistan, Saudi Arabia, and the so-called Islamic State, all of which have executed dozens of people a year. Iran has executed hundreds – perhaps a 1000 making its condemnation of Saudi Arabia somewhat hyprocritical. Pakistan has 6-8,000 people on its death row and in 2015 carried out 316+ executions a massive increase on the handful of 2014. Egypt (500+) and Nigeria (650+) have also been resorting to issuing death sentences (2014 figures).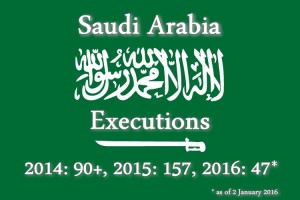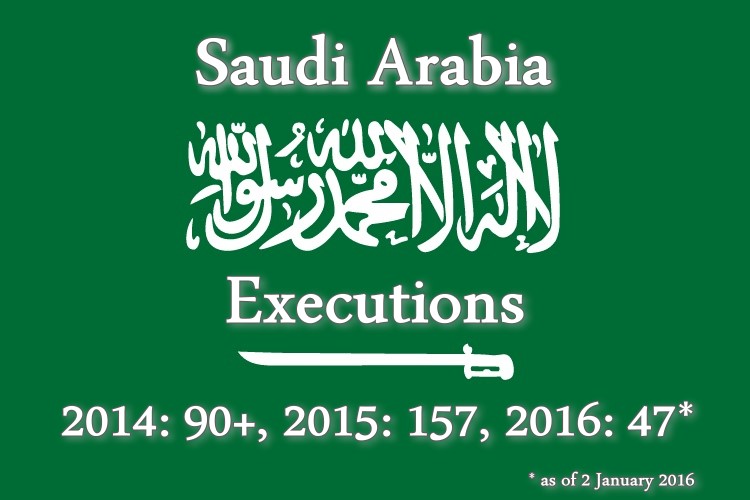 Ironically, the Saudi Arabian national flag features a sword – the very means of public execution, before each of which verses from the Koran are read justifying the sentence. Offences can include atheism, drugs crimes, homosexuality, insulting Islam, and sorcery!
The Death Penalty
Whilst just over a dozen countries had abolished the death penalty 30 years ago, today over a 100 have ended the practice. Some among those that have kept it, though, have increased its use in recent years in the name of countering 'terrorism'.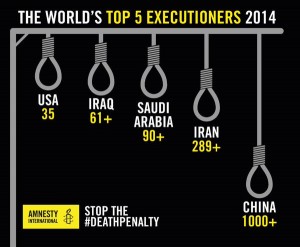 Thousands a year are sentenced to death worldwide but fewer are carried out, some 20,000 people are incarcerated under a death sentence, yet to be carried out. In 2014 over a 110 people in 9 countries had their death sentence reversed, leaving them exonerated as innocent. This is the biggest reason to end the practice. Three times as many countries commuted death sentences to other forms of punishment.
"The death penalty is a symptom of a culture of violence, not a solution to it." – Amnesty International
Twelve countries still use hanging and ten use shooting, only Saudi Arabia and Islamic State (ISIS/ISIL) behead people, swift but brutal. US executions peaked at 98 in 1999 and have steadily fallen since to 28 in 2015, but over 3,000 remain on death row.
A Foreign Office spokesperson has commented, saying that:
"The UK opposes the death penalty in all circumstances and in every country. The death penalty undermines human dignity and there is no evidence that it works as a deterrent."
Perhaps the UK should criticise America, Saudi Arabia, Iran and China's position on capital punishment, alongside Islamic State? As David Cameron was challenged to do and amongst excuses for close ties with Saudi responded with:
"We oppose the death penalty anywhere and everywhere" – David Cameron, October 2015
Executed Shia Sheikh Nimr al-Nimr
Arrested in 2012 and sentenced to death in 2014, Sheikh Nimr had opposed violence calling instead for peaceful protesters to resist the Saudi state and police bullets using "the roar of the word" and non-violent agitation, though he was not opposed to celebrating the deaths of tyrants. Mohammad al-Nimr, his brother, was arrested for merely tweeting about the death sentence but has since called for calm despite his own son on death row. Al-Nimr was pro-democracy and against "murder in the name of God".
"The [Saudi] authorities depend on bullets … and killing and imprisonment. We must depend on the roar of the word, on the words of justice"…We do not accept [force of firearms]. This is not our practice…We welcome those who follow such attitude…Nonetheless, we cannot enforce our methodology on those who want to pursue different approaches…The weapon of the word is stronger than the power of bullets." – Sheikh al-Nimr

"The oppressed should unite together against the oppressors, instead of becoming tools in the hands of the oppressors. The Khalifa family [in Bahrain] are oppressors, and Sunnis are not responsible for their actions. These are not Sunnis, they are tyrants. The Assad family in Syria are oppressors, and Shiism is not responsible for their actions. Never defend an oppressor. It is never justified for someone who is oppressed to defend [another's] oppressor." – Sheik al-Nimr, 2012
Ali Mohammed Baqir al-Nimr Crufixion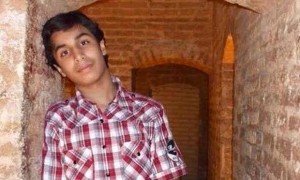 Ali al-Nimr, nephew of executed Nimr al-Nimr, was arrested when just 17 for participating in Arab Spring pro-democracy demonstrations against the Saudi Arabian government. He was subsequently convicted by confession under torture. He is now 21 but in 2015 he was sentenced to death by beheading and then posthumous public crucifixion. As of today over 1.5 million people have signed just one of the several petitions to commute or cancel his sentence.
The UK Government believes that it can "achieve most by speaking privately and regularly to our Saudi interlocutors" rather than publicly confronting its 'ally'. The Foreign Secretary recently said that he did not expect Ali al-Nimr to be executed and Shadow Minister Hilary Benn  has called on him "to seek fresh assurances that he will be reprieved."
However, by threatening death to so many, and carrying out more than previous years, it is easy for Saudi Arabia to mollify the West with a couple of concessions and reprieves without denting its religious and political ethnic cleansing of opposition.
Political Prisoners in Saudi Arabia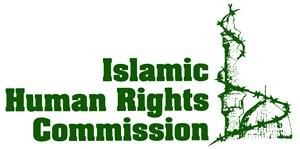 Saudi Arabia denies it has any political prisoners but unofficial estimates from human rights bodies including the UK-based Islamic Human Rights Commission (IHRC) suggest that up to 30,000 are imprisoned for political crimes against the Saudi state.
Back in November 2011, after the fatal shooting of four Shias, Sheikh al-Nimr had called for:
"[the] release of all those detained in the [Arab Spring] protests, and all prisoners of conscience – Sunnis and Shias."
Raif Badawi Flogging
Saudi Arabian political blogger and recent recipient of the EU's Sakharov prize for Freedom of Thought, Raif Badawi, is serving a lengthy prison sentence for "insulting Islam" and also received the first tranche of 50 or a 1,000 lashed whipping sentence. Subsequent installments have been suspended based upon his poor health, exacerbated by his latest hunger strike, these last three weeks which has led to a deteriorating medical condition.

Wahhabism and Saudi Arabian History
Saudi Arabia has a wealth of cultural and religious history, is the birthplace of Islam, home to Mecca, Medina and Mohammed. It is rich in oil and other resources but beyond poor when it comes to human rights, democracy, and accountability. It offers the West tokenistic concessions in exchange for continuing its own ruthless totalitarianism.
Its brand of Islamic belief is Sunni as opposed to Shia, and an extreme version of that called Wahhabism or Salafism. They are stricter forms of Sharia Law based Islam, literalist, anti-Western and puritanical. Jihad, whether missionary or military, can be seen as a legitimate expression as well as expansion of Islam against its detractors.
Saudi Arabia, Extremism and Terrorism
Dr Yousaf Butt, senior advisor to the British American Security Information Council and director at the Cultural Intelligence Institute, says of Saudi Arabia:
"…one thing is clear: the fountainhead of Islamic extremism that promotes and legitimizes such violence lies with the fanatical 'Wahhabi' strain of Islam centered in Saudi Arabia. And if the world wants to stamp down and eliminate such violent extremism, it must confront this primary host and facilitator."
He goes on to quote Wikileaks and other sources that purport to show Saudi's financing of terror groups, several thousand Saudis are alleged to be in ISIL's ranks. More easily verified is the funding of extremist Wahhabism via mosques and madrassas worldwide.
Saudi Arabia's Hypocrisy on Human Rights
This same country was recently chosen to head a United Nations human rights selection panel. If it weren't so serious and concerning, this would be satire. What's worse is that apparently the UK supported their appointment.
Whilst Saudi Arabia has appeared to give women token political rights in recent municipal elections, they still can't drive. Restrictions on political dissent and freedom of speech continue unabated and punishments for religious disagreement, in particular Saudi's Wahabi version of Sunni Islam. As a result Freedom House's freedom index ranks Saudi Arabia bottom on all counts.
Saudi Arabia is also the largest market for the British arms industry along with billions of other business deal tie-ups. As a result Britain is unlikely to publicly condemn Saudi too often, human rights will remain compromised by commercial interest. Indeed, a senior Government minister today defended close links with Saudi Arabia arguing that they enabled us to "tell them what we think". True and unhypocritical condemnation of executions can only come when America and other countries also end the death penalty. Equally, rightful opposition to Islamic State (ISIL) should be accompanied by calling state-sanctioned extremism by Saudi Arabia, Iran, China and others to account too.