Rabbi Lionel Blue, 1930-2016
2016 is racing to lay claim to as many great names as possible, Zsa Zsa Gabor, who died yesterday, had a great 99-year 9-marriage innings, and Rabbi Lionel Blue at 86 has just downed his pen and mic. He fell in love with Judaism, Marxism and even Christianity, but will be remembered for his love of life and for being the first British rabbi to admit to his love of men. The grandson of Jewish Russian immigrants he grew up in the East End of London during the racism and hatred of Oswald Mosley and Adolf Hitler.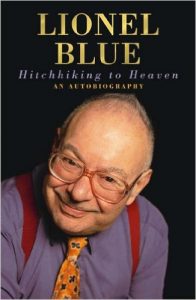 One of his several autobiographical books was titled "Hitchhiking to Heaven" and with grace and good humour he's finally arrived there, if and wherever that is. A question he himself asked having explored doubt and faiths extensively in life. Another book of his was entitled "My Affair with Christianity". It was not his only flirtation with other beliefs and ideologies, and his home testified to many stops along the journey in Hinduism, Islam and more.
"I began to discover that heaven was my true home and also that it was here and now, woven into this life."
Judaism and Homosexuality
When he came out as gay, people were more interested in the affairs of his heart, not his soul. He'd been open about his homosexuality since the late 1960s and many knew about his private life through the 1970s, but it was in 1980 that he officially confirmed it, so becoming the UK's first openly gay rabbi. He did so partly out of shame at not having supported a troubled gay contact of the manager of the sauna he frequented, nor having attended her funeral, for fear of a spilling over between his spiritual and sexual, sacred and secular, separated lives.
Of Judaism's attitude to homosexuality, Rabbi Blue said in a 2004 interview:
"Well, the Orthodox Jewish tradition used to regard homosexuality as a terrible sin, but now it's looked on as a sickness. Progressive Jews, though, accept it as a reality in varying degrees and most try to find a blessing ceremony for couples which is inclusive."

So, has he never been threatened with excommunication? "No. But for 15 years I ran the religious court for the Synagogues of Great Britain which meant that I would have to be part of any excommunication machinery, and I've never been so masochistic as to excommunicate myself." – Sunday Herald, 2004
As a student at Oxford, his hidden homosexuality had led to loneliness, depression, and a suicide attempt. Possible refuge in Christianity had led to his mother threatening to do the same!
"'Lionel, you're doing this to spite us. I'll kill myself and your father will kill himself too.' I realised that I wasn't quite up for murdering my mother and father, so I backed out." – Independent
Later, he'd visited Amsterdam and found sexual freedom there, but it was his third faithful relationship with Jim, a former undertaker, that became his longest lasting of over 30 years until his death in 2014.
He combined the sacred and the secular, with a pan-spiritual, homosexually inclusive, here-and-now society, syncretic faith that in a way, he once said, was his own made up religion. Indeed, he irreverently addressed his God or guardian angel as "Fred".
Thought for the Day
Described by Radio 4's presenters and book reviewers alike as "engagingly meandering", Blue was down to earth in his search for heaven and happiness. On the introduction of same-sex marriage debate in 2012 the leader of Scotland's Roman Catholics, Cardinal Keith O'Brien, described it as "grotesque" and immoral on Radio 4, even akin to slavery. Rabbi Blue had the 'Thought for the Day' slot not long after and used it to poke gentle fun at heterosexual marriage as "mixed marriage"! On Twitter, he was regarded as having disarmed the Cardinal's comments and having countered "bigotry with a gentle dignity that you just can't beat".
On another 'Thought for the Day' he spoke to students about success and failure, stress and faith:
"I remember asking a God I didn't quite believe in to turn my failure into goodness. To my surprise my worldly failure opened a spiritual door in me. It's when you lose your footing in life and your false pride goes down the drain that you learn mercy and compassion and what it's like at the wrong end of the stick. My advice to my students and you dear listeners is Make friends with your failures – they may be the best teachers you've got."

"I had the mother of breakdowns in my second year. Being gay was criminal so I rejected my body, and as a Marxist I no longer believed in my soul. So my mind had to bear life's burden alone and it cracked. I even toyed with religion, asking a friendly prior what I needed to become a monk and forsake the world. A low sex drive he said frankly and another fantasy hit the dust." – BBC Radio 4, Thought for the Day, 6 June 2011
Fears for the Future
Despite growing up in the 1930s and witnessing anti-Semitism, he remained hopeful, and yet "frightened", of what he saw as recent echoes of those times now.
"I see the same signs that accompanied the end of the Weimar republic and the rise of the dictators. Currencies in trouble. Swastikas at football matches. Massacre at Srebrenica. The search for scapegoats, the rise of media demagoguery. Loving ourselves but not our neighbours as ourselves. The endemic problems of European tribalism, economic and spiritual. Heaven and hell are very close, and the devil is in the detail." – BBC Radio 4, 'Thought for the Day', 10 June 2012
He finished that particular 'Thought for the Day' with a joke and a "foody spiritual note" with a misquoted saying from Lao Tzu:
"Govern a state as you would make an omelette, with care."
The Chinese Taoist philosopher actually referenced a "small fish", but the point is well made, and perhaps enhanced by Blue's updated version.
Humour and Scripture
Having once taught classes on humour in the Hebrew Bible I know full well how much satire, sarcasm, innuendo, and punning, there is in Jewish scripture. Blue saw humour as a way to counter economic and personal depression. In a 2010 interview he told the Jewish Chronicle:
"Humour is the unofficial scripture of Jewish life. It takes away the anger and bitterness and replaces it with kindness and charity. That was the scripture my audience could accept"
He joked about death as brushes with mortality, and he had a fair number of those from suicide, to two cancers, and a couple of heart attacks. He described himself in old age as "crumbling nicely".
"God comes closest to me in the comedy and tragedy of human life." – Independent
He will be best remembered for his gentle honesty and genial humour.