Real, Ordinary, Decent Nigel Farage?
More lies from Leave.EU and UKIP's 'normal Nigel' – I'm glad I'm not normal! Presumably, unlike Nigel Farage and his supporters, I'm not real, ordinary or decent, either! That said, he stood by his convictions, and was more down to earth than other EU or UK politicians, no wonder his message, however much I disagree with it, clicked with an increasing number of working class people. The worry – where do we go from here and what next for English and other nationalists? Democracy sucks when you're on the losing side!
"We've got our country back" – Nigel Farage
"Dare to dream that dawn is breaking on an independent united kingdom…" – Nope, we are disunited and the Kingdom is likely to fracture and Vote Leave the UK next.
"a victory for real, ordinary, decent people" – What does that make Remainers?
"we have fought against lies, corruption and deceit…honesty, decency is going to win" – Erm no, you perpetuated and propagated lies about migrants, EU costs, fishing and more.
"we have done it without having to fight, without a single bullet being fired" – Tell that to Jo Cox MP.
"let's get rid of the flag, the anthem, Brussels and all that has gone wrong, let June 23rd go down in history as our Independence Day"
Destroying the EU and the UK?
"The E.U.'s failing. The E.U.'s dying. I hope we've knocked the first brick out of the wall." – Nigel Farage
And so it begins. The BBC described the UK's Brexit as "receiving a rapturous welcome from Europe's far Right", Donald Trump and Vladimir Putin. Worrying praise indeed.
Geert Wilders calls for E.U. Referendum in the Netherlands, "The Netherlands will be next", he said. A Dutch television station Een Vandaag had a recent survey polling that a majority of the Dutch would vote 'Out' on a European Union referendum.
In France, Marine Le Pen said that "The French must now also have the chance to choose".
Victoire de la liberté ! Comme je le demande depuis des années, il faut maintenant le même référendum en France et dans les pays de l'UE MLP

— Marine Le Pen (@MLP_officiel) June 24, 2016
Spain is calling for Gibraltar back. Sweden, too, has suggested it might Swexit along with Frexit and Nexit.
Nicola Sturgeon says that Scotland will be drawing up legislation to leave the UK to protect its position, after "significant and material changes in circumstances", subject to the Scottish Parliament's will, and this will take place the 2-year Article 50 timeframe.
"The entire island of Ireland should be able to vote on unification". Sinn Fein called for a referendum and said that the UK had lost the mandate to speak for Northern Ireland.
Even "Remain" London is stirring up London's independence – #londependence! The vintage comedy film, Passport to Pimlico, comes to mind!
We need to have a referendum on whether London should leave the UK #LondonIndependence #Londout

— London Independence (@LDN_IP) June 24, 2016
£350m a week "free money", a "feather bed"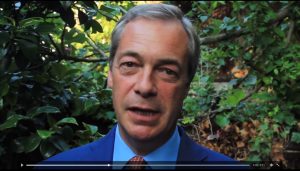 But it won't go the NHS, despite the ads. The ads were a "mistake" and nothing to do with me, says 'honest' Nige, in an ITV Good Morning Britain interview with Susanna Reid.
WATCH: @Nigel_Farage tells @susannareid100 it was a 'mistake' for Leave to claim there'd be £350M a week for NHShttps://t.co/JNkl5k8IlK

— Good Morning Britain (@GMB) June 24, 2016
UK EU Referendum results
51.9% voted for 'Leave,' 48.1% for 'Remain'
Leave won 17,410,742 votes to Remain's 16,141,241 votes