Last Supper for Artist Marisol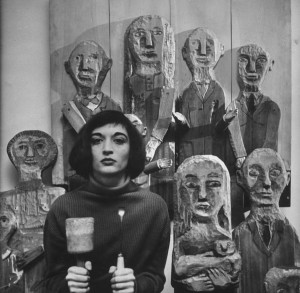 A belated obituary of Marisol, who died 2 weeks ago. She was a Bohemian enigma, speaking rarely; described as the Latin Garbo. As a muse of Warhol, she appeared in two Andy Warhol movies – The Kiss and 13 Most Beautiful Girls, "the first girl artist with glamour". But it was as an artist and sculptor in her own right, that she was the disputed "undisputed queen of pop art", including by herself and Grace Glueck (New York Times, 1965) – not whether she was queen, but whether it was even Pop Art she was creating.
Marisol abandoned her father's family name Escobar to make a name in her own right, to "stand out from the crowd". A Venezuelan, born in Paris, made famous in New York, who was inspired by pre-Colombian art, she was international in her influences. Whilst she started out in painting, in the 1950s she shifted to sculpture, becoming well known only in the 1960s after 5 years travel abroad, despite a well-received first exhibition in 1958.
"Marisol's sophisticated aesthetic immediately linked her to the new Pop Art movement, but her work remained in a category of its own, displaying a myriad of influences from sources as diverse as Pre-Colombian art and Surrealist imagery. Even today, Marisol's art resists any linear curatorial reading." – Review of Sotheby's Lot by Carter B. Horsley, (2005)
Indeed, her influences and output combined Americas heritage folk art, Pop Art, Dadaism, Abstract Expressionism – "a hodgepodge of influences that make up a person's identity."
Marisol – The Party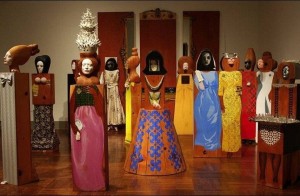 One such art work, which might be described as a mixed media sculpture or installation was the 'The (Cocktail) Party', consisting of 15 freestanding figures and 'accessories' carved, cast, collaged, photographed and printed. Created during 1965-1966, it sold 40 years later for nearly a million dollars, double its estimate, at Sotheby's, New York.
The work, like many of hers, bore her face on each figure. Curious for someone whose background personal angst, since her mother's suicide when she was aged 11, led to a lot of self-analysis and self-enforced silence. Her creations instead were her voice, her image, her projection into, and of, the world, giving it depth, "form and weight".
"I began to make self-portraits because working at night I had no other model. I used myself over and over again. At time making these self-portraits, I would learn about myself" – Marisol (1968)
Art as Rebellion & Humour
Among her art teachers was abstract expressionist Hans Hofmann, who was "perhaps more influential as a teacher than as an artist", but she broke away from Hofmann's adherence to the "flatness of the canvas" despite his interest in the "the illusion of three-dimensional space", emerging instead as a sculptor, in which she was mainly self-taught, and embarked upon as:
"a kind of rebellion. Everything was so serious – I started to do something funny so that I would become happier – and it worked." – Marisol (1965)
She regularly used humour and "social satire" in her work poking satirical fun at the possessions and personalities of her subjects, or the strict parameters of the art world's curators and critics.
"What endures in Marisol's work is the universality of the impulses she captures. Truly a sculptor of modern life, she evokes the venality of social climbers, the integrity of great artists, the contradictions of the powerful and the quiet dignity of the dispossessed. She feels both their absurdity and their pain and encourages us to do the same" – Eleanor Heartney (2001)
Portraits and Self-Portraiture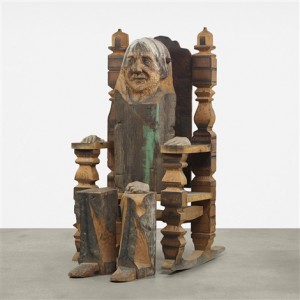 Her subjects included migrants and street children, but also those she admired. Willem de Kooning became a friend, brief lover, and ended up in an oak and ash wooden sculpted 'portrait' himself.
Other artists and personalities also ended up as portraits – Pablo Picasso, Georgia O'Keefe, Hugh Heffner, John Wayne, the Kennedys, and others. It is her own face, nonetheless, that so often appears in works, even in an homage to Leonardo da Vinci, in an installation that includes herself viewing a three-dimensional carved Last Supper.
"Whatever the artist makes is always a kind of self-portrait." – Marisol