World Poetry Day and Human Rights
A day of beauty and soul, World Poetry Day, falls on the same day as the South Africa's Human Rights Day, which remembers the fight against Apartheid and particularly the 1960 Sharpeville massacre of 69 black South African demonstrators and further killing of another 21 on the 25th anniversary of that day in 1985. It also became the UN International Day for the Elimination of Racial Discrimination in 1966 and today still says, "We need to fight racism everywhere, every day". It is fitting that we celebrate human writes and rights together. Whether it's the campaigning of organisations like the United Nations and Amnesty International, or the placards of activists, or poems of voices of discontent and history, we cannot be silent to ongoing racism, its history, and its continued scourge.
Yes we need action more than just words, but 15 years ago, at a World Conference Against Racism in South Africa, the Durban Declaration sought to combine words with action:
"People of African descent have for centuries been victims of racism, racial discrimination and enslavement and of the denial by history of many of their rights… they should be treated with fairness and respect for their dignity and should not suffer discrimination of any kind." – Durban Declaration and Programme of Action, 2001
Sadly, in 2016, we are little further forward according to several human rights experts:
"Fifteen years after the Durban Conference very little progress has been made in tackling racism, afrophobia, racial discrimination, xenophobia and related intolerance."
Maya Angelou – be part of "the possible"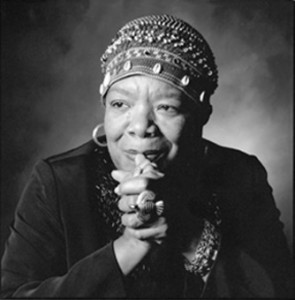 Maya Angelou died in 2014 but 45 years before that, in a decade of American civil rights activism, she wrote the first of her autobiographical books, I Know Why the Caged Bird Sings (1969). The book describes her early years including racism, and a rape which led to a traumatised silence for 6 years, it goes on to document her rise from child victim to young woman, mother and adult voice.
"The caged bird sings with a fearful trill
Of things unknown but longed for still
And his tune is heard on the distant hill
For the caged bird sings of freedom"
She has become renowned as a woman full of inspiration, and love not hate, reminding us how to be better humans through her best-loved poems which she would write from a motel with, nearby, "a dictionary, a Bible, a deck of cards and a bottle of sherry in the room".
Watch Maya Angelou read her poem "A Brave and Startling Truth" which she wrote for the United Nations 50th anniversary in 1995, here is a section of it:
We, this people on this mote of matter
In whose mouths abide cankerous words
Which challenge our very existence
Yet out of those same mouths
Come songs of such exquisite sweetness
That the heart falters in its labor
And the body is quieted into awe

We, this people, on this small and drifting planet
Whose hands can strike with such abandon
That in a twinkling, life is sapped from the living
Yet those same hands can touch with such healing, irresistible tenderness …

… We must confess that we are the possible
We are the miraculous, the true wonder of this world
It would be great if we, "the possible, the miraculous, the true wonder of this world", would stop hating and discriminating.
Maya Angelou – Still I Rise
In Maya Angelou's poem, "Still I Rise", are the words: "Out of the huts of history's shame". She's said before, the truth is that:
"A person who does not have a clue to his or her history stands a very poor chance of mapping out a future." – Maya Angelou interview (1m40s)
She was not one to be cowed or subjugated, instead, she found her voice and gave hope to others.
The full text of her poem, "Still I Rise":
You may write me down in history
With your bitter, twisted lies,
You may tread me in the very dirt
But still, like dust, I'll rise.

Does my sassiness upset you?
Why are you beset with gloom?
'Cause I walk like I've got oil wells
Pumping in my living room.

Just like moons and like suns,
With the certainty of tides,
Just like hopes springing high,
Still I'll rise.

Did you want to see me broken?
Bowed head and lowered eyes?
Shoulders falling down like teardrops.
Weakened by my soulful cries.

Does my haughtiness offend you?
Don't you take it awful hard
'Cause I laugh like I've got gold mines
Diggin' in my own back yard.

You may shoot me with your words,
You may cut me with your eyes,
You may kill me with your hatefulness,
But still, like air, I'll rise.

Does my sexiness upset you?
Does it come as a surprise
That I dance like I've got diamonds
At the meeting of my thighs?

Out of the huts of history's shame
I rise
Up from a past that's rooted in pain
I rise
I'm a black ocean, leaping and wide,
Welling and swelling I bear in the tide.
Leaving behind nights of terror and fear
I rise
Into a daybreak that's wondrously clear
I rise
Bringing the gifts that my ancestors gave,
I am the dream and the hope of the slave.
I rise
I rise
I rise

Maya Angelou, 1974

Be amazing, A rainbow in someone else's cloud
Maya Angelou also said, echoing a similar sentiment of Albert Camus:
"If you are always trying to be normal you will never know how amazing you can be."
Perhaps, we could also paraphrase that, if you are always following the crowd, buying into cheap national and racial stereotypes you will never discover not only how amazing you could be but also how amazing others are, irrespective of the colour of their skin or some other characteristic of difference. "Human beings are more alike than unalike", she has said.
"The thing to do, it seems to me, is to
prepare yourself so you can be a
rainbow in somebody else's cloud.
Somebody who may not look like you.
May not call God the same name you
call God – if they call God at all. I may
not dance your dances or speak your
language. But be a blessing to somebody."
– Maya Angelou
She wasn't all "turn the other cheek" love, she also saw humour as a defence, and since "life's a bitch", the need to "go out and kick ass".