Stonewall to become Trans inclusive
Historically, during the UK's LGBT History Month, Stonewall (England and Wales) has announced that after months of meetings and "extensive consultation with over 700 trans people" that it will now actively campaign for trans rights and educate across the whole of LGBT.
"This change marks a significant moment in Stonewall's history…This is an exciting but huge undertaking – we recognise that we are not instant experts, and will work closely with the trans community to achieve real change for LGBT people." – Ruth Hunt, Chief Executive of Stonewall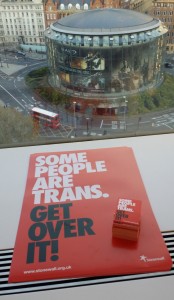 Just as Stonewall plays historic catch-up and apology, others are debating the inclusion of more letters in the LGBT alphabet soup. So it was good that Stonewall also had engagements, one of which I was present at, with people who are intersex and/or non-binary, whether they identified as trans or not.
Ruth said: "We recognise that there is no universal experience of being trans", so it is good that the trans* spectrum rather than stereotype is being explored.
At present, intersex inclusion is some way off, but engagement continues to take place, and Stonewall will help facilitate intersex campaigners and ensure that it itself says nothing about intersex without reference to UK intersex organisations and individuals first.
Bisexual Erasure
Another long standing grievance with Stonewall has been bisexual silence and thus tacit erasure. This too, has been addressed this month, with more conclusions to follow.
Gender & Sexuality, different but not distinct?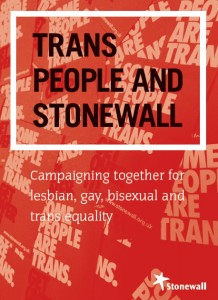 The Stonewall report reflects that:
"Stonewall no longer needs to maintain a strict distinction between sexual orientation and gender identity….[but] we would have to work hard to make sure that people understood the difference between gender identity and sexual orientation."
In an interview with PinkNews, to be published later today, Ms Hunt said:
"I am absolutely committed to creating a world through Stonewall where everyone has the right to be themselves, where everyone can be who they want to be, and I think that the artificial divide between trans and sexual orientation hasn't been particularly helpful in the kind of disagreements that we have had, so I wanted to move it forward."
LGBT, Bullying, Education and Schools
Perhaps, now, with Stonewall's help weighing in on Government and education, we might see an improvement to sex education and anti-bullying training and measures that are inclusive of trans and gender non-conforming individuals, and not just homophobic bullying awareness. Indeed, anti-transphobic bullying campaigns and education about gender dysphoria needs to take place at an age before even sexual orientation becomes an issue, since gender identity is often felt by age 7.
Responses to the news
Meanwhile, some in the gay and lesbian communities have questioned the addition of trans. For instance, in the Pink News article comments:
"I've just cancelled my monthly donation to Stonewall as it's clear they now have more money that they need. Gender and sexual orientation are wholly different." – Steve
Other leading gay and lesbian figures including Paul Burston and Julie Bindel have previously commented that they can't see the need of campaigning and including trans, and that at best lesbian and gay should stick together or indeed also work independently of each other. They regard LGBT as a letter too far and any other letters beyond that as weird and ridiculous.
Divided we fall, united we stand
Many of these changes are down to the hard work and great mediating of CEO, Ruth Hunt, who made these engagements a prerequisite of taking on the job after Ben Summerskill stepped down. She spoke to the Guardian on the first day of that new job:
Time Magazine Transgender Tipping Point Laverne Cox

"We are at quite an important tipping point in terms of trans equality, and we are looking at how we can best support and maximise that tipping point… Any change needs to be led by the trans community… we are very open to taking whatever direction will be in the best interest of [that] community" – Ruth Hunt
In just over 6 months she has begun the fulfilment of those promises, and today is indeed historical – but never needed to have been. Trans were among the first participants in LGBT rights and demonstrations since the Stonewall Inn riots, but were sidelined and erased from early gay rights history. Correcting that now, is long overdue, but nonetheless appreciated.
"This change marks a significant moment in Stonewall's history. As a community we can achieve much more by standing together." – Ruth Hunt

This is very definitely a step forward and step away from the past. Some historic grievances may have to be laid to rest and a trans/bi-Stonewall amnesty declared to see this as a good thing for all, particularly as Stonewall are a narrow remit organisation involved in education, government and business equality monitoring and lobbying, not a support organisation or legal advocacy one, thus there is plenty of room for grassroots trans organisations to continue the great work they are doing.
Free Speech or Hate Speech?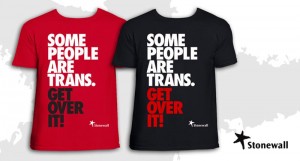 This comes at a crucial time in the UK since twitter storms, blogs and facebook arguments are raging over trans rights to self-identify and the question of whether it's free speech or hate speech to question that right and trans access to cis-gender spaces. ('cis' means non-trans, and is not a word I personally like, nor is accepted by many 'cis people' who simply consider themselves non-trans and comfortable with their birth sex identity.)