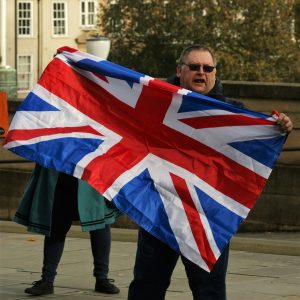 Six years to the day after the 1500 v 200 EDL counter demo and the fine welcoming city of Norwich has another small demo, Norwich Against Fascists! Counter demonstration! "There are many many more of us than you" was being chanted by 750 anti-racists and Remainers (mostly) and 50 Unity UK pro-Leave Brexiteers shouting back the same and "More of us voted Leave than you" and "you lost"!
The atmosphere was mostly good-natured, carnival-like with drums, whistles, chanting, occasional discussion and the odd rant. One masked protester was led away, possibly anarchist/anti-Fa, certainly a scarf covering their face but there was no violence.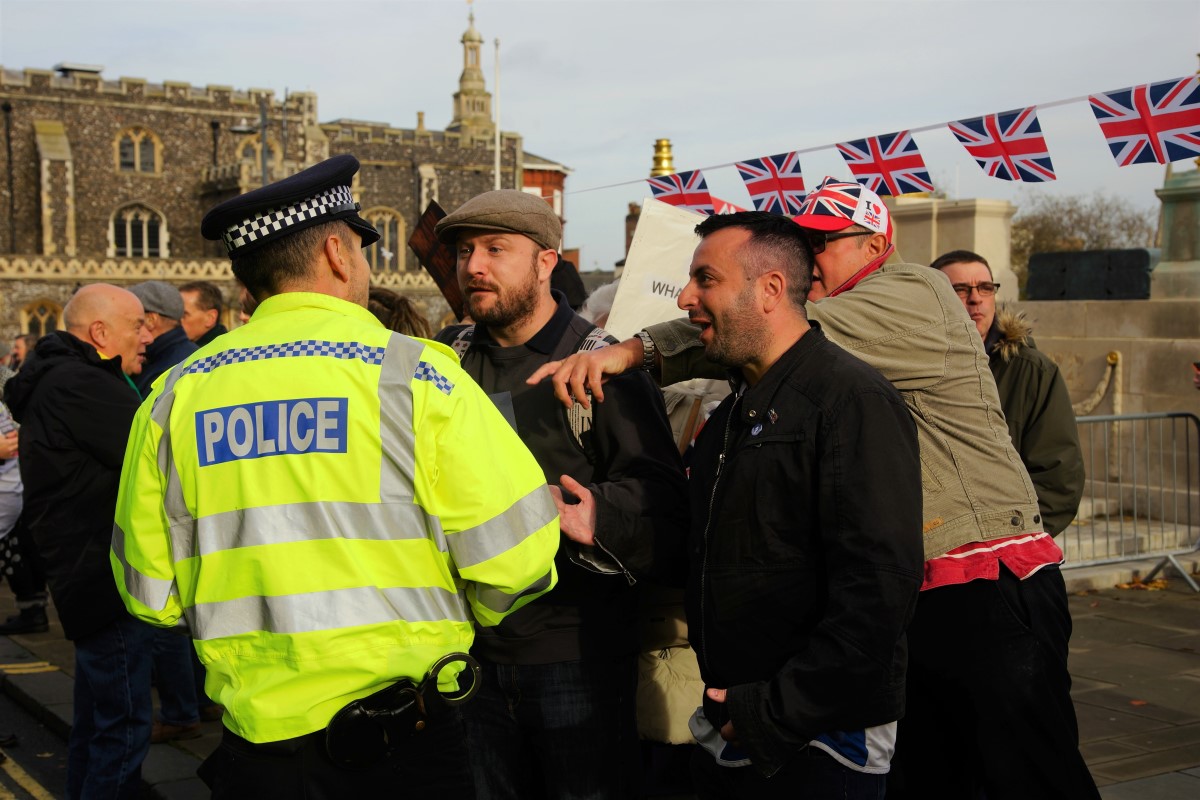 The police, some 30-40 or so, created a thin blue, well hi-vis yellow line, to keep the sides apart, sadly also blocking the dialogue, the lack of which has left us in Brexit impasse land. Initially, kept to opposing pavements, and allowing the traffic to pass, the police eventually surrendered to the sheer size of the counter-protest and even re-drew the line in the centre of St Peter's Street.
After an hour, they also mostly gave-in to allowing people to cross the street and engage with each other. At times, it was clear some of the police were struggling to keep their serious and professional faces on given the number of humorous moments.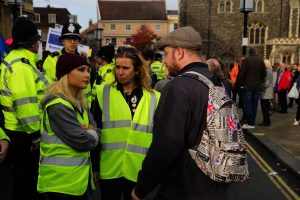 Even the police giggled when Lab Cllr Jess Barnard started playing Benny Hill over the megaphone! Rather ironically, similar chants were echoed on each side of the street:
"Whose streets, our streets", "No to racism, No to Nazis, no to fascism" "You're the racists", "No, you're the racists!"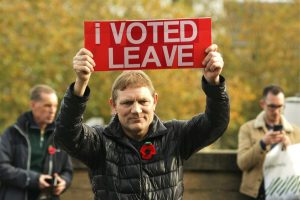 Towards the end, it was almost comical as the Remainers remained and the Leavers left, leaving perhaps a dozen Brexiteers facing still hundreds of anti-racists. The larger crowd refusing to depart until their counter-demo had fully seen off the other side. Police remained on site waiting for one side to completely depart but were frustrated when the larger crowd decided to cross the street and swamp the "drain the swamp" protesters. A few of the latter repaid the gesture and also switched sides leading to hilarity and confusion.
At the close, some 2-3 hours later, several protesters shook hands after dialogue, others persisted in their polarised positions.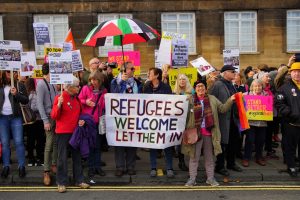 The Unity UK Leave contingent tried to convince me that their side of the street was more diverse than the Remainers/anti-racists, but that was hard to accept seeing as how they were 99.9% white, and 75% older people, some dressed in 1950s fashion, a time they perhaps wanted to send Britain back to.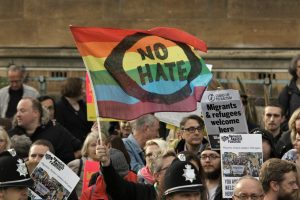 I had conversations with perhaps half-a-dozen of the pro-Brexiteers including a passionate but polite chap called Joe, an older woman whom we both agreed were opposed to Theresa May, and several others willing to dialogue. Nothing will change without conversation, communication and, probably, compromise about our beliefs.
Fascism 101
* Alleged roots in Ancient
Sparta, Plato, and Rome
* Totalitarian belief in the State, order and its Ruler
* Ultranationalism, monolithic unity, racial purity (esp. anti-Semitism, anti-immigration) and ableist idealism
* Ironically, Italian and German fascism both grew out of national socialism but opposed international socialism and communism yet share common antipathy towards liberalism, capitalism, and the individual instead favouring the Party and the State
* Militant strength, masculinity, patriotic rebirth and revolution
* Authoritarian pseudo-democracy, cultic hero worship, national power (
Maurice Barrès
)
Both sides were a bit confused by the use of the word fascist, both calling each other it. The word really defines those who are totalitarian, anti-democratic and ultranationalist. Along with Nazis – despite the odd mocking salute, it's a word that didn't really describe anyone there. One of the Leavers complained about being called a "Nazi" saying "I have an Indian wife".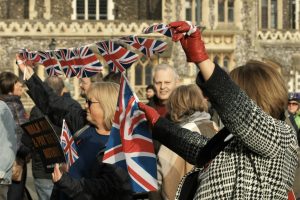 Poignant, as it was, across from the city's War Memorial, the day before armistice day, when we remember standing up to aggression, conquest, fascism, hate, imperialistic ultranationalism, and ultimately, cultural xenophobia in two world wars.
We need to stop fighting and start uniting, build better and common futures, that was why the EU was born, for peace and prosperity, and to end wars.