Iraq War Chilcot Inquiry criticises Blair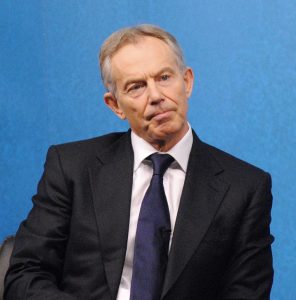 The 6.5 year long Chilcot Inquiry into the Iraq War says that Saddam Hussein was no imminent threat and Tony Blair "exaggerated" the case for war. The 2003 invasion of Iraq was "unnecessary", not a "last resort" as the EU had reluctantly sanctioned, and Saddam Hussein was "no imminent threat".
"We have concluded that the UK chose to join the invasion of Iraq before the peaceful options for disarmament had been exhausted. Military action at that time was not a last resort." – Chilcot
It is shocking in the extreme that Blair favoured guaranteeing a war over negotiation! See pages 3-4 of this document. In addition, that he gave Bush and America, seemingly unconditional backing, irrespective of the people or Parliament:
"I will be with you whatever" – Tony Blair

Chilcot Inquiry Iraq War Tony Blair note to George Bush
Making the case for war
Whilst the "dodgy dossier" may not have been "sexed up" it was certainly "exaggerated" with an end plan in mind to "regime change" to remove Saddam and then going looking for any evidence to sell the casus belli. Something, both Bush and Blair as religious persons would have wanted to do in line with Just War Theory.
Iraq Regime Change
"[Afghanistan] is our one act of regime change so far, so it had better be a good advertisement" – Tony Blair (p5)
Jeremy Corbyn critical of Tony Blair
When the current Labour leader is willing to criticise so vehemently a former Labour PM, it is significant:
He says the "overwhelming weight of international legal opinion" says the invasion was illegal. It had devastating consequences, he says, fuelling terrorism and war across the region. By any measure the invasion and occupation of Iraq "has been for many a catastrophe". He says it has led to "a fundamental breakdown of trust in politics." – Jeremy Corbyn
Unintended Consequences
Nobody had an exit strategy, where have you heard that one before? There was little thought given to post-War reconstruction or politics. A travesty for the 180,000 civilians who have been killed in the 12 years since, now some 1-2,000 a month, only recent numbers of which can be blamed on ISIS. Rather than one Saddam Hussein, Iraqis now feel that they have "One thousand Saddams now".
Sovereignty
We had sufficient sovereignty in 2003 to invade a sovereign nation, Iraq, and side with the USA against the view of France and Germany, and the European Union consensus against war, except as a last resort, which we jumped the gun on. Just five EU nations, a minority, backed the (second) invasion of Iraq and triggered the "obituary for the EU's Common Foreign and Security Policy". Suggestions, therefore, that remaining in Europe would have lead to a common foreign and defence policy and an EU army are ludicrous.
EU Referendum lessons?
The Iraq War and the EU Referendum may be chalk and cheese in reality, but politically they are similar. They are momentous decisions with long-term consequences, mass public demonstrations, Parliamentary democracy and sovereignty issues, and the ability to end political careers. It also demonstrates the danger of siding with America against a European consensus. We may have a "special relationship" with the US, but we are also closer to Europe on other issues including a tendency to peaceful negotiation rather than international interference as the self-appointed "world's policeman".
So, politicians "exaggerate" the facts to fit the cause they have already made their minds up to pursue. Somewhat like the EU referendum campaigns! Perhaps a 6.5 year long inquiry into Brexit would drag the whole process until the next generation of voters vote to Remain! Indeed, Chilcot said that on a decision as momentous as war, "Regular reassessment is essential."
Were there to be a Brexit Inquiry, its findings, I can tell you now, would be that both sides "exaggerated" the pseudo-facts, "exaggerated" the costs and benefits, "exaggerated" the fear and threat, leading to the travesty of a divided Britain, rising hate crime, decimated political leadership, and 3-10 years in economic doldrums whilst we negotiate our way back up the international leaderboard.