Valentine's Day 2016 Google Doodle
Doing an Internet search this 14 February St Valentine's Day morning I was initially amused to discover the 'oo' of 'Google' has been turned into a romantic coffeepot presenting a flower to a blushing teapot. How cute, I thought. Upon refreshing, I discovered a second Google doodle of Cactus plant delivering a heart-shaped balloon to a hedgehog on a park bench and finally, a box of tissues presenting a heart shaped chocolate box to a Kleenex roll. All very quaint. Then I realised how anthropomorphically cis/heterosexist it all was – obviously with a pinch of overreacting melodrama!
Whilst the oo's of Google are identical equal vowels the characters of the doodle were unequal different couples – no same sex attraction at all. The tall male coffee pot gives a rose to a smaller rounded teapot who coyly blushes and lets off steam upon receipt.

The playful female cactus plant hands over a balloon and the intelligent male hedgehog stops reading his book to jump up and hug the sweet cactus.

The man-size box of tissues brings chocolates, just like the Milk Tray man always did "And all because the lady loves Milk Tray". The feminine kitchen-cleaning Kleenex rips off a sheet and cries into it.

My issue is as much with role as gender or sexuality and more about opposites rather than similar attraction, and is a deliberately over-the-top reaction to make a point about how stereotypically hetero and needy Valentine's can be portrayed as. In many respects gender is a socially constructed role, rather than a sex, that is assigned even to objects, cables, sockets etc… Although, in part, on that basis one could argue that all of the doodles are same-role, two beverage dispensers (no receptacles), two prick-lies, two tissues.
Google Doodle History
Google has a long history of representing St Valentine's Day in its near-daily doodle design: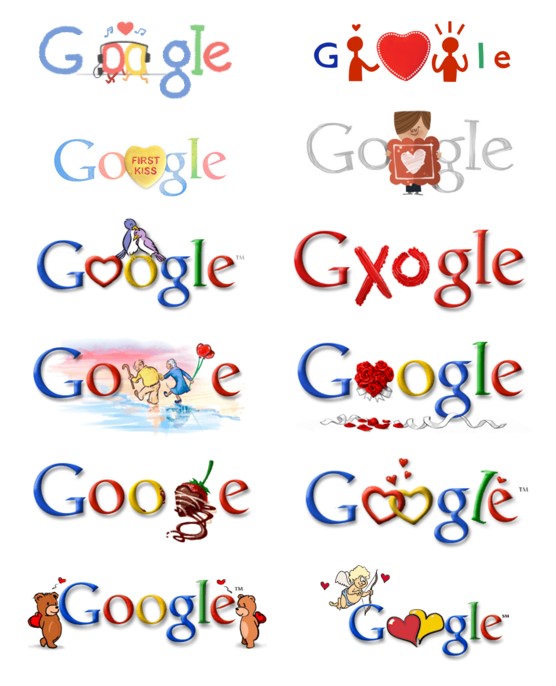 Do Opposites Attract?
The so-called, and even allegedly scientific, rule that opposites attract has been represented by Google despite the presence of a sizeable 6-10% gay and lesbian same-sex minority. Even taking opposite stereotypes within that of butch-femme, effeminate-straight acting etc, the presence of butch-butch couples and more similar type couples means that it would be nice if opposite in some way was not the default go-to option for romantic depiction.
Scientists and psychologists have often supported the notion of opposites attracting but some studies have shown, well, the opposite. One study concluded that:
"In Western society, humans use neither an 'opposites-attract' nor a 'reproductive-potentials-attract' rule in their choice of long-term partners, but rather a 'likes-attract' rule based on a preference for partners who are similar to themselves across a number of characteristics." –  Proceedings of the National Academy of Sciences, July 2003
Okay, so I know I'm being deliberately defensive and pedantically over-analytical, and that Google is very pro-LGBT, but it would have been nice among the three Google doodles on St Valentine's Day for one to have been of a same sex/type pairing. Admittedly, I'm in a same-sex relationship in which I am the coffee pot and my partner is the tea pot, but that is just about the beverage choice!