Transgender Invisibility?
Yesterday was the International Trans Day of Visibility (ITDoV/TDoV), as such I shrugged off my Harry Potter cloak of invisibility and 'outed' myself – oh no I did that 7 years ago, or rather my partner did that for me! Ironically, as transgender people we are often all too visible to society if we do not "pass" well – something that many trans aspire to and many find psychologically and socially distressing if not achieved. What is true, however, is that for every trans you notice another 9 or 99 are invisible, because they've either disappeared into the general hubbub of society and are accepted as people first, and gendered persons of trans history second, or, they may be part of the invisible iceberg of trans not yet out.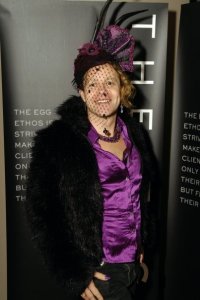 This latter group, for whom gender identity becomes a self-aware issue typically by the age of 7 may on average stay hidden till coming out in their 40s. If families, partners, media and society were more accepting, less judgemental and ridiculing, then I am quite sure more would be out and visible. Perhaps, like International Coming Out Day, today is a day we can celebrate increasing safety for more trans to come out, not to be 'outed' as I was at first. People call me brave for being 'out', but I had no choice, being 'outed' to friends and family by my then partner. By then it was "in for a penny in for a pound", a "sink or swim" choice.
Transgender Day of Visibility was started in 2009 by trans activist Rachel Crandall-Crocker, of Michigan, USA. It began as a Facebook event but grew to encompass all kinds of awareness and visibility-raising events.
Events on the day have included protests, actions, sit-ins, poetry, educational and social events, anything to show that the transgender community is a valuable part of society to be accepted and respected.
These positive publicity events are in contrast to the annual International Transgender Day of Remembrance (TDoR) held each 20 November where the tone is remembrance and commemoration of all those who've lost their lives, often violently, for being out or outed as trans. A Transgender Awareness Week has now formed in the week leading up to TDoR.
Prevalence of transgender people
The prevalence of transgender people in our communities is a hotly debated subject and one which is subject to several studies that are each seen as underestimates by the next one to be carried out. Numbers are made all the more likely to be on the low side by the difficulty of polling people who are not out or maybe trying to live discreet post-surgical lives. Surgery figures may only reflect those via recordable national health clinics and not those going privately or abroad for surgery.
Similarly being trans covers everyone from transsexuals at various stages of hormonal and/or surgical transition, occasional and full-time crossdressers/transvestites, and some trans who identify as a third or non-gender outside the binary of male and female.
Whilst transsexuals may represent just 0.1% of the population, non-surgical trans may be 1% or higher as only a fraction pursue surgery and many are not 'out' to everyone. Figures as high as 1.5% have been quoted and the numbers coming out each year are escalating as exponential rates as it becomes more safe to do so. I live in a city of 200,000 adults and know over 100 local trans personally and of another 50-100+. There will obviously be those I don't know and those not out yet so 1-in-1000 is a gross underestimate and yet that is a figure considered high by the NHS.
More prevalence research data here: http://www.gires.org.uk/assets/Medpro-Assets/GenderVarianceUK-report.pdf http://tgmentalhealth.com/2010/03/31/the-prevalence-of-transgenderism/ http://en.wikipedia.org/wiki/Transsexualism#Prevalence
Reducing Transphobia
The best thing you can do on this Transgender Day of Visibility and on every day following it is to reduce the tacit acceptability of transphobia in humour, toilet/bathroom access, and general gendered sexism and stereotyping. Allowing teens to grow up in the gender or expression they are comfortable with. Encouraging teens to be free to be tomboys and/or effeminate, irrespective of birth gender.
In another article Mey, an Idaho based Latina transwoman activist, outlines 15 ways to support trans people on the day of visibility and every day.
Visible Trans Persons
In the UK we have many visible trans already such as the comedian and actor Eddie Izzard, Turner Prize winning artist and speaker Grayson Perry, LGBT Pink List topping radio and print journalist Paris Lees, several contributors to the Guardian newspaper such as Jane Fae, Juliet Jacques, Roz Kaveney; Prof of Equalities Law at Manchester Stephen Whittle, Christine Burns and many more besides. In business there is Kate Craig-Wood, an entrepreneur and founder of one of the UK's largest IT groups. There's comedians Bethany Black and Andrew O'Neill, and several other comics too, musicians like CN Lester, Thomas Dolby's son Harper, and a magician, Fay Presto. I could go on and know of 100s of trans lawyers, doctors, activists in public life here in the UK alone.
In 2011 Channel 4 broadcast My Transsexual Summer and launched 7 British trans people into the limelight including friends of mine like Donna Whitbread, as well as Maxwell Zachs, Sarah Savage, Drew Ashlyn Cunningham, Lewis Hancox, Raphael Fox, and Karen Gale. Big Brother (UK and worldwide) has seen several trans winners and contestants including Nadia Almada, Luke Anderson, Lauren Harries, Alex Reid and Rodrigo now Rebekah Lopez.
April Ashley, Jan Morris and Caroline Cossey are all well known British women with open transgender histories. In the US Janet Mock, among others have blazed the way by being out and public in their defence of being themselves. Recently we've seen big names like Lana Wachowski of the Matrix films, Chelsea Manning of Wikileaks fame, Cher's son Chaz Bono, and Laura Jane Grace of Against Me. Actors like Alexis Arquette, Candis Cayne ("Dirty Sexy Money"), Laverne Cox ("Orange is the New Black") and Calpernia Addams, who recently advised Jared Leto on his Oscar winning role in "Dallas Buyer's Club". Nor is "Gender Outlaw" author Kate Bornstein to be forgotten. Dr Marci Bowers, is an American gynaecologist and surgeon and actually carries out gender/sex-reassignment surgery. There's the US biologist and author of "Evolution's Rainbow" Joan Roughgarden.
The names above are just a sprinkling of the hundreds of thousands of out trans people worldwide and possible even over a million or more yet to come out, I mean 1-in-1000 it would be 6-7 million worldwide. Here's hoping that more trans feel comfortable being more visible each day as that would not only make their lives happier but society itself all the more accepting and embracing, which is good for everyone. We are not invisible nor scary – but a little afraid ourselves, talk to us. For more information about the transgender spectrum visit www.genderagenda.net.
Transgender Visibility Day (31 March) Bisexual Visibility Day (23 September) Intersex Day of Awareness (26 October) Transgender Day of Remembrance (20 November)