Nigel Farage Leave Flotilla fires upon Remain
A small fleet of pro-Leave campaign fishing boats formed a flotilla at sea and set sail/steamed/chugged up the River Thames towards Tower Bridge, only to be met by a Remaining Boomtown Rat threatening scurvy. Sir Bob Geldof boomed out words and music while one of the Brexit boats fired the first shots – well, started a water fight. This is grown up politics, after all. It makes one wonder if giving the vote to 16 year-olds might result in a more mature response. Rats produce natural vitamin C whereas us pale-skinned limeys need to import it from Spain and elsewhere!
Picture of the pro-Brexit flotilla of ships heading up the Thames to the heart of pro-Remain London. (This is real.) pic.twitter.com/FZE90ePaiG

— Jim Waterson (@jimwaterson) June 15, 2016
This about sums British political debate up sometimes – except the outcome is way more serious than the silly dinghy shouting match makes it appear. Perhaps Sir Bob should organise a EuropeAid concert? As it is he accused Nigel Farage of being a fraud for his membership of the EU fisheries committee and attending just 1 of 43 meetings! Hypocrisy to then turn around and support the fishing industry.
Will all the Brexiters and Remainers please stop SHOUTING exaggerated claims of Armageddon if we RemaIN/Leave. Read some of the fact checks here.
The fisherman are spraying Sir Bob Geldof and the Remain Raft with hoses: pic.twitter.com/HGpBQmEXfS

— Harry Cole (@MrHarryCole) June 15, 2016
Even more pictures of British bath-time play here and here. British politics really is a blend of Yes Minister, The Thick of It and Spitting Image.
EU Common Fisheries Policy Under Fire?
Our fishing Navy won't be great again or Rule Britannia, whether we leave or cleave. Few people want to work the hours fishermen do, consumers still want to pay the cheapest prices and supermarkets will still demand the cheapest sources. We've barely got an actual Navy anymore to patrol our coastline against some imagined future Spanish fishing Armada.
Nobody owns the sea, and fishing quotas are healthy to prevent stock depletion such as that of Bluefin tuna. We actually already have a good deal as the UK only possesses 13% of the EU's total sea area, but is allocated 30% of the EU's current fish quotas.
Here is an economic argument that the EU Common Fisheries Policy has helped not harmed the UK.
An Island Nation & its Dependents needs EU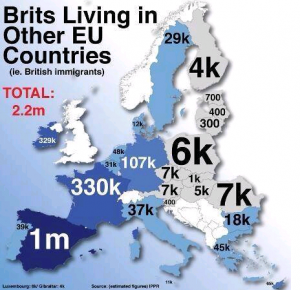 Both Gibraltar and the Falklands are likely to vote IN as three-quarters of the latter's exports go to the EU and continual border negotiations with Spain for the former are eased by EU membership whereas Brexit would close the border again.
Having lived in Spain, just 5 miles from Gibraltar, I appreciated EU rules and interventions, and the benefits of multicultural detente. Spain has by far the largest proportion of Brits living abroad – there are as many Brits living in Europe and European immigrants living and working here. Spain is a country we need good relations with, not to mention pescaditos fritos, boquerones, and oranges!