Theresa May calls snap General Election, 8 June 2017
"The lady's not for turning" became a catchphrase of Margaret Thatcher, then Prime Minister, in her 10 October 1980 speech to the Conservative Party Conference. Theresa May, who said on 30 June 2016 "There should be no General Election until 2020", and again 3 weeks ago on 20 March, has just called a snap election on 8 June, just 7 weeks away. May is a shrewd political player but clearly not one to be trusted after half-a-dozen times she said "no" to an early election, this is her u-turn, her moment of political triumph or tragedy.
From Remain to Leave, from a 2020 election to a 2017 election, from the Fixed-term Parliament Act to PM's whim. This Prime Minister is for turning.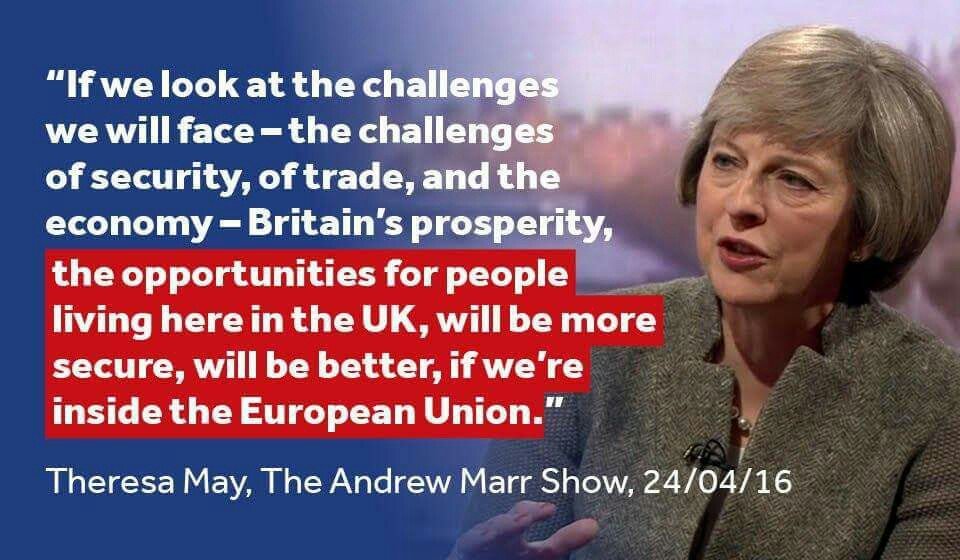 Markets have reacted to uncertainty as usual with the FTSE-100 down nearly 2.5% but the Pound also jumping over 1.5% against the Dollar.
Polls and Psephology
Psephologists and pollsters suggest she is odds-on favourite for an increased majority and mandate. Polls suggest a 15-20% point lead over Labour, a collapsed UKIP campaign as they've no longer Brexit to call for and many UKIPpers returning to the Tory fold as May goes for Hard Brexit or broke.
Be in no doubt this election is to crush Brexit (and any internal Tory) opposition – the very opposition she said at Easter didn't exist because the country was united behind Brexit:
"a sense that people are coming together and uniting behind the opportunities that lie ahead" – Theresa May, Easter message
Hijacking a religious festival for a political message? Will she stop at nothing?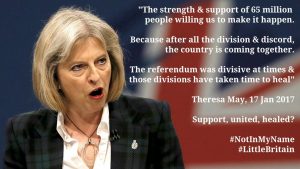 Falsely describing the country as united but Parliament, as divided, is disingenuous and erasing of the 48%, of the tens and hundreds of thousands who continue to turn out for pro-EU/anti-Brexit rallies.
"At this moment of enormous national significance there should be unity here in Westminster, but instead there is division. The country is coming together, but Westminster is not." – Theresa May, Election call [full speech text | video]
She is referring to the SNP, LibDems, Labour and even the Lords, vowing to fight any bad deal with the EU. Surely, their opposition is in all our interests, even Leave voters, as nobody wants a bad deal. Again, it's suspect since Article 50 was passed by Parliament, despite the narrow 52% EU Referendum majority and MPs being denied a free vote. Meantime, an election is the one surefire thing to divide the country afresh!
Hard Brexit?
Whilst some may want an end to Leave-Remain bickering, some are opposed to a "hard" Brexit and may also vote against giving Theresa May a carte blanche to withdraw from the EU so drastically.
"Britain is leaving the European Union and there can be no turning back." – Theresa May, Election call [full speech text | video]
A Second Referendum?
Inadvertently perhaps, Theresa May has just called a second EU Referendum:
"So I have a simple challenge to the opposition parties, you have criticised the Government's vision for Brexit, you have challenged our objectives, you have threatened to block the legislation we put before Parliament – This is your moment to show you mean it." – Theresa May, Election call [full speech text | video]
Single Issue Politics
Despite Audre Lorde saying, "There is no such thing as a single-issue struggle because we do not live single-issue lives", nevertheless, this may well be a single issue election.
Remainers will be tempted to vote LibDem, even many students with memories of betrayal over student loans or concerns about Tim Farron's evangelical Christian faith and opposition to abortion and gay sex – that said, he has been quoted as saying he will follow party policy on the matter.
For the SNP, too, it will be about Brexit and a Scottish second independence referendum, because of it.
The LibDems – who gained 1000 new members an hour after May's announcement, and Tim Farron are trending on Twitter, Labour are not. Labour MP Alan Johnson is trending, but that's because, along with others, he is standing down.
Strategic Voting
Perhaps it is time for strategic voting as June will be seen as an ironclad Brexit mandate and a 5-year window to negotiate with EU pre- and post-Brexit. Labour are down but also voting for the early election. Greens and LibDems are slowly rising in support and membership since the EU Referendum. LibDem marginals winning back seats from Tories in pro-Remain areas are the likely possible cause of an upset. As a past Labour voter, conceited statements that the choice is between the Tories and Labour ignore the possibility of a third pro-EU force emerging, backing Greens and/or LibDems or independent candidates. Anyone with an EU partner, like myself and many friends, will be thinking this. We've had 40 years of integrating EU people, policies and partners into our society, and they remain a headline issue in this forthcoming election campaign.
Betting odds on the next leaders to replace the current batch are Labour: 4-1 Keir Starmer, 6-1 Clive Lewis, LibDems: 4-1 Norman Lamb, Tories: 4-1 Boris Johnson. Odds on the next PM: Theresa May 1-10 and on Corbyn 7-1. Tim Farron was 50-1 now 25-1. 7-4 odds on Labour losing 50 seats and LibDems gaining 10-20. Either way, doesn't look good. Plan A is still strategic voting for the best opposition party/candidate in each locale. (Ladbrokes | Paddy Power | OddsChecker)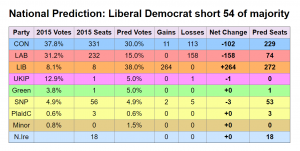 An unscientific poll in a Facebook 48% group has 75% of them voting LibDem. If that were translated to the 16 million national Remain vote it would equate to over 12 million votes – more that the Conservative Party at the 2015 election. Who knows what that would look like, perhaps with the Tories 50 seats short of a majority or even the LibDems 50 short?
"So, tomorrow, let the House of Commons vote for an election, let everybody put forward their proposals for Brexit and their programmes for Government, and let us remove the risk of uncertainty and instability and continue to give the country the strong and stable leadership it demands." – Theresa May, Election call [full speech text | video]