Being Yourself by Kurt Cobain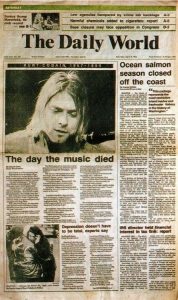 Kurt Cobain, was born in 1967, and died 5 April by taking his own life, back in 1994, aged just 27. He flitted between narcissism, empathy, love and pain, trying to enjoy his life and simply be himself, but not feeling it, over-feeling everything else instead. He'd have been in his 50s now, just a month older than me. Some years ago, I also attempted suicide, after a lifelong struggle with identity and feeling too much.
Whilst Cobain is in nirvana now, where are we 20+ years on? Still struggling for identity, as individuals, and a generation? Cobain struggled with being seen as the voice of a generation. His band, Nirvana, was labelled "the flagship band" of Generation X, and Cobain himself proclaimed as "the spokesman of a generation", something that did not sit well with him.
Dear Kurt—We miss you.

image: Michael Levine pic.twitter.com/U4uRE7IMuA

— Nirvana (@Nirvana) April 5, 2018
Faking it, Being Someone Else
"Wanting to be someone else is a waste of who you are." – Kurt Cobain
Cobain was trying to work out how to be himself amidst the pressures of fame, parental divorce, love and loss, and mental health conditions including bipolar mood swings between depression and mania, as described by his cousin, a nurse, who noted his childhood diagnosis of ADHD and as an adult Bipolar (unconfirmed?). Several relatives had also committed suicide in the same way.
He struggled to feel what he thought he was meant to feel or enjoy. He couldn't fake the enjoyment of fame, or life itself.
"I've tried everything within my power to appreciate it" – Kurt Cobain, suicide note

"The worst crime is faking it." – Kurt Cobain
Empathy and Fame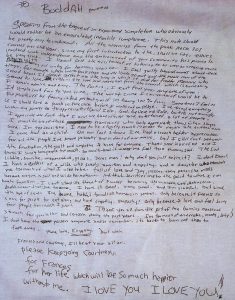 He mentioned empathy four times in his suicide note, and the struggle between feeling too much and yet not feeling anything – or what he thought was the right thing, at all.
"I think I simply love people too much, so much that it makes me feel too fucking sad. The sad little, sensitive, unappreciative, Pisces, Jesus, man, 'Why don't you just enjoy it?' I don't know!" – Kurt Cobain, suicide note
Nirvana sold over 25 million albums in the US, and over 75 million worldwide, but fame and success do not fill the void. He hated the fame, and was envious of Freddie Mercury and how he seemed to relish it.
"We're so trendy we can't even escape ourselves…I really miss being able to blend in with people." – Kurt Cobain
Reading, Writing & Lyrics
Cobain "occasionally took refuge in the counter-cultural writings of authors such as William S. Burroughs, Jack Kerouac, Samuel Beckett and Charles Bukowski". Yet, described himself as having the "tongue of an experienced simpleton", and hating the Freudian analysis that people subjected his lyrics to. Another reason, to explore him in his own words, not the interpretation of others.
"I'm not well-read, but when I read, I read well." – Kurt Cobain

"I like to have strong opinions with nothing to back them up with besides my primal sincerity. I like sincerity. I lack sincerity." – Kurt Cobain
Sexuality
Kurt Cobain was seemingly bisexual, though gave mixed interviews on that side of his personal life, calling himself "gay for a while" yet "more sexually attracted to women". As a teen he was arrested and fined $180 for graffitiing "Homosex Rules" on a wall. He once said, "I started being really proud of the fact that I was gay even though I wasn't." It is not clear if he ever consummated this part of his persona, despite saying:
"If I wouldn't have found Courtney, I probably would have carried on with a bisexual lifestyle." – Kurt Cobain
Whilst Generation Y, born early 80s to 2000, followed Cobain's Generation X, we are now on the Gen Z cohort, born since the Millennium. A group happy to be neither gay nor straight, to question gender and express it fluidly.
Women's Rights
Cobain wrote about women's rights in his songs, including concerning the rape of a 14yo girl after a concert (not one of his).
"I definitely feel closer to the feminine side of the human being than I do the male – or the American idea of what a male is supposed to be." – Kurt Cobain
"He was himself"
Canadian musician and writer, Dave Bidini, in an article for the National Post entitled "Kurt Cobain, who died 20 years ago today, wasn't a hero, martyr or vampire. He was himself" ended with this comment:
"He looked like he didn't care (because he didn't) … His arms hang down and he turns sideways from the crowd, as if he's trying not to be seen, even though 20 million people have their eyes trained on him. In a society where 'bringing it' and 'all or nothing' and 'going for it' are sicknesses pumped by fools who aspire to drive people apart rather than draw them together, Cobain's sense of oblivion was, in a way, brave and confrontational, and that's why he cracked even the hardest edifice and ate through misplaced pop culture like a creeping disease. In the end, he made an enormous impression for someone who wasn't even there." – Dave Bidini, National Post
Cobain did escape, "Rather be dead than cool", others need not take that route if they can follow his other wisdom, to be yourself and find someone you can be yourself with and talk to.
"It's better to burn out than to fade away" – suicide note
Remember him alive though, here's an awesome unplugged hour-long Kurt Cobain MTV concert in NYC November 1993 just months before his suicide, my favourite line of which was "like this is my third cup of tea already" – how Rock'n'Roll!
I will remember him, as much for the angst music of a tortured soul, as the desire to find and be himself, a journey I am also on, aren't we all to a degree?
"I'd rather be hated for who I am, than loved for who I am not." – Kurt Cobain