World Refugee Day, Record Numbers
Refugees from "forced displacement" recorded worldwide in 2015 numbered over 65 million according to UNHCR, the UN Refugee Agency. That's nearly 1% of the world currently homeless, nationless, fleeing wars, terror, persecution and the slow death and disease of refugee poverty from relying on handouts and the generosity of others, NGOs, international aid and agencies. So far, this year, over 3,500 have died on their migrant journeys to apparent safety. World Refugee Day highlights the plight and peril of people seeking safety amidst an escalating humanitarian crisis.
"At sea, a frightening number of refugees and migrants are dying each year; on land, people fleeing war are finding their way blocked by closed borders. Closing borders does not solve the problem." – Filippo Grandi, UN High Commissioner for Refugees
Refugees & Migrants are People Too!
But numbers, percentages, records, are not facts or statistics, they are people too. They are not just migrants, often prefixed with the dehumanising word "illegal", or trafficked by exploiters and transporters of vulnerable people with nothing left to risk except their life itself. They are desperate migrant peoples, refugees, asylum seekers, human beings, not cattle or ballast to be bounced around from port to port, dragged back out to sea, or denied entry based upon the decision that they may harbour an ISIL terrorist.
It's a humanitarian crisis because they share a common humanity with the 99% of people that have settled homes and domestic security. Whilst 1% of the world control half its wealth, another 1% don't even have a dollar a day because they are stateless, which in some countries means they officially don't exist, being without permanent address or social security numbers. 50% of the world has access to just 1% of the world's wealth. Global economic disparity and inequality are an injustice demanding those that have, to aid those that don't. It's a moral crisis as well as a humanitarian one.
Definition of a Refugee
Article 1 of the 1951 UN Convention relating to the Status of Refugees, as amended by the 1967 Protocol, defines a refugee as:
"A person who owing to a well-founded fear of being persecuted for reasons of race, religion, nationality, membership of a particular social group or political opinion, is outside the country of his nationality and is unable or, owing to such fear, is unwilling to avail himself of the protection of that country; or who, not having a nationality and being outside the country of his former habitual residence as a result of such events, is unable or, owing to such fear, is unwilling to return to it." – 1951 UN Refugee Convention
Will you stand #WithRefugees?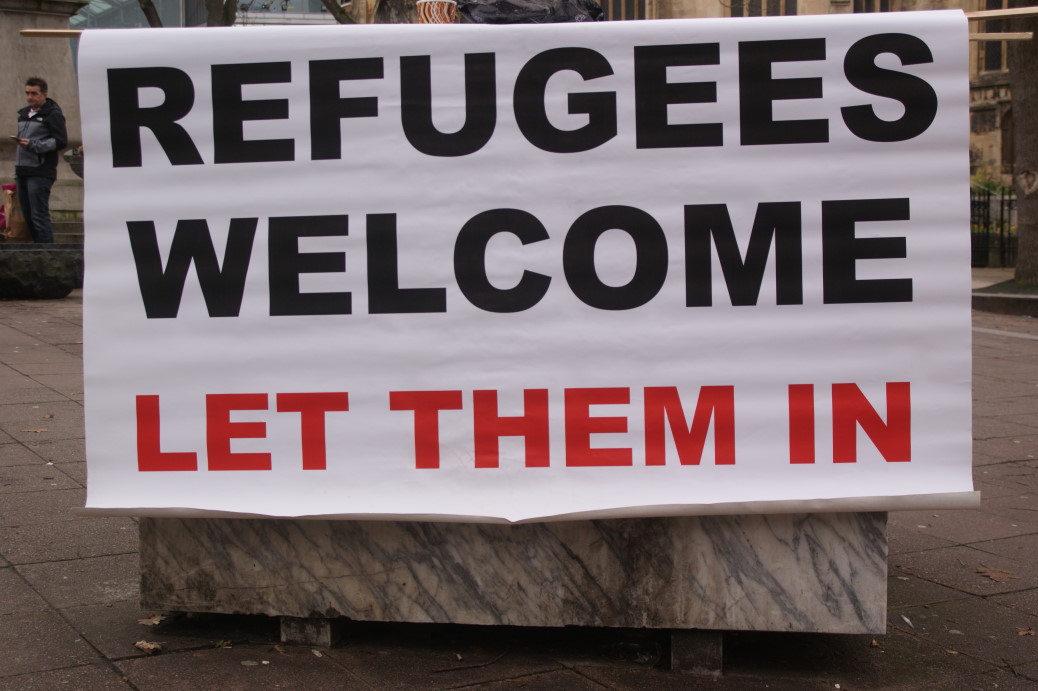 A Global Community & Worldwide Village
The benefits of global bodies like the United Nations and regional socio-economic communities like the African Union or European Union are that they can act as greater than the sum of their nation parts when they pull disparate national interests into international focus on issues facing the world as a whole, for which we a have a common responsibility.
Immigration and the EU Referendum
Whilst the United Kingdom votes this week to Leave or Remain in the EU, thinking little England rather than Great Britain, the world has bigger issues than one nation's sovereignty or solvency. Immigration has become one of the most divisive issues in the EU Referendum campaign and the responses have turned ugly. Campaign posters have been called racist, Jeremy Corbyn, the leader of the Labour Party, has admitted that we cannot control EU migrant numbers, however, nor would we be able to if we adopted a Norwegian or Swiss-style model of European Economic Area affiliation rather than full EU membership.
"Immigration has overtaken the economy as the most important issue to how the public will vote…[it] is now the most critical issue, cited as very important to their vote by 33%, up five points in a month, including just over half (52%) of leave supporters…which coincides with the official Vote Leave campaign focusing more strongly on immigration." – Evening Standard
Opinion polls consistently show that immigration is one of the key Referendum issues, but one that is closely aligned with geography, age and gender. The majority of men and people over 65 would vote to Leave and the majority of women and people under 35 would vote to Remain. It's often the areas with the least impact of immigration that would vote most against it. Those, such as London, with the greatest cultural diversity, are more likely to vote Remain. Integration and acceptance take time but then do bring community benefits and positivity.
It's about perception, integration, insecurity and fear. A Guardian piece included the words of Chantelle, a young mother from Leigh, near Manchester, who despite 96.% of local residents being British thought that "80%, maybe 90%" of locals were immigrant foreigners!
Controls on Immigration or Contributions from Immigration?
At the last UK election, most major political parties except the Green Party were calling for controls on immigration despite its long term benefits.
"Immigration to the UK since 2000 has been of substantial net fiscal benefit, with immigrants contributing more than they have received in benefits and transfers. This is true for immigrants from Central and Eastern Europe as well as the rest of the EU." – The Economic Journal
A CEBR report on world economic ranking data said of the UK's growth and dynamism:
"The United Kingdom is forecast to be the best performing economy in Western Europe … likely to overtake Germany and Japan during the 2030s … becoming the world's 4th largest economy for a short time … The UK's strength (though mainly in London) is its cultural diversity and its strong position in software and IT applications. Its weakness is its bad export position and unbalanced economy … It also runs the risk of breakup, with Scotland and possibly Northern Ireland seceding and will have a referendum on its continuing membership of the EU in 2016 which might prove at best disruptive and at worst lead to a more insular and less diverse culture which in turn would generate slower growth." – CEBR
Surely, then, the UK – currently the world's fifth largest economy, should accept a substantial share of supporting the world's refugees rather than turning a blind eye and walking on by as the selfish 'neighbours' in the Parable of the Good Samaritan.
The country taking by far the largest number of migrants is Germany, down to Angela Merkel's so-called "open door policy". Germany is currently the fourth largest powerhouse economy in the world, aided rather than restrained by its immigration policy:
"Germany's influx of Syrian immigrants is expected to keep the country ahead of the UK for a few further years as skill shortages are alleviated, wage growth restrained and profits boosted." – City A.M.
EU Migrants a drain on Benefits?
EU benefits claimants are the smallest group receiving either working age benefits or tax credits, according to economic and statistical data. Some 92.5% of benefit claimants are British, 5% are non-EU immigrants, and just 2.5% are EU migrants. Whilst those from outside the EU are more likely to be on benefits than EU migrants, we have a degree of control over non-EU immigrants, albeit an international responsibility to refugees and asylum seekers. Even the Daily Telegraph which is essentially pro-Brexit said this:
"…whatever the arguments for and against reducing the number of EU migrants receiving British benefits, delivering such a reduction wouldn't make a significant difference to the overall welfare bill…and seeing as the take-up of benefits among migrants is so small, it's also worth asking how big of a draw Britain's welfare system really is."
Migration Breaking Point?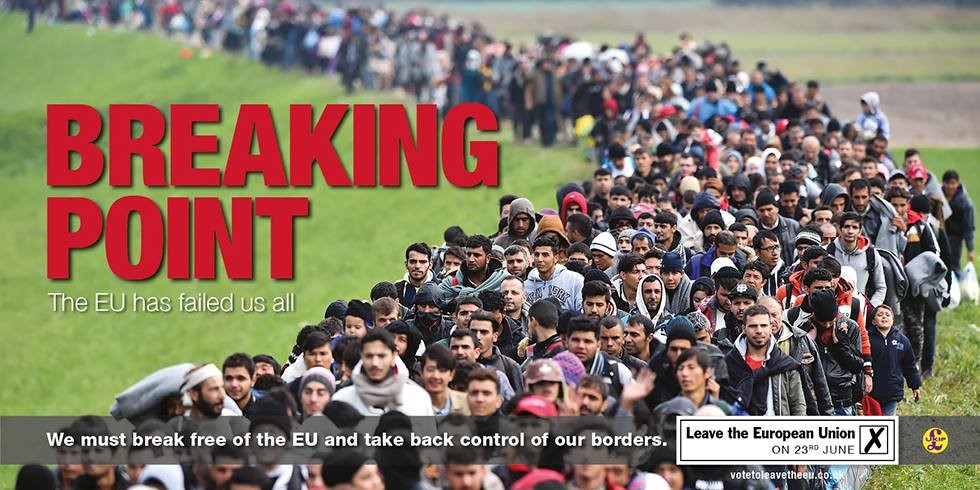 UKIP's 'breaking point' immigration poster calling for a Leave vote and taking back of border controls has been compared to 1930s Nazi propaganda by George Osborne and even criticised by other Brexiters, not to mention being reported to the Police for inciting racial hatred. Nigel Farage has defended the poster even saying he is the victim of hate!
Even Michael Gove "shuddered" after seeing the UKIP migrants poster based upon a photo taken of migrants crossing the Croatia-Slovenia border in October 2015, apparently of refugees arriving from Syria – a route now all but shut. Boris Johnson, who heads the official Vote Leave campaign also distanced himself from the poster and announced he was in favour of an "illegal immigrants" amnesty for those that had been here 12 years.
Your new poster resembles outright Nazi propaganda, @Nigel_Farage. Thanks to @brendanjharkin for pointing it out. pic.twitter.com/Rd89XZSvfD

— Connor Beaton (@zcbeaton) June 16, 2016
Far from immigration being the 'breaking point' for the UK, we are cruising it compared to many other austerity-hit nations, growing off the back of net contributions to the treasury from migrants of the past and present. Migrants are far more likely to start businesses than British nationals, nearly half as likely to be on benefits, pay more in taxes than they take out, and more likely to take the jobs others don't want to do that keep the economy growing – over three-quarters are in employment, more than their British counterparts. They are not "taking our jobs" just more willing to do them.