Lies, Damned Lies and Statistics Economics
Economics can be studied as a BA or a BSc, with the latter having more Maths and Econometric elements. The point I'm making is that Economics is a dark art and an arcane weird science akin to alchemy, it is not a perfect predictor of the future, but on balance it makes sense. People are the irrational unpredictable factor. Nonetheless, a group of 200 Economists is in favour of Remain and 27 Economists for Britain, and a further smaller ensemble of 8 in favour of Brexit (3 are in both lists). No doubt there are other groups that would bolster both camps, you can add my BSc (Econ/Stats) to the 200 camp. In addition, ten international winners of the Nobel Prize in Economics have warned against Brexit and nearly every international economic policy thinktank and institute. Even the Brexit economists accept they are the minority:
"I do not deny for a moment that there are more economists who write on blogs and in newspapers arguing against Brexit than in favour. Furthermore, opinion polls suggest that most economists believe Brexit would be damaging."
The verdict, then? People trust economists about as much as they trust politicians and journalists! The polls are roughly 50:50 at the moment with less than 48 hours to go, but with a consistent 15% of voters undecided, who may or may not vote, or who might change their vote.
£350 million a week or £60 a year?
Polls show that the majority of people actually believe the £350m/week claim (around £252/year each) of the cost of the EU which is a blatant half-truth in that it totally ignores the UK rebate, inbound EU benefits and investment, EU jobs creation etc, which by other counts brings the cost down to about £1.15 a week. Less than a cup of coffee – the cost of reciprocal EU health and travel benefits, improved worker rights, gender equality and human rights agendas, and multicultural diversity benefits – cited by a CEBR study as a cause of UK economic growth and investment attraction. £350m a week has been consistently debunked by the BBC, Channel 4, The Guardian, The Independent, InFacts, the New Statesman, and the head of the UK Statistics Authority who says it is closer to £110m, yet people still believe it.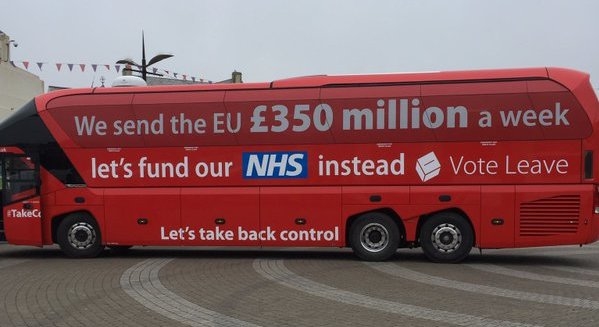 One thing, for sure, is that we don't send £350m a week to the EU. What the net contribution of the UK to the EU budget is, after our rebate, grants, subsidies and other receipts, sources cannot be sure but vary from £83m – £164m, minus just the rebate it is around £248m but that ignores other benefits:
UK 'Net' Contributions to EU Budget
| Source | Cost per week |
| --- | --- |
| Vote Leave | £350m |
| FullFacts | £248m |
| The Independent | £188m |
| New Statesman | £164m |
| BBC | £161m |
| The Guardian | £136m |
| InFacts | £120m |
| UK Statistics Authority | £110m |
| Channel 4 (IFS) | £83.33m |
£4,300  a year cost or £3,000 a year gain?
The figure on the cost of Brexit ranges from £300-£4,300 to Armageddon per family, so it is not as if either side are clean of the putting a spin on the figures. The CBI actually says that we gain around £3,000 per household from EU investment, trade, jobs and lower prices across Europe. That £3,000 a year gain (or rather, status quo) more than offsets the £200-£300 a year cost per household.
Fear, Hate and Scapegoats
Few believe, however, neither the allegedly independent academic facts nor the financial fearmongering of Vote Remain, instead preferring the demonising of the EU. They quote 'figures' alleging that the EU sucks us dry financially, that we are supporting the sick economies of Europe, and financing the health and benefits of millions of migrants. Neglecting the costs that 2 million Brits living in Europe run up! You see, Vote Leave's fearmongering is combined with scapegoating – someone to blame, that is its increased 'sell' factor, its USP.
The irrational human factor, always the bane of economic theory, is that we seem to need someone to hate, someone to blame. In this case, it is the EU, some kind of nine-headed Hydra, the Beast of Revelation, the government of the AntiChrist, German federal dominion redivivus, or fresh French neo-Napoleonic invasion, not to mention an influx of 'begging and thieving gypsies' – as some have erroneously and xenophobically characterised Romanians and Bulgarians, not to mention an entire nation of millions of Islamic terrorist Turks – Turks who are more likely to be victims than perpetrators of ISIL violence.
This may partially explain why people are predisposed to believe only the figures that reinforce their preexisting views and beliefs – much like religious argument!
It has not gone unnoticed that some of the poster campaigns and political assertions would not have been out of place in the 1930s Nazi Germany.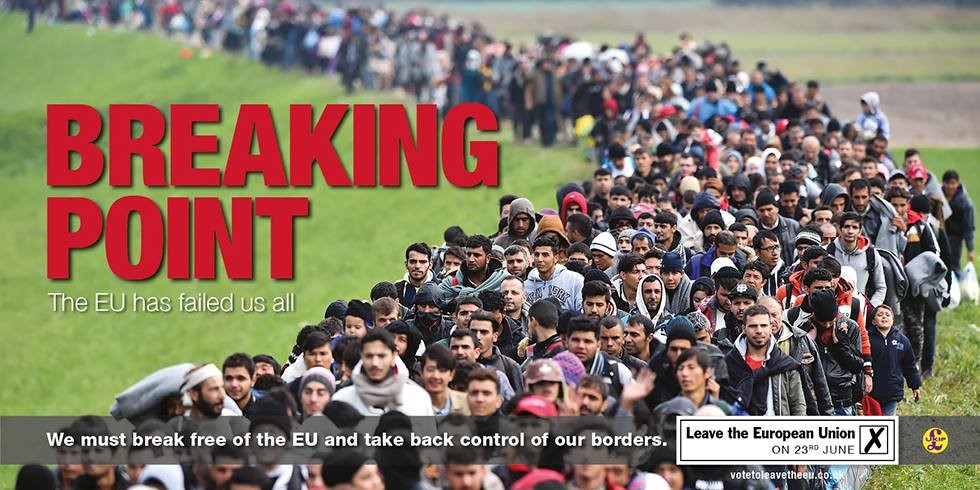 Bigger Lies more likely to be believed
A "big lie" or famously the große Lüge was a Nazi propaganda tool first put forward by Adolf Hitler in Mein Kampf (1925) suggesting that if a lie were so "colossal" nobody would believe that someone would have the "impudence to distort the truth so infamously."
"…in the big lie there is always a certain force of credibility; because the broad masses of a nation are always more easily corrupted in the deeper strata of their emotional nature than consciously or voluntarily; and thus in the primitive simplicity of their minds they more readily fall victims to the big lie than the small lie, since they themselves often tell small lies in little matters but would be ashamed to resort to large-scale falsehoods. It would never come into their heads to fabricate colossal untruths, and they would not believe that others could have the impudence to distort the truth so infamously. Even though the facts which prove this to be so may be brought clearly to their minds, they will still doubt and waver and will continue to think that there may be some other explanation. For the grossly impudent lie always leaves traces behind it, even after it has been nailed down, a fact which is known to all expert liars in this world and to all who conspire together in the art of lying."  — Adolf Hitler, Mein Kampf, vol. I, ch. X (tr. James Murphy)
Goebbels took the theory further, and even cited the English in his development of it!
"The essential English leadership secret does not depend on particular intelligence. Rather, it depends on a remarkably stupid thick-headedness. The English follow the principle that when one lies, one should lie big, and stick to it. They keep up their lies, even at the risk of looking ridiculous." – Aus Churchills Lügenfabrik ("From Churchill's Lie Factory"), Die Zeit ohne Beispiel, 12 January 1941
When even opposite minds agree
It should either be seen as really worrying or oddly reassuring that the leaders of all the parties except UKIP and other further far Right political entities are in agreement that we should not leave. For Jeremy Corbyn and David Cameron to agree is a sign of institutional panic, and Corbyn is normally anti-institution. The dilemma is that people see Vote Leave as, as much a vote against the EU as against Politicians of all hues. Cameron is seen as dodgy Dave but Farage as normal Nigel, the honest speaking man of the people. It's not just the Sun readers who believe its barely researched economic claims that Brexit fears are "nonsense" but also the entrenched traditionalist views of 75% of the Daily Telegraph readership.
The EU Referendum is not about those who have already made up their minds, but those who have yet to decide, for they will determine the UK's fate on Thursday. Whether they will listen to 9 out of 10 economists, Richard Branson, and David Beckham, in favour of Remain or the 1 out of 10 economists, Boris Johnson, and Nigel Farage, we will see then.
More EU Referendum fact checking sites
BBC Reality Check & Live updates
BBC EU Referendum key claims round-up
Channel 4 Fact Check
Full Fact, independent fact checking charity
Katy Jon analysis