Bombing Syria & ISIL Perpetuates Terror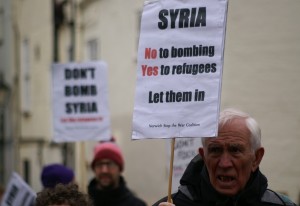 Thousands continue to protest and take to the streets to oppose bombing Syria, seeing such a move as disastrous and more likely to endanger the lives of Syrian civilians, and further radicalise and foment future terrorism in Europe by Islamic State (IS/ISIS/ISIL/Daesh). Hundreds and thousands of sorties and bombs by over a dozen nations over months and years did not prevent the attacks in Paris last month.
Update: On 2 December the UK Parliament voted to extend the Iraq bombing campaign to Syria but with no ground soldiers commitment or thought to future outcomes, rebuilding, Assad etc. Admittedly Hilary Benn, did give an excellent, almost convincing speech, but too many questions remain unanswered, avenues unexplored… and the UK has already carried out questionable drone strikes killing two British ISIS fighters – predating and without Parliamentary mandate.
Indeed, a majority of the country probably oppose the action according to polls, and Benn was out of touch with the majority of Labour Party supporters who are against action. Polls in the Telegraph had 59% for, in the Independent 59% against. At least there's no "dodgy dossier" this time, but could we, in ten years time, be facing a similar enquiry into why we went to war, or even why we may still be at war, given that Cameron has suggested this could be lengthy, even many years.
Many see a bombing campaign as the obvious response to the
attacks in Paris
two weeks ago – precision, of course, because it is not like we want the human and financial expense of "boots on the ground" who can minimise civilian "collateral" losses by checking who they are targeting first. Presidents Hollande and
Obama
have called for ISIL to be  destroyed. Many echo that reaction. But, it is just that, a reaction, not a strategic response.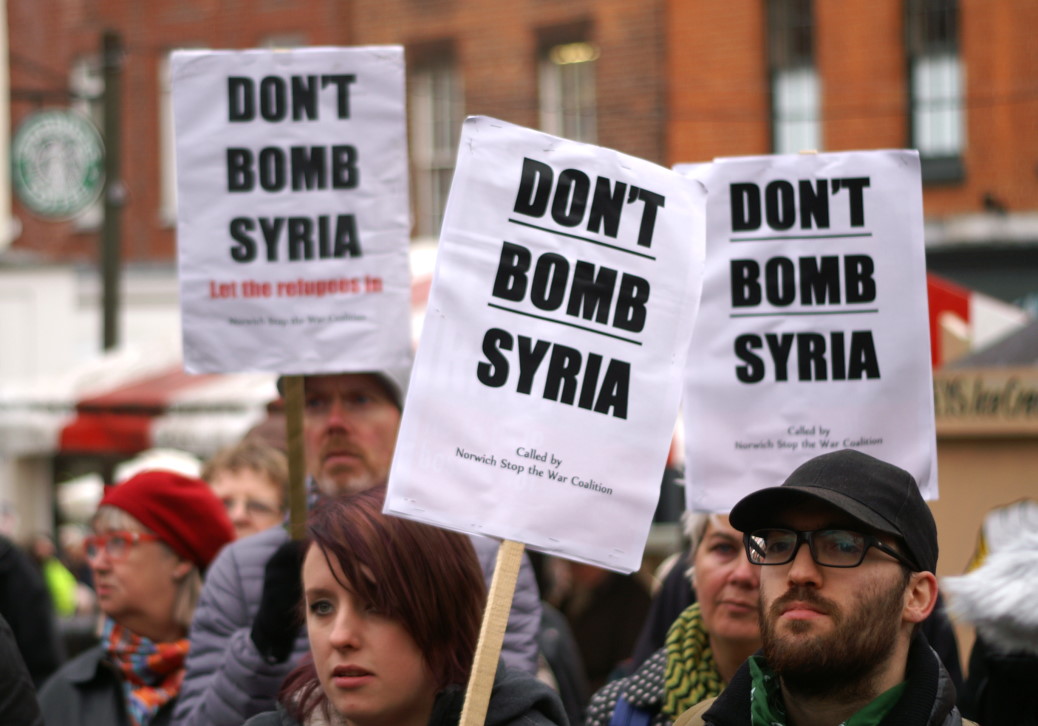 War on Terror only increases Terrorism
Others recognise that after 14 years of responding to Middle Eastern turmoil by declaring a "War on Terror" we have actually multiplied rather than diminished terror. The 3,000 killed on 9/11 are now a drop in the ocean compared to the tens and hundreds of thousands who have died in the Middle East or fleeing it.
"The military actions of Western nations recruit more people to the cause than they kill. Every bomb dropped is a recruitment poster for ISIS, a rallying point for the young, vulnerable and alienated. And every bomb dropped on Syrian cities drives yet more people to flee and seek refuge in safer countries." – The Quakers in Britain
Thirteen countries are already bombing Syria, Canada is considering pulling out, the UK of joining in. One more nation will not solve what a dozen have already failed to do.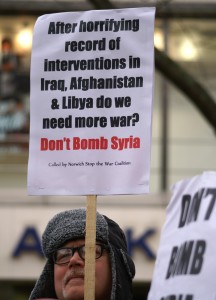 Bombing Syria and anywhere else, for that matter, only increases tension, radicalises countless more fighters. In barely a decade ISIL has grown from a few hundred to a 100,000 fighters on the back of Western intervention and against more moderate interpretations of Islam. "In the month after the bombing began, 8,000 joined Isis alone."
"I know Isis fighters. Western bombs falling on Raqqa will fill them with joy" – Jürgen Todenhöfer
Terrorist acts on domestic soil need to be treated as criminal rather than military acts. Declaring them a war only intensifies the pseudo-legitimacy of their cause and identity, making them think that they are now a force to be reckoned with.
"One thing I have learnt is that this western intervention never helps, it only makes matters worse. So much worse. These interventions only pour petrol on the fires of Middle East unrest." – John Prescott
Bombing Syria – A "failed strategy"
Lt General Mike Flynn was Obama's senior JSOC intelligence officer and head of the Defense Intelligence Agency until last year. He has described dropping bombs from drones as causing more harm than good and a "failed strategy."
"What we have is this continued investment in conflict… the more bombs we drop, that just… fuels the conflict. Some of that has to be done but I am looking for the other solutions… history will not be kind to the decisions that were made certainly in 2003… We definitely put fuel on a fire… Going into Iraq, definitely… was a strategic mistake."- Lieutenant General Michael T. Flynn, former Director of the US Defense Intelligence Agency (DIA)
A mistake that the West seems to want to perpetuate, as Einstein may have never said, but Nick O'Brien, Chair of Norwich Stop the War, quoted in a rally on Saturday, "the definition of insanity is doing the same thing over and over again, but expecting different results." Whilst the origin of this quote in clouded in mystery, another of Einstein's may be even more apt, namely, that "No problem can be solved from the same level of consciousness that created it." In other words, bombing the bombers won't solve anything other than create more bombmakers. Every bomb casualty or innocent victim creates loss and anger among relatives leading to further rationale for joining ISIS.
"The US… has been bombing Syria for over a year. Since September, France has been involved alongside them, although other members of a coalition put together last year, including Canada, Australia, Saudi Arabia and Jordan, have effectively withdrawn from bombing. Yet now both Russia and France have experienced severe terrorist attacks. Are we saying they have no connection to the raids? Far from making us safe, as politicians contend, they are likely to make us more vulnerable."  – Lindsey German, Stop the War
Bombing Syria, as with elsewhere in the Middle East is both a failed and inadequate strategy. Even those prepared to bomb Syria, admit it will not be enough and will require foot soldiers as well, something people are more reticent to commit to.
It is also dangerous and complex with more than two sides. There are factions within factions, militias, rebels, Assad's forces, vested interests of Russia, Turkey and others, not to mention a dozen other Western allies and limited Middle Eastern nations already involved.
"Politically, it is a grave step. Britain is about to enter a confused battlefield on which Russia, the US, France, Turkey, Iran, assorted Arab states, ethnic foes and rival sects are all fighting for different causes while Syria and Iraq disintegrate." – The Sunday Times
Anti-War Protests across the UK
London saw the largest no to bombing Syria, anti-war rally, with thousands blocking Whitewall. Dozens of other cities held rallies. BBC and Guardian/Independent journalist Joel Gunter posted this image of at the London protest:
"We need to unite with Muslims in our community and not foster division," says Daisy, 22 at #DontBombSyria protest pic.twitter.com/IWTJFmAosQ

— Joel Gunter (@joelmgunter) November 28, 2015
On Sunday another threat to the planet – climate change, saw protests and marches around the world ahead of a climate summit in Paris on Monday. Except in the French capital where such a large gathering had been banned on security fears or pretexts after the Paris attacks. Instead, people donated thousands of empty pairs of shoes to stand where people otherwise would have.
Don't Bomb Syria Rally in Norwich
Norwich on Saturday saw around 100 people show up on a bitingly cold day to hand out leaflets to the public and hear from half a dozen speakers including local Muslims, Quakers, Labour and Green Party activists. One leafleter spoke to four servicemen who were supportive of the protest. A heckler interrupted by saying "two wrongs don't make a right", and then everyone realised that he was actually agreeing with what was being said.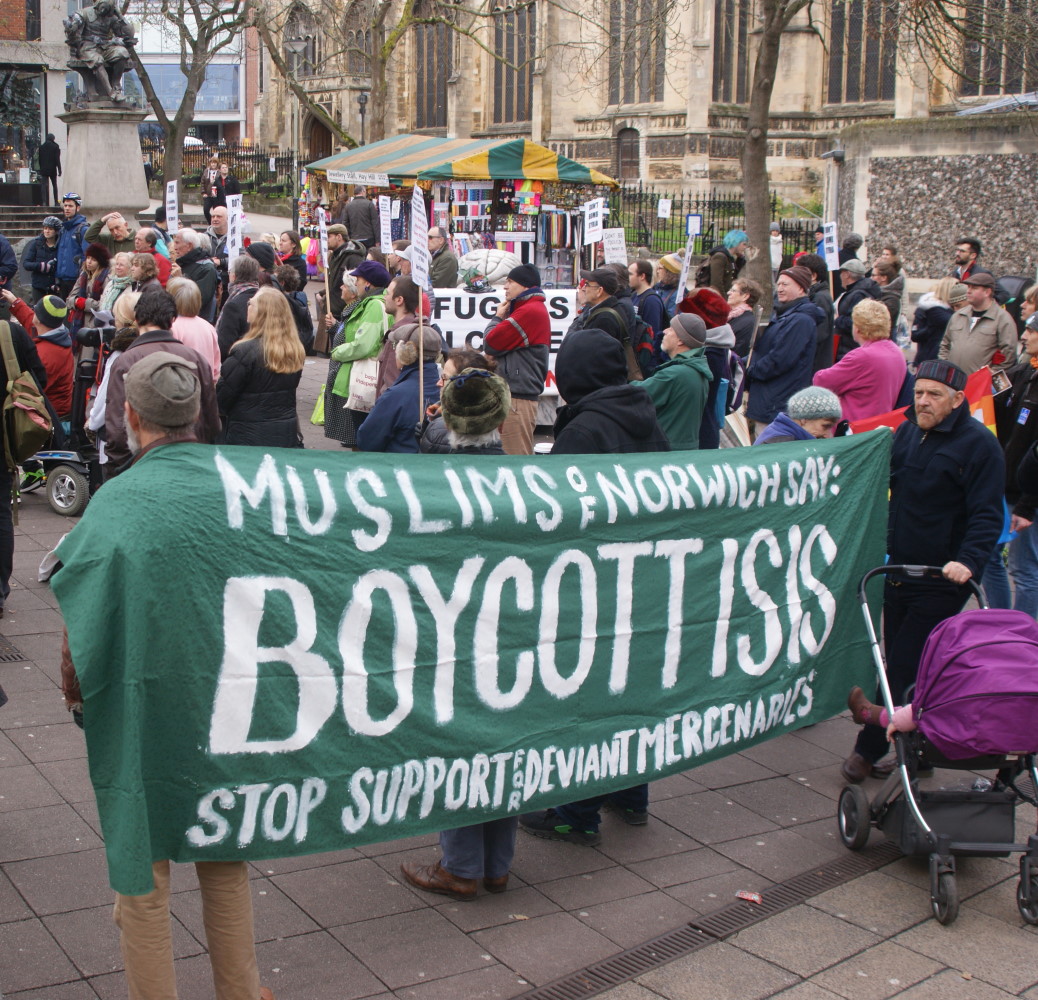 Speakers included Dr Ian Gibson – former Labour MP for Norwich North, Nick O'Brien – Chair of Norwich Stop the War, Lesley Graham – Quaker peace activist, Jan McLachlan – Norwich People's Assembly, Adrian Holmes – Green Party, Muhammad Ameen Franklin – Muslims of Norwich.
Clive Lewis, Labour MP for Norwich South issued this statement on the possibility of bombing Syria. He is a former TA soldier who served in Afghanistan, and BBC journalist.
"I understand there are occasions when military force is necessary. Therefore, I will not rule out supporting the use of military force against ISIL. However, the use of such force must not be an end in itself.
If there is one thing the 'war on terror' has shown, it is that military force alone is rarely the answer. We've been engaged in this 'war' for 15 years with with no end in sight. It has cost millions of lives, trillions of dollars, destabilised an entire region and arguably spawned a series of global, jihadist terror networks." – Clive Lewis
A Muslim Voice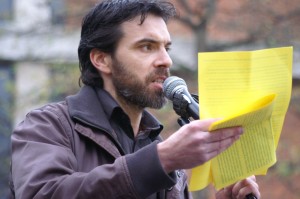 The speaker from the Ihsan Mosque in Norwich was warmly received and welcomed to applause. As with nearly 400 mosques and UK Muslim organisations who issued an unequivocal statement in the media on 18 November to "condemn the Paris attacks unreservedly":
"The barbaric acts of Daesh (or ISIS, as they are sometimes known) have no sanction in the religion of Islam, which forbids terrorism and the targeting of innocents…. The aim of attacks like those inflicted on Paris and other cities across the world is to turn communities against each other. As Muslims, Britons and Europeans, we must stand together to make sure they do not succeed."
The Norwich mosque also issued a statement on the atrocity in Paris, calling them "brutal murders", not deaths or killings that might arise in a conventional war.
"we want to make absolutely clear not only our complete abhorrence of the outrages perpetrated in Paris, Beirut and elsewhere by this small group of well-organised and ruthless killers, but that the religion of Islam does not countenance such actions in any way whatsoever. Moreover, not only is their action a crime, but there is prima facie evidence of such serious flaws in their apprehension of Islam as to call into question whether they should even be considered Muslims."
It isn't about race, faith, or nation state. Any political, religious or nationalistic ideology can be taken to extremes. Treating other's lives as collateral in any cause is the inhumanity in any ideology.
"It's not about Islam, or indeed any religion – each has been there with its own extremisms, the Crusades, the Inquisition, Biblical Judaism, even Buddhism and Hinduism, and Sikhism. As John Lennon sang – "Imagine … no religion". But then there's the Hitlers, Stalins, Maos and Polpots, of this world. Roman pagans trying to wipe out Christianity, Communist extremism. It is the extremism they have in common, not faith or race." – Katy Went, Imagine all the people, living life in peace
Each religion can be twisted to apparently justify slaughter, but that comes from man's inhumanity to man, not faith per se.  Equally, most faiths can be quoted from to encourage love, mercy and kindness.
Backlash from Bombing and Terrorism
The important thing, now, is to avoid the backlash. If increased bombing of Syria goes ahead then there will be a backlash in terms of home grown and exported terrorism by those who see Britain's involvement as Western interference, imperialism, and immorality. The other backlash is that against refugees and asylum seekers, particularly as one of the French terrorists was alleged to have gained access to Europe as a refugee. Thirdly, and an already happening reaction in the US, France, Britain and elsewhere is one that targets existing resident Muslims, those more or less happily already domiciled. Often, a kickback response to the visible presence of a mosque or headscarf, in total stereotyping ignorance of the variety of Islamic opinion and interpretations and indeed, the majority opinion in the UK, as expressed by the Muslim Council of Britain, that "almost all" Muslims "abhor terrorism", though "even one person harbouring sympathy for the Daesh death cult is one too many".