Boko Haram & Nigeria's War of Terror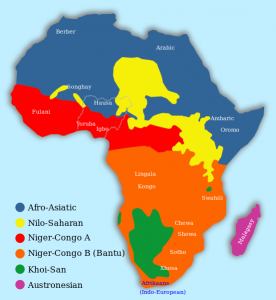 The extremist war of terror in Nigeria continues to claim more victims. Reports are coming in of around 600 more schoolgirls being captured. In April around 280 schoolgirls were abducted and in May several attacks killed dozens in the villages of northern Nigeria and over 120 died from two bombs in the central Nigerian million-plus population cosmopolitan city of Jos, J-town, or "Tin City". Jos has been the scene of intra-community violence since 1994 between its Christian, Muslim, and minority residents, killing thousands of people, hardly the "home of peace and tourism" as the Plateau State is known.
Two decades of escalating violence
Jos has been the scene of intra-community violence since 1994 between its Christian, Muslim, and minority residents, killing thousands of people, hardly the "home of peace and tourism" as the Plateau State is known.
Over the last 5 months more than 2000 people have been killed in Nigerian violence and thousands more displaced, according to Nigeria's National Emergency Management Agency (NEMA). From 2009-2013 under 4000 were killed, so there has been a definite escalation in the violence. Perhaps, this may be a response to Nigeria's belated heavy-handed response to Boko Haram that has included alleged deaths in custody of probably over 1000 suspected Boko Haram fighters last year. Leaked information from a senior Nigerian army officer suggested 950 had died in the first half of 2013 alone. Back in 2009, Boko Haram's then leader, Mohammed Yusuf, was killed in police custody after a police raid.
Education targeted by terror
Much of the violence appears indiscriminate, even if at times it has been directed at Christian or Muslim, churches or mosques, it often ends up being directed at schools, colleges, markets, wherever civilians gather and indiscriminate violence can have its most terrifying effect.
"Attacks against schoolchildren, teachers and school buildings demonstrate an absolute disregard for the right to life and the right to education." – Lucy Freeman, Amnesty International's deputy Africa director.  
The full report by Amnesty on the terrorising of education in Nigeria makes one wonder whether Boko Haram would go to Taliban-like extremes of restricting access to education, especially of teenage girls. Indeed, Boko Haram in Hausa allegedly means "Western education is sin/prohibited (haram)". The boko element can also mean "fraud", "bogus" or "inauthentic". Even locals, are not entirely sure what it means! It is less of a mouthful than its Arabic title: Jama'atu Ahlis Sunna Lidda'awati Wal-Jihad, or "Congregation of the People of Tradition for Proselytism and Jihad".
Complicated causes, not just religious
The apparent war between religions and ideologies masks more basic rivalries over resources, land, power, and tribal identities. Religion just exacerbates the incendiary melting pot.
Benjamin A Kwashi, the Anglican Archbishop of Jos, has said that:
"those who have in the past used violence to settle political issues, economic issues, social matters, intertribal disagreements, or any issue for that matter, now continue to use that same path of violence and cover it up with religion."
An excellent Al Jazeera report into the origins and rise of Boko Haram concluded that:
"Unabated violence, a feeling of marginalisation by the federal government, unemployment and poverty however remain the primary seeds of discontent…" – Yvonne Ndege and Azad Essa, Al Jazeera
Ethnic or Economic Tensions?
Chris Kwaja is a lecturer and researcher at the Centre for Conflict Management at the University of Jos in Nigeria and writes:
"[A]s is often the case with identity conflicts in Africa…socially constructed stereotypes…are manipulated to trigger and drive violence in Jos. They veil deeper institutional factors within Nigerian law that are abused and exploited to deny citizens access to resources, basic rights, and participation in political processes—factors that, left unaddressed, have the potential to trigger violence across the country." (p2)
"The ethnic or religious dimensions of the conflict have subsequently been misconstrued as the primary driver of violence when, in fact, disenfranchisement, inequality, and other practical fears are the root causes." (p4)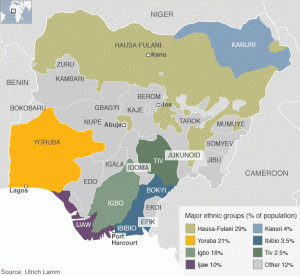 Nigeria is as riven and driven by identity politics, ethnic "indigene" and/or religious affiliation as many xenophobic groups are racist against black Africans in the predominantly white West.
"In a survey conducted by Ellsworth in 1999, titled Re-imagined Communities, it was discovered that ethnicity and religious attachment are the two top ranked identity makers for a vast majority of Nigerians than other indices such as National, ECOWAS and African. The xenophobic tendencies that quietly run in our system is further compounded when the religious card is flashed, as is typical of Christian/ Muslim conflicts throughout most of the north, which is usually about anything (politics, economic control and competition after scarce resources, ethnicity)." Rotimi Maye, Nigeria and Indigeneship Question
Invariably, the victims are drawn from all religions and not just one, and from multiple indigenous and immigrant ethnic groups, of which Nigeria has some 500, 70% made up of Hausa, Yoruba, Igbo, and Falani.
Economic Growth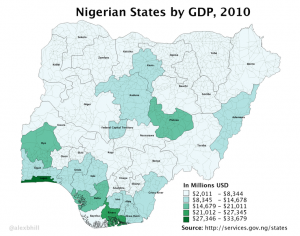 Nigeria has, this year, become Africa's largest nation and economy, and is now ranked 26th in the world, thanks, in part, to its oil wealth, mainly in the south – something that is also fought over. Not only is Africa a divided continent by perhaps 3000 languages and ethnic groups, so too it is divided by wealth and opportunity, health and oil.
Boko Haram origins, Sharia law
Almost half of Nigeria, mainly in the north, now has some form of Sharia law. Over the last decade the extremist Islamist group Boko Haram has sought to impose Sharia and depose the existing rule of law.  It is even against other muslims and one of its founding leaders firmly believed in a flat earth fundamentalism. Many Nigerian Muslim groups have condemned it. One Nigerian Muslim leader, The Sultan of Sokoto Sa'adu Abubakar, called Boko Haram "anti-Islamic" and "an embarrassment to Islam".
"While Boko Haram is a religious organisation, it is almost impossible to separate the activities of the group with the political, economic and territorial struggles in northern Nigeria which, in spite of a secular consitution, is often divided on religious lines. Established in 2002 in Maiduguri, Boko Haram spent 2002-2009 consolidating its base, spreading its disdain for Western education and government corruption, culminating in the creation of alternative schools and attacking symbols of state power…" – Al Jazeera report
Ayaan Hirsi Ali is a Somali-born feminist, activist and founder of the eponymously named AHA Foundation which seeks to protect women in the West from being subjected to religious or cultural oppressions including forced marriage, female genital mutilation (FGM) and honour violence. For her the conflict in Nigeria, at least that part for which Boko Haram can be held responsible, is about religion – or rather the patriarchal putting down of women, and jihadist suspicion of the liberal West. In a recent Wall Street Journal piece, Ali wrote that:
"The kidnapping of the schoolgirls throws into bold relief a central part of what the jihadists are about: the oppression of women. Boko Haram sincerely believes that girls are better off enslaved than educated. The terrorists' mission is no different from that of the Taliban assassin who shot and nearly killed 15-year-old Pakistani Malala Yousafzai—as she rode a school bus home in 2012—because she advocated girls' education. As I know from experience, nothing is more anathema to the jihadists than equal and educated women."
#BringBackOurGirls, Western ignorance about Africa
Boko Haram were behind the kidnapping of some 276 Chibok schoolgirls last month which attracted international attention with the social media Twitter campaign #BringBackOurGirls. Again, somewhat indiscriminate as though the majority were Christian, several were Muslim, around 50 have subsequently escaped. Indeed, some images used to highlight their plight were not even of the kidnapped girls, or even Nigerian.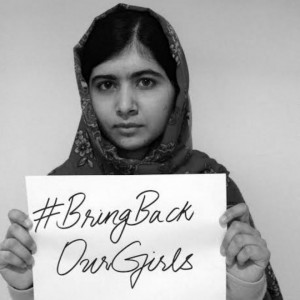 The West only kicked up a fuss when it was schoolgirls that were kidnapped, much as Live Aid in the 1980s fed off the famine of Africa's starving using emotional images to stir up interest in a continent we were otherwise willing to ignore. US television networks ignored Boko Haram this last year despite 1500+ recent killings because African lives are worth less or, perhaps, even considered worthless. News stories for just 4 missing British sailors, a child-saving cat, or the latest UKIP xenophobic "Bongo-Bongo land" own-goal, dominate over any news from the "Dark Continent", a reference originally not to race or colour, but to Africa's remote and mysterious unknowns. To this day, for many, it remains a great unknown.
"The more Westerners learn about Africa from Africans, the better." – Robert Bates

"Unfortunately…most westerners form their opinions of Africa based on the reporting and news in their own countries" – Louise Mushikiwabo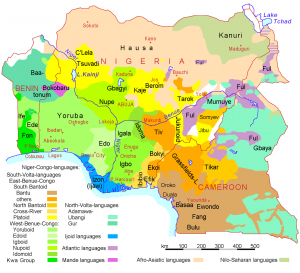 In a 2010 Guardian article, Louise Mushikiwabo, Rwanda's Foreign Minister, went on to say that "In a globalised world we need to know more about each other than ever and the absence of genuine engagement only serves to exacerbate suspicion, and may affect the lives of the very citizens whom we all ultimately serve." This could apply to any ethnic or ideological group, not only Africa and its 53 nations and thousands of languages.
Indeed, to every headline there is often a complex contextual backstory, no less so than in Nigeria. For instance, this AllAfrica report by Margaret Kimberley, editor and senior columnist at Black Agenda Report, cites the background to the Boko Haram kidnapping:
"Boko Haram members were detained by the police in 2011 and 2012 and that the group swore revenge. Boko Haram leader Abubakr Shekau said in one of his many videos, "Since you are now holding our women, just wait and see what will happen to your own women… to your own wives according to sharia law." The kidnappings of the past two years are a direct result of the government's mistreatment of its people and its failed efforts to fight Boko Haram." – Margaret Kimberley, Nigeria: How Not to 'Bring Back Our Girls'
Boko Haram, may also turn out to be behind this week's most recent terrorist bombing atrocity, similar to their double car bombing Christmas Day attack of 2010 in Jos – though they have not yet claimed responsibility.
Goodluck Jonathan
Nigeria's oxymoronically named President Goodluck Jonathan has described them as "enemies of human progress and civilisation", a "tragic assault on human freedom".
President Jonathan, whose wife is called Patience, are Christians from the Ijaw people of southern Nigeria. He holds a Masters degree and a PhD in Zoology and prior to entering politics and becoming President had worked in education and environmental protection. His people, the Ijaws, since the late 1990s had been involved in mainly peaceful protest against the oil companies' exploitation of their homeland and suffered state and military crackdowns of their actions.
Nigeria has all the potential to become an economic powerhouse – if it can control its ethnic and religious tensions, not to mention the international oil company exploitation and corruption. The President has faced calls to resign over the handling of, and seeming inaction over, the schoolgirls kidnapping. One critic wrote:
"It is all because those at the helm in the nation attach no value to the lives of others".
That may well be true, but the "zero value" attached to human lives can surely be laid at the door of Boko Haram and others too. In the past Jonathan has instituted peaceful and progressive policies, so one hopes he will continue to reform and stabilise the country, and face his critics with renewed action on issues that divide the nation. Nigeria's leader needs to be a leader of the people and of all its peoples. [Update: Goodluck Jonathan's presidency is over and #365DaysOn we are now closer on #BringBackOurGirls]
Related articles/further reading
http://www.bubblews.com/news/3452547
http://www.theguardian.com/world/nigeria
http://www.nigeriaworld.com/
http://allafrica.com/nigeria/
http://www.amnesty.org/en/region/nigeria
Image Credits
WikiMedia Commons http://en.wikipedia.org/wiki/File:African_language_families_en.svg
Nigeria outline added
http://en.wikipedia.org/wiki/File:Nigerian_States_by_GDP,_2010.png
Mapping Nigeria's Diveristy, source: Ulrich Lamm, modified by http://africacenter.org/wp-content/uploads/2011/06/AfricaBriefFinal_14.pdf
http://commons.wikimedia.org/wiki/Category:Linguistic_maps_of_Nigeria#mediaviewer/File:Nigeria_linguistical_map_1979.svg
http://commons.wikimedia.org/wiki/Category:Linguistic_maps_of_Nigeria#mediaviewer/File:Nigeria_Benin_Cameroon_languages.png