2015 Year of Transgender Visibility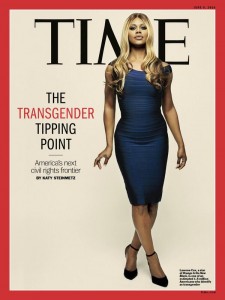 Many are calling 2015 the year of transgender visibility, after 2014's "transgender tipping point" and Laverne Cox in OITNB, heck we were even "word of the year". But 2015 also began very differently as the year of trans youth suicides with a spate of them from Leelah Alcorn to many others until March last year when the coming out of a young trans male teen Tom Sosnik put the focus back on living.
2015 has undoubtedly seen increased and diverse visibility from Andreja Pejic in Vogue, FTM bodybuilder Aydian Dowling, Jazz Jennings in I am Jazz, Rebecca Root in Boy Meets Girl, Riley Carter Millington in Eastenders, Caitlyn Jenner and many others, not to mention those thousands in local communities without the double-edged privilege and curse of fame or fortune.
At the same time violence against trans people continues unabated with "at least 81 transgender people murdered worldwide [in 2014] — and those are just the victims whose deaths were reported."
Transgender Voices
With visibility comes equality and acceptance, one hopes, but also a recognition that we have a voice, indeed several voices – for we are a diverse community.
"None of us can represent anyone but ourselves…" – Janet Mock
There are trans Tories and Republicans, Christians and Muslims, politics and religion are no prevention to having gender dysphoria. Though sometimes one can lose one's job or faith over it.
Does having a platform and a voice bring responsibility? There has been much criticism of Caitlyn Jenner and Kellie Maloney for not representing "us". But they do, in the sense that they represent themselves. For anyone can be trans. We may need to add #notinmyname hashtags to some of their statements though when we disagree over image, progress, equality, and micro-politics.
Lana Wachowski on Vulnerability
If I wanted a voice that came close to my feelings and expression then listening to the funny and profound Lana Wachowski receiving the 2012 HRC Visibility Award and 2014 Equality Illinois Freedom Award had me applauding every sentence. I empathised with her experience of binary discomfort and not just gender dysphoria, being sorted by gender at school, not recognising that gender is a spectrum, not an either/or.
Putting ourselves out there as vulnerable, is the way in which to be strong, one first has to be weak. To gain rights one has to stand up, and be counted, before you have those rights:
"Policy is the battle ground where matters of equality are fought. Policy can institutionalize prejudice or can protect us against it." – Lana Wachowski
Her being visible was a choice and a sacrifice of a precious privacy that she and her brother had sought to protect since becoming successful filmmakers. She reminded me of the trade-off between public and private, visibility and invisibility, vulnerability and protected, 'out' and 'in the closet'.
"Every one of us, every person here, every human life presents a negotiation between public and private identity." – Lana Wachowski
'Coming out' seems to be in the news all the time, more accepted, yet still a shock to some, and still unnecessary if you are a part of the cisheteronormative default (no judgement intended). There's still seems to be a mixture of shock and awe when a sportsperson (rare) or a celebrity (more common) comes out as something other than the heterosexual or cis (non-trans) gendered norm.
Speaking of normal, in the context of her pink dreads inspiring children to think outside the matrix, for themselves, "recalibrating the possible", Lana said this:
"…normal is something that does not have to be defined for you but rather by you."
SuperTrans – Visibility as Superpower
As SuperGirl in 2015-2016 is to discover once you've come out and become visible, there's no going back (2m54s):
Being Trans is not a superpower, being authentic and visible is. Ironically we spend our dysphoric early lives torn between wanting to be invisible, hiding in the closet, and yet wanting to be seen as our "true selves".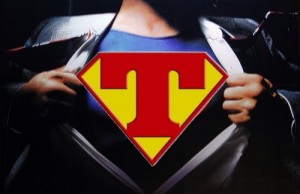 Bisexuals have a visibility day (23 September) because they are so often erased, so do trans people (31 March) but we tend to emphasize the Transgender Day of Remembrance for those who were killed for being trans (20 Nov, TDOR). Trans people have little choice but to be visible once out, we could do with a national "please don't look at me day", sometimes we'd like a day off, to be ignored and not noticed. I've chosen to embrace the loss of privacy that comes from being continually visible, and not passing, it does not make me superhuman, I'm still vulnerable, but I like to be seen to encourage others, not just trans, to be empowered to be authentically themselves.