I remain pro-European & all that entails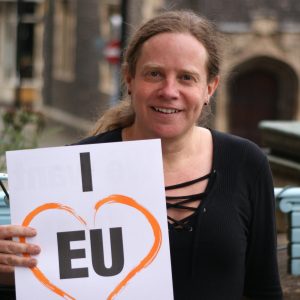 I voted Remain and I still feel more European than British, a global citizen, part of the forward thinking age of inclusion, diversity, and multiculturalism. I try to take the best human parts of globalisation from its worst capitalist components. BBC Look East interviewed me today about Brexit to go out on the evening news tonight, unlike the poor BBC coverage of the 100,000 march in London last week, at least local news are covering people's views about Article 50 and concerns for their fellow Europeans living locally who feeling like political pawns, now entering 2 years of uncertainty for their families and jobs.
A new politics
As Britain triggers Article 50, Leave & Remain are the new dividing lines tearing up the old political party Left & Right rule book. Nationalism (good and bad), and broader consensus politics that is pro-internationalism, pro-migrants, more concerned about others than self, believing in the need for a rainbow coalition rather than party first electioneering. Being pro-EU has become a new political movement, just as UKIP was anti-EU. When Tory old guarders like Michael Heseltine are on the same side as Labour and LibDem remainers, you know something has shifted.
Article 50 "the biggest sacrifice of British sovereignty and self-interest that I can remember…losing control over the conditions in which British companies trade and operate in our biggest market…all the stuff about gaining sovereignty, putting ourselves in charge, will be exposed for the hypocrisy that it was…" – Michael Heseltine
New Europeans
Norwich, which voted 56% Remain and feels like more because of its welcoming attitude to foreign nationals who quickly feel at home here, is also home to Archant newspapers and their New European newspaper launch. A paper for the 48%, for those anti-Brexit, anti-Trump, anti-Le Pen and the direction some politics are going.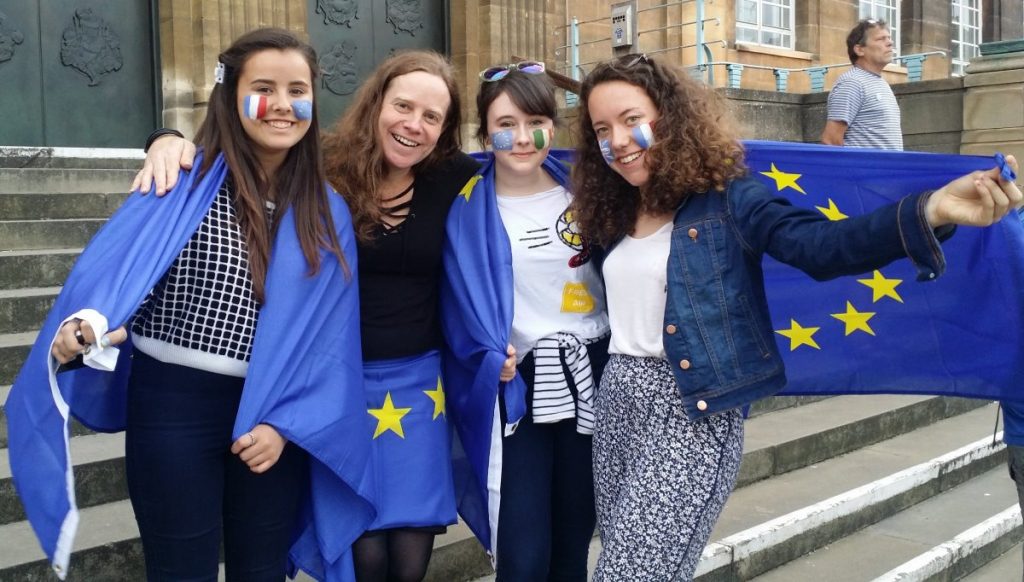 Old Britains
The resistance to change, not only from Remainers not wanting to seemingly go backwards, is evident in the unexpected 52% who voted Leave, who had many reasons for their decision. Among them, legal sovereignty, immigration, and yes some xenophobic racism, but perhaps for many a preference for traditional Britain, without too much further integration of diverse peoples, cultures, languages and the changing landscape that comes with it. The Remain campaign emphasised economics in their failed "Project Fear" advertising and yet just 2% of Leavers cited economics as the reason for their vote. Vote Leave had its own issues around false advertising – we're still waiting for that mythical £350m a week for the soon to be lacking EU workers NHS. Both Leave and Remain campaigns were riddled with lies, damned lies, and statistics that led to project fear of immigrants v project fear of economic loss.
"We're going to build a stronger, fairer Britain" – Theresa May
Fairer to whom, Britain first? Stronger for whom, against those who are already weak?
I remain worried about the narrative of "Britain First, make Britain Great again" which echoes Trumpism, and its anti-migrant, xenophobic language, building walls not bridges, pulling up the drawbridge and retreating to an island mentality, pre-WWII, pre-globalisation's understanding of this internet and fast travel age.
I remain concerned about the new dividing lines, of Leave and Remain, instead of a unity that was continentally broader than our small sceptred isle. We are now fighting among ourselves to keep the Kingdom United. Scotland has every right to leave, as we have voted to leave the EU. I'd rather Scotland stayed, I'd rather the UK stayed within the EU, but I'll support Scotland's right to leave, does that make me a hypocrite, perhaps, it certainly makes Theresa May one for pushing through Brexit but blocking and delaying #IndyRef2.
"We are one great union of peoples and nations" – Theresa May
Wasn't the European Union?
Social Values
The majority of Leave voters want the Death penalty brought back, and 42% want corporal punishment back. the time warp is more like 1565, if Jacob Rees Mogg is anything to go by, as he's just hailed Theresa May as a 21st century Elizabeth I in Parliament!
At a recent ComRes polls Brexit Britain data event it was revealed that of those that thought the following were negative factors for ill in society, the majority were Leave voters:
| | |
| --- | --- |
| Feminism | 74% |
| Globalisation | 69% |
| Green Movement | 78% |
| Immigration | 80% |
| Internet | 71% |
| Multiculturalism | 81% |
| Social Liberalism | 80% |
When 70-80% of the people who essentially oppose diversity and equality, and the modern global movement and communication age, are Leave voters, you can see why age, education and tradition factors were so prominent in voting intention.
Once in a lifetime decision
Age, education and rural versus urban dwellers, were the demographics most prominent in those that voted Leave. Take the vote again in even 5-10 years and the majority would probably vote Remain. Sadly, Article 50 is a once in a generation vote, although nothing is stopping us from applying to rejoin in the future, it would never be the great economic deal we once had.
Interestingly, whilst the majority have held firm to Leave v Remain, YouGov's latest 21 March poll puts each camp level on 44% with 12% unknowns.
European benefits
As much as World War One and Two, were drawn up along divided national lines, the European Union provided the opposite. A unity of nations bringing prosperity and preserving peace from once warring nations. Indeed, Winston Churchill had called for a "United States of Europe" although did not see Britain as a part of it. The Council of Europe (1949) in turn led to the European Coal and Steel Community (1952) and to the Treaty of Rome forming the European Economic Community (1957).
I'm pragmatic about the future and still believe that at an individual, local, and national level we can speak positively to the benefits of European and international freedom of movement, exchange of ideas, culture, education and the arts.
Business will always find a way to make the best of it, we're a nation of entrepreneurs and shopkeepers (as Napoleon or Adam Smith once said), my concern is for the people, the students, partners, migrants, artists, and the leavers – ironically, many of whom may be the worse off for Brexit.