UK Map of Dodgy Names
Strumpshaw, Tincleton & Giggleswick have produced a map of silly, rude and NSFW (Not Safe For Work) United Kingdom place names. Up and down the inland aisles and coastal isles of Great Britain some 1400 naughty names have been enumerated including around 300 "Bottoms" such as "Scratchy Bottom" in Dorset. In East Anglia alone there are "Two Mile" and "Six Mile Bottoms", along with a "Cat's Bottom".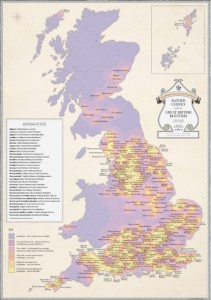 You will also find among the names of ill repute and comic creation: "Booby Dingle", "Cock Burn" and "Fanny Burn", "Twatt", and numerous "Cocks",  "Dicks", "Knobs" and "Willies". Not to mention "Crotch", "Minge", and a "Bushygap" in Northumberland only a stone's throw from "Cockshot"!
The Orkneys and Shetlands both have several "Twatts", a "Ladies Hole", "Sodom" and "Loch of Bottoms".
Strumpshaw, Tincleton & Giggleswick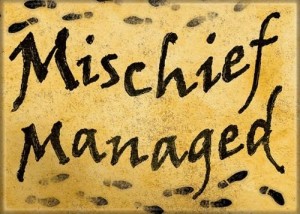 The cartographer map specialists Strumpshaw, Tincleton & Giggleswick, sound like a shop on Diagon Alley in Harry Potter although this is no Marauder's Map tracking living people up to mischief, just a record of mischievous names given to places by people now dead, since most wouldn't get past the planning stage nowadays. If you are reading this as work tapping "Mischief managed" won't help!
The makers take their work seriously, saying:
"Researched, designed and made in Great Britain, our maps boast a precise measure of pedantry, a small portion of innuendo, and an uppity pinch of pomposity. They are carefully calibrated to entertain, delight and – on occasion – cause the odd mouthful of tea to be spat out."
Splendid blog thank you Norfolk Dumpling. https://t.co/XIomSBgm0p

— Rude British Maps (@STG_HQ) March 5, 2016
Norfolk and Norwich's Naughty Names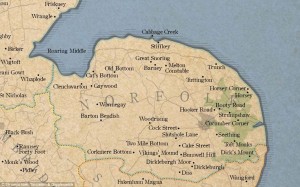 Norfolk's own: "Stiffkey", "Slutshole Lane", "Cock Street", "Two Mile Bottom", "Cat's Bottom", "Gaywood", "Booty Road", "Dick's Mount" and "Cucumber Corner"!
Norwich also had a "Gropekuntelane", now Opie Street, which was written in Latin as Turpis Vicus, "Shame Street". The long-known and used word, 'cunt', has been in use since at least 1230, and 'grope' of sexual touching since 1380, but their use in street names describing areas of prostitution died out after the late 16th century. Sniggering, on the other hand, will never die out.