70th Anniversary of the Liberation of Bergen-Belsen
It's 70 years today since the liberation of Bergen-Belsen (#Belsen70), another example of man's inhumanity to man and what happens when you scapegoat an entire – or rather several – people groups, dehumanise, persecute, incarcerate and attempt to wipe them out. It is also 33 years since I visited Belsen as a 15 year-old, the same age as the famous diarist, Anne Frank, who died there just months before its liberation. It left indelible memories on me and a life-long belief in human rights for all people.
The concentration camp had various purposes during the Second World War, from Soviet and Italian POWs, Jewish internment, as well as housing other people groups including Czechs, Poles, homosexuals, Christians who opposed Nazism, Romani and Sinti 'gypsies'.
Anne Frank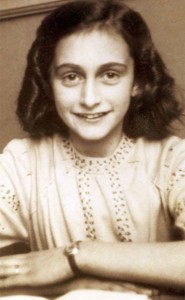 The Dutch Jewish teenager Anne Frank is remembered through her diary "The Diary of a Young Girl". The UK based Anne Frank Trust, whose motto is "Challenge Prejudice, Reduce Hatred" ran a social media campaign on 14 April under the hashtag #NotSilent in which people recorded themselves reading one-minute extracts from her diary about life in hiding in Nazi-occupied Netherlands.
"We're much too young to deal with these problems, but they keep thrusting themselves on us until, finally, we're forced to think up a solution, though most of the time our solutions crumble when faced with the facts. It's difficult in times like these: ideals, dreams and cherished hopes rise within us, only to be crushed by grim reality. It's a wonder I haven't abandoned all my ideals, they seem so absurd and impractical. Yet I cling to them because I still believe, in spite of everything, that people are truly good at heart.

It's utterly impossible for me to build my life on a foundation of chaos, suffering and death. I see the world being slowly transformed into a wilderness, I hear the approaching thunder that, one day, will destroy us too, I feel the suffering of millions. And yet, when I look up at the sky, I somehow feel that everything will change for the better, that this cruelty too will end, that peace and tranquillity will return once more. In the meantime, I must hold on to my ideals. Perhaps the day will come when I'll be able to realize them!" – 15th July, 1944, Diary of A Young Girl, Anne Frank
Her hopefulness echoes the words of Nelson Mandela:
"People must learn to hate, and if they can learn to hate, they can be taught to love, for love comes more naturally to the human heart than its opposite" – Nelson Mandela
Josef Capek
Another internee was Josef Čapek, from what is now the Czech Republic, a Cubist painter, cartoonist, writer and playwright. He wrote the utopian play "Land of Many Names" and is credited by his brother as being the first to invent and use the word "robot". He was critical of Hitler and Nazism and was arrested in 1939 upon the invasion of Czechoslovakia, though he managed to write "Poems from a Concentration Camp" at Bergen-Belsen, though died in 1945 shortly before liberation.
British Liberation of Bergen-Belsen
Some 50-70,000 are though to have died, some 30,000 of them Jewish, among the 120,000 held there, escalating to 20,000 a month before liberation put a stop to it. It was far from the worst of camps, and yet it was enough to shock those that discovered it, almost by accident.
The camp was liberated on April 15, 1945, by the British 11th Armoured Division who discovered approximately 60,000 prisoners inside and at satellite camps, mostly emaciated and/or seriously ill with typhus or similar. Lying, unburied, around the camp lay 13,000 corpses and even some still living among them. Another 14,000 died of infection and starvation in the 10 weeks following liberation.
The BBC's Richard Dimbleby was there and reported:
"Over an acre of ground lay dead and dying people. You could not see which was which… The living lay with their heads against the corpses and around them moved the awful, ghostly procession of emaciated, aimless people, with nothing to do and with no hope of life, unable to move out of your way, unable to look at the terrible sights around them … Babies had been born here, tiny wizened things that could not live…This day at Belsen was the most horrible of my life."
The BBC also recently interviewed one of the few remaining survivors, Gena Turgel.
Memorials to Bergen-Belsen
The SS destroyed most of the inmate records and the British, after making the SS build mass graves for the unburied, then destroyed the camp by fire because of the disease there.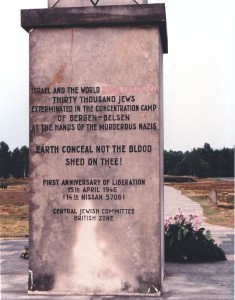 Whilst nature was allowed to take over the remains, in the way that only nature does, the mass mounds of graves containing up to 5,000 people each remained obvious. Over the following months wooden monuments were erected by varying groups and a year later a stone monument was erected by the Central Jewish Committee of the British Sector.
We ignore growing ethnic & sectarian division and hatred at our peril – particularly in the #MENA region. We must never forget #Belsen70

— Ollie Cornock (@OllieArabia) April 15, 2015
Never forget Human Rights!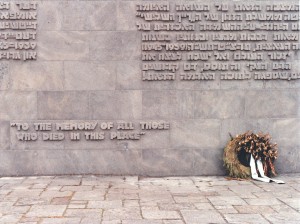 In 1952 Germany's president, Theodor Heuss, called on the German nation to never forget what had happened at Bergen-Belsen. Nor should we, whether Jew, Christian and other faiths, gypsy, mentally ill or disabled, political enemy or prisoner of war, all deserve human rights and not inhuman treatment or attempted genocide.