Save Aleppo, Syria – Norwich Rally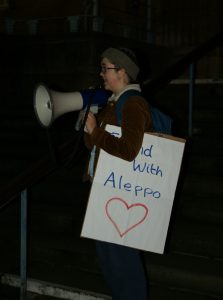 Movement for Justice and UEA student, Lotty Clare led a rally outside City Hall Norwich for Aleppo Syria with Tim Hughes of Stop the War Coalition, activist and writer Katy Jon Went, Norwich-based Syrian refugee Anas, and John Cowan. Cllrs Alan Waters and James Wright of Norwich City Council were among the gathered crowd to offer support and hear what could be done. Alan Waters said that the city's MPs, Chloe Smith and Clive Lewis, would be written to.
Powerful words from speakers at City Hall this evening including from @katyjon – speaking out in support of Aleppo #savealeppo pic.twitter.com/61CrtjJNX7

— Cllr James Wright (@JamesWrightLD) December 14, 2016
What can you do?
One of the hardest things is feeling so powerless in the face of the humanitarian disaster, but there are actions that can be taken:
Writing to MPs
Writing to international embassies about the United Nations Responsibility to Protect to which all member nations signed up in 2005 to prevent genocide, war crimes, ethnic cleansing and crimes against humanity
Writing to Syria's embassy as responsible for the wellbeing of its own people and to uphold the 16 UN resolutions regarding atrocities and human rights abuses in Syria
Supporting Syrian and international aid charities
Helping Médecins Sans Frontières as a medic or with money
Joining Amnesty International
Welcoming Syrian refugees – offering spare rooms. Half of Syria have been forced out of their homes, the biggest refugee and displacement crisis since the Second World War, 11 million people
Keeping yourself informed to maintain international pressure on the parties responsible for perpetuating the situation
Attending rallies to keep Syria in the public and media eye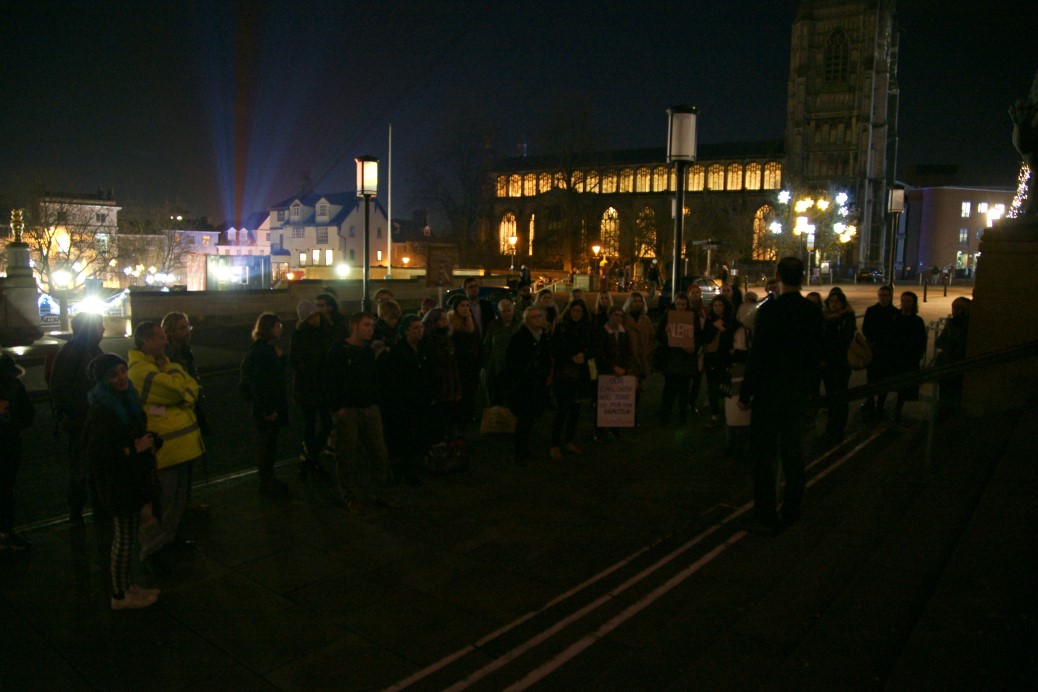 My own contribution evolved out of a facebook rant I wrote earlier in the day about the escalation of terror and atrocities in the weeks before Christmas, the supposed season of goodwill and peace to all mankind.
Text of my speech
"We hear you Aleppo", placard by Laure Ollivier-Minns

A year ago, as the UK Parliament was considering joining the by then year long US & 13 nation coalition of bombing Syria, I attended a Don't Bomb Syria rally. A year later and the situation is worse, not only in Syria but also in surrounding nations. 15 years of invasions, interference, and increased radicalisation by bombing the bombers, has not stopped or solved a single middle eastern crisis.

Christmas sees no let up in world chaos and terror, no salam, shalom, peace toward all men…an Advent calendar of death mostly meted out on non-combatants, mother and child, drone strike "collateral damage", innocent victims of men's rush to conquer and dominate, or to solve problems with swords rather than ploughshares, bombs rather than words.

On Sunday, IS killed 25, mainly women, in Cairo's Coptic Cathedral, the same day Boko Haram forced two 7-year-old girls to act as suicide bombers in a Nigerian market. In the first 2 weeks of December alone, IS have executed 100 people, so have Syrian pro-government forces, and suicide bombs have gone off in Egypt, Iraq, Libya, Nigeria, Somalia, Turkey, Yemen.

Meantime the humanitarian disaster that is Syria and Aleppo continues to escalate with over 450,000 killed, and some 4.8 million refugees (along with 6.6m internally displaced, that's half of Syria's 22m population forced out of their homes), cities flattened, hospitals destroyed, children killed (up to 50,000). The current raids on Aleppo have been called by the UN this afternoon, in all probability a war crime. If the battle for Aleppo is over, then for Assad the victory is Pyrrhic as the city is demolished and its people dead and devastated.

Great progress world, congratulations on continuing to be a right royal fuck up 2016 years after baby Jesus/Yeshua/Isa was apparently born. Extremist and fundamentalist religious interpretations, repressive political regimes, and "proxy wars" are not on my Xmas card list, Syrian refugees are – an airdrop of aid, peaceful passage out of conflict zones, a welcome in the West, but better still – stop the bombing so they can stay, live and rebuild their land.

Instead, we continue the bombing, and breaking of ceasefires 2 hours after they are put into effect – even bombing the very roads the evacuations were due to take place on. Bombing escalates terror, and is a failed strategy, that even Donald Trump now admits! Indeed, Boris Johnson, against political and Tory party advice, has called a spade a spade, and for an end to proxy wars of geopolitical games carried out by Saudi Arabia, but perhaps also: Iran, Russia, Turkey and the US.

Each religion or political cause can be twisted to apparently justify slaughter, but that comes from man's inhumanity to man, not faith or ideology per se. Equally, most faiths can be quoted from to encourage love, mercy and kindness. At this time of year, and every day, we need to be encouraging community, compromise and communication, not escalating conflicts creating mass casualties as the collateral toll of other people's battles.
Save Aleppo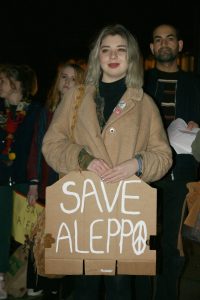 Postscript
Shortly after the rally, it was announced that the ceasefire had been restored, but for how long? By Friday morning it was off again. A UN official says the evacuation is "redolent of the Nazi evacuation of the Warsaw ghetto" as thousands are bussed out down the 21km corridor, 6km of which is controlled by Government forces.