Holocaust Memorial Day, 27 January
Last 27 January I went to two Holocaust Memorial Day events. No I am not Jewish, nor were all the victims of Hitler's Endlösung "Final Solution", Mengele's experiments, and the Nazi Aryan utopian dream – which was a dystopian nightmare for everyone else.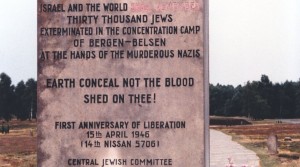 I did however study and teach Hebrew and aspects of Judaism in my past. I also visited the concentration camp, Bergen-Belsen, when I was 15. Today marks the 71st anniversary of the liberation of Auschwitz by the Soviets and Holocaust Memorial Day.
One internee at Belsen was Josef Čapek from Czechoslovakia a Cubist painter, cartoonist, writer and playwright. He wrote the utopian play "Land of Many Names" and is credited by his brother as being the first to invent and use the word "robot". He was critical of Hitler and Nazism and was arrested in 1939. Whilst interned he managed to write "Poems from a Concentration Camp" but died in 1945, shortly before liberation.
Escaping Hitler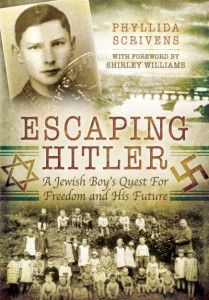 Joe Stirling, A Jewish teenage escapee from Nazi Germany, whose parents died in Sobibór concentration camp, lives in Norwich and continues to tell his survival story. Recently published as "Escaping Hitler", it is a reminder to people of the Nazi Holocaust and the triumph of the human spirit. Joe has led an interesting and fulfilling life since arriving in England and is part of the Human Library project where he regularly regales people of all ages with his wit and wisdom.
Genocide of the different and 'deviant'
As an LGBTI person and outspoken human rights activist, I could well have ended up in a concentration camp alongside Jews, Slavs, Roma, disabled people and many more. Sexuality, mental health, religious non-comformism, criticism of the state, ethnic origin were all factors that could have had one sent to a concentration camp and/or exterminated by bullet or Zyklon B gas – as hauntingly revisited in Philip K. Dick's novel and now Amazon series, 'The Man in the High Castle'. Yes, Hitler singled out the Jewish race for a very particular and poisonous genocide, but others suffered too.
Many people don't realise that Romany gypsies, those with mental and physical disabilities, abortionists, Jehovah Witnesses, non-conformist pastors and clergy, certain intellectual opponents, communists, and tens of thousands of homosexuals were sent to concentration camps by the Nazis, of which there over 1000, possibly many times that number spread across occupied countries, at least a dozen of which were extermination camps – to remove Lebensunwertes Leben "life unworthy of life", especially the Jews.
Hundreds if not thousands of people were experimented on by Mengele, with castration, forced sex change interventions, growth hormones. Those born different, disabled, intersex or twins, were especially targeted for his torturous experiments.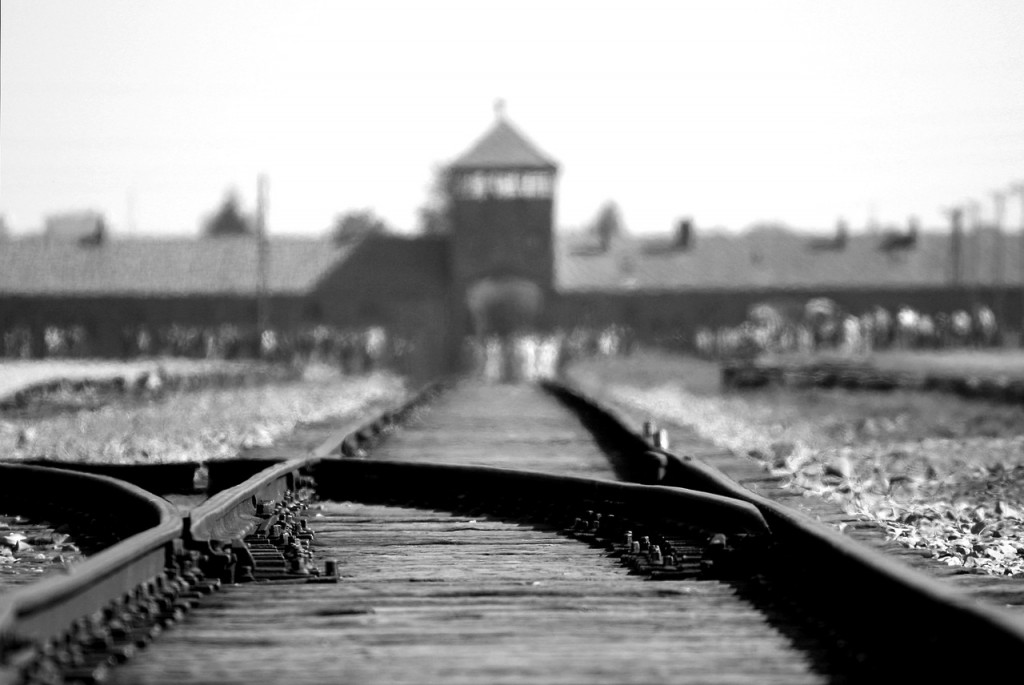 Homosexual Holocaust
Labelled vice, degenerate, a plague, gay and bisexual men, many of whom were also Jewish, ended up incarcerated, experimented on, castrated, or killed.
"We must exterminate these people (homosexuals) root and branch… We can't permit such danger to the country; the homosexual must be entirely eliminated." – Heinrich Himmler
Furthermore, in 1945, they were not released but transferred to civil prisons as their sexuality remained illegal until 1968/9. Paragraph 175 outlawing homosexuality had rarely been enforced until Hitler took power in 1933. Germany only apologised in 2002 to the homosexual community for what happened to them before, during and after the Second World War.
Labeled as Different, less deserving
Pink triangles, like the yellow star of David patch for Jews made by two yellow triangles, were sewn on to the camp clothes of homosexuals, but the same symbol also marked out rapists, paedophiles and other "sexual deviants".
Black triangles were used for Roma, mentally ill, pacifists, anarchists and more. Later Roma badges were brown. Numerous other groups of people were classified, badged, and interned, or killed.
There was an outcry this week when it transpired that asylum seekers in Cardiff were being forced to wear coloured identification wristbands. If this were a music festival, and it were by age or event it would be quite different. After complaints the Clearsprings Group scrapped the policy.
Fear of difference drives prejudice. This week Trevor Phillips, former EHRC chair, has said that we should accept that British Muslims are "different" from the rest of society, and respect that, others have responded that we should not have to accept their difference.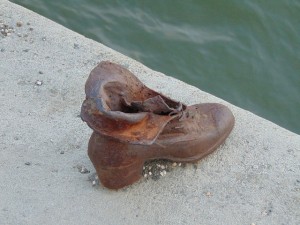 A memorial, to Jews shot and dumped in the Danube in Budapest, 1945, is a poignant image that is also beginning to symbolise the plight of migrants and refugees from current wars and genocides. "Shoes on the Danube Bank" was created  by Can Togay and sculptor Gyula Pauer and shows just the left-behind shoes of the Jewish victims. Empty shoes have come to symbolise both silent protest at the Paris climate conference, and the positive response of communities to asylum seekers by offering shoes, including in Budapest.
Ethnic Cleansing not uniquely Nazi
Sadly, history and Hegel teach us that men and nations learn little and we do end up repeating the mistakes of the past. That is why the Holocaust and other genocides should be remembered. It's easy to complain about human rights abuses and ethnic cleansing when it's happening but wisdom is spotting the signs that it is about to happen. That means highlighting the laws and language that begin to scapegoat and marginalise, to discriminate and criminalise based upon sex, gender, faith, health, colour, race and ethnicity.
We can already see it in the political invective against "a bunch of migrants" (David Cameron in PMQs today), Donald Trump and Sarah Palin's calls for American Muslim expulsion, and in the extremist cleansing by Islamic State of Yazidis, Christians, gays and non-Sharia Muslims. Meanwhile Syria continues its own purge, Turkey, Saudi Arabia subtly try to target Kurds and Shia, Israel treats Arab Israelis and Palestinians as second class.
Remembrance may avoid Repetition
As Santayana said, "Those who cannot remember the past are condemned to repeat it." Sadly, most often, history teaches us that we do forget, repeat, and only learn from it after exhausting all other possibilities, as Aldous Huxley, Hegel, George Bernard Shaw and Abba Eban, all said in various ways.
"The most effective way we can combat this intolerance and honour those who survived and those who perished is to call on each other to do what the survivors have already done, to remember and to never forget." – Steven Spielberg
We need to remember the Nazi Holocaust, Stalin's similarly large-scale ethnic expulsions in Russia, state eugenics policies, Polpot's purge in Cambodia, Rwanda, Bosnia, or the ethno-religious cleansing policies of ISIS or Boko Haram, and many more genocides and democides besides. It has happened more than once before and could, if not, is, happening again. That is why we remember Holocaust Memorial Day, so as not to repeat.
"First they came for the Communists
And I did not speak out
Because I was not a Communist
Then they came for the Socialists
And I did not speak out
Because I was not a Socialist
Then they came for the trade unionists
And I did not speak out
Because I was not a trade unionist
Then they came for the Jews
And I did not speak out
Because I was not a Jew
Then they came for me
And there was no one left
To speak out for me."  – Pastor Martin Niemoller