India has, today, ruled in its highest court that transgender people, usually called Hijra there, will henceforth have the option to be recognised as a third gender and all forms, documents and facilities will have to provide for them as such. Whilst numbering some 2-5 million people or up to 1-in-200 of the population, they will be given minority rights, job quotas, full access to education, adoption and healthcare.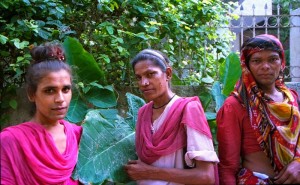 In development since 2009, and in time for India's current elections, the Election Commission has also allowed for a third gender option, "Other", on voting forms.
Justice KS Radhakrishnan, headed up the Supreme Court ruling and said:
"It is the right of every human being to choose their gender…Recognition of transgenders as a third gender is not a social or medical issue but a human rights issue…The spirit of the Constitution is to provide equal opportunity to every citizen to grow and attain their potential, irrespective of caste, religion or gender."
Anita Shenoy, lawyer for the petitioner National Legal Services Authority (NALSA) said:
"We are quite thrilled by the judgement…The court order gives legal sanctity to the third gender. The judges said the government must make sure that they have access to medical care and other facilities like separate wards in hospitals and separate toilets."
The case demanding equal rights first came to court in 2012 initiated by a trans-activist group led by trans Hindi film star Laxmi Narayan Tripathi. She said, upon hearing the ruling:

India is the world's largest democracy yet especially in rural areas is far from an equal society. Tripathi proclaimed that, "The progress of the country is dependent upon [the] human rights of the people and we are very happy with the judgement."
These rights are extended to trans and or intersex people that are living in a way that is different to their birth gender and yet also allows post-op transsexuals to legally choose their gender: male, female or transgender/other. Thus both binary and non-binary individuals are able to choose their identity, it is not a category that is being forced upon them but one they have fought for.
Western trans activists should remember two things here, firstly, that hijra=trans is not an exact Western/Eastern label match. The cultural evolution of their fight for recognition comes off the back of centuries of religious, social and cultural development, in context, and against different prejudices, classes and castes. Their identity was formed in the crucible of their history. We should not, therefore, seek to impose our LGBTI rights battles on their personal and political paths, we should, however, support them in their moves to self-assert their chosen identities.
Secondly, the concept of 'third gender' has been sought by them, whereas many in the West oppose that concept and fear its use in a 1930s anti-Semitic way to categorise and potentially segregate trans people as if with some kind of yellow star (Jews) or pink triangle (homosexuals).
Trans masculine identities in India
"If trans people are a minority with almost no rights in this country [India], transmen are a minority within that minority." Just as "there are hijras, kinnars, mangalamukhis, aravanis, kothis, jogappas, shiv shaktis among trans women as identities, there is a wide range of trans masculine expressions", says an Indian transman, one of 74 that co-signed a letter to the Indian Ministry of Social Justice and Empowerment, "We have many names to identify ourselves like bhaiya, thirunambi, gandabasaka, babu, ftm, trans man etc. For an umbrella term, to refer to us in all our diversity, we would like the use of the term, trans masculine. We do not identify with PAGFB [Persons Assigned Gender Female at Birth] which is what is being used in reports and meetings here to describe our identities. We strongly urge you to refer to us by identities that we assume, not ones that are imposed on us without due democratic discussions and consent."
Another "term for FTM in Hindi is Sadhin". Last November, an Indian trans man fled the country after being 'outed' by the media and sought asylum in the UK. This was before this week's more positive news for trans rights.  Although more sparse, trans masculine support does exist in India, but they have a lower profile in society, media and rights activism.
[The above section of this post has been reblogged many times including on several transmen Tumblr blogs – read the comments and reposts there for more thoughts]
LGB Gay Rights in India
Meanwhile, LGB rights of India's gays, lesbians and bisexuals, are still behind the times though, having recently restored an old British colonial law banning homosexual activity. India has granted these historical Hijra rights, yet still bans gay sex in a logical anomaly. How is gay sex to be defined now there are three genders? If a newly defined Hijra/Third Gender has sex with a man is it gay or straight sex? If a Hijra has sex with another Hijra is that homosexual?
Trans rights in Pakistan
Back in 2011 after actions that began in 2009 Pakistan granted "third gender" status and improved rights to trans people, for example on national identity cards, employment and inheritance rights. Whilst many Hijra end up begging, wedding dancing or in prostitution, Pakistan has been enterprising in employing them as official agents pursuing tax evaders. Apparently, recovery rates are up 15%!
LGBT rights in Nepal
Thirteen years ago Nepal's LGBT activists initiated a campaign for full LGBT equality, which resulted in a landmark decision in 2007 but which took another 5-6 years for full implementation of trans equality. The court decision ordered the then government to scrap all laws that discriminated on the basis of sexual orientation or gender identity, and "that they study and implement a same-sex marriage policy, and that citizens be allowed to self-identify as a third gender on all official documents and registers."
Nepalese activists have urged the government to use the word "other" rather than "third gender" or "trans" as a "more inclusive" term that allows full "self-identification".
Trans rights in Bangladesh
Last year, Bangladesh also granted third gender rights and recognition to Hijras – a term in Bangladesh adopted by 10,000+ people including many male-to-female presenting individuals and some intersex persons. Cabinet Secretary Muhammad Musharraf Hossain Bhuiyan said: "They will be referred to as hijras in both English and Bangla. Any other translations to English would be misleading."
Non-Western Trans terminology
Across India, South and Southeast Asia numerous terms describe gender non-conforming people in ways which, because of cultural, historical and religious differences, are not totally synonymous with Western usage of trans terminology. For example in Thailand and, Cambodia, they are called, Kathoey, elsewhere the most common term is Hijra, but we also find Aravani, Aruvani, Jagappa, or Chhakka (Kannada), Bambaiya (Hindi), Khusra (Punjabi) and Kojja (Telugu). In Pakistan, terms include Khwaaja sira, Khusra (trans), Zenana (crossdresser) and Narnban (eunuch).
Polynesian Samoa has its Fa'afafine, Tonga its Fakaleiti, and Hawaii and Tahiti their Mahu. Both fa'a- and faka- are prefixes meaning "like a" or "in the manner of" and fafine and leiti mean 'woman' or 'lady'. On the surface, therefore, they would pass as the prefix trans- before woman, but Western legal, political and cultural transgender terminology should not be imposed on their cultural-historical usage of the terms.
Native Americas traditions
Numerous indigenous Native American tribes had gender options outside the seemingly conventional Western binary. Berdache was a term meaning effeminate male used by Westerners of some tribal members encountered. More recently, the preferred term is Two-spirit, but some tribes went beyond three to several gender expressions, roles and identities. The Mohave Indians had the terms Alyha (Male-born) and Hwame (Female-born) for their Two-spirit identities. "Two-spirit natives comprised a distinct social class within most of these tribal communities; for example, among the Hidatsa of the northern Plains, two-spirits were observed at no less than fifteen to twenty a village and typically pitched their tipis together in a group."
Similarly, among southern Mexico's Zapotec there were the Muxe/Muxhe possibly a variant of the Spanish word for woman, mujer, describing people born male but who behaved as female in role, dress or sexuality. Because the word described effeminacy across gender or sexuality it accounted for some 6% of the population in some studies.
Modern Western/Antipodean/Americas Gender Identification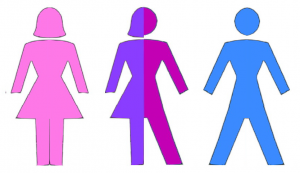 Argentina, Australia and New Zealand all allow passports to be stamped with the full range of internationally allowable options: Gender – | M | F | X |. Despite it being explored and to some extent encouraged by the Liberal Democrats, the UK Passport and Identity Service seems to have mothballed any likely change in Great Britain. Although as of June 2014 it has now been tabled for another Early Day Motion in Parliament, though is perhaps unlikely to reach debate stages.
In Europe, Germany has recently allowed "other" as a temporary designation on birth certificates to allow families to delay decisions on children born with intersex differences. The Netherlands are considering a third category to protect trans people during transition.
All gender designation is ultimately sexism. However, in an imperfect and unequal world some level of gender designation for protection can benefit in the here and now. Ideally gender neutral bathrooms would be the norm, but how to protect the vulnerable? The sooner all nations accept fully equal sexual relations, parenting and marriage between two or more persons of any gender, the sooner we can dispense with legal gender designation.
More important than third or more genders, reinforcing the binary, opposing the binary, gender sexism, is the simple inalienable human right to self-identify. Restricting identification, whether legally or culturally, to just two genders goes against human respect and rights especially when medically there are dozens of conditions that can make typical birth-sex identification impossible, quite apart from gender identity issues and/or gender non-conformity. Celebrate diversity and difference and the right to self-identify, as Radhakrishnan has said: "It is the right of every human being to choose their gender" – and that includes "Other" and "None", in my opinion.
This post is an extended edited version of an article that first appeared here.
More news sites coverage of this:
BBC World
The Guardian
The Times of India